Coronavirus
Charlie Baker expected to update Massachusetts reopening plans early this week
"Please stay safe while we prepare next steps to return to our new normal."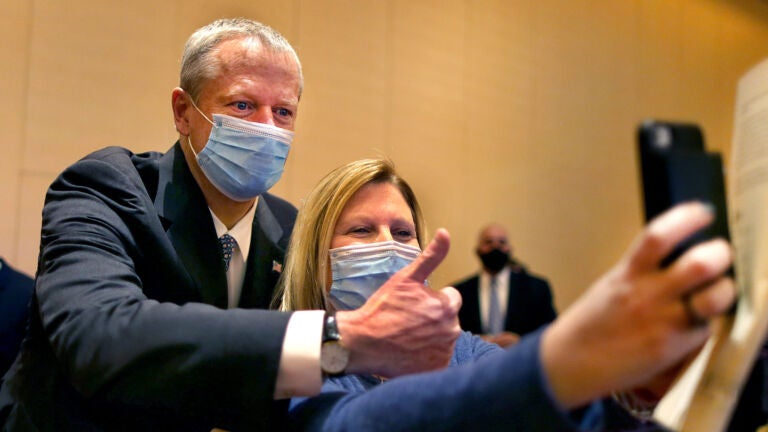 Gov. Charlie Baker's administration is changing its plan to phase out COVID-19 restrictions in Massachusetts over the coming months, following the new Centers for Disease Control and Prevention guidance saying that fully vaccinated people can resume normal activities without wearing a mask or physically distancing.
Calling the new CDC guidelines "great news," Baker tweeted Friday that his administration will "be updating our reopening plans early next week."
He also noted that Massachusetts is on track to reach its goal of vaccinating over 4 million adults "soon."
"Please stay safe while we prepare next steps to return to our new normal," the governor wrote.
As of Sunday, 3,940,329 people in Massachusetts had gotten at least one shot of the Pfizer or Moderna vaccines, and 3,202,166 had either received both required shots of the Pfizer or Moderna vaccines or one shot of the single-dose Johnson & Johnson vaccine.
Baker said last week that Massachusetts was on track to reach its goal of vaccinating 4.1 million adults by early June, crediting the state's progress with the rollout for the steady downward trend in COVID-19 infection and hospitalization rates this spring.
The governor's tweet Friday comes after his administration reminded the public that the state's mask mandate does remain in effect, at least for the time being, despite the CDC's updated advice. Baker's face covering order requires everyone over the age of 5 to wear a mask in all indoor public settings, as well as outside if they can't consistently stay at least six feet away from other non-household members.
"The Administration welcomes the new CDC guidance and will be updating Massachusetts' COVID restrictions in the near future," Baker press secretary Sarah Finlaw said Thursday.
Under its updated guidelines Thursday, the CDC says that people who are at least two weeks out from their last required vaccine dose can safely resume activities — inside or outside — without wearing a mask or physically distancing, "except where required by federal, state, local, tribal, or territorial laws, rules, and regulations, including local business and workplace guidance."
Most neighboring states — including Connecticut, Maine, Rhode Island, and Vermont — have since moved to align their face covering rules with the CDC's advice, though disease experts have raised questions about how such a policy would be enforced, given the practicalities around verifying an individual's vaccination status.
Dr. Ashish Jha, the dean of Brown University's School of Public Health, said states should leave indoor mask mandates in place for another month.
"That's about the time that we need for people who started getting vaccinated April 19 — when everybody became eligible — to be fully vaccinated," Jha said during an appearance Thursday on CNBC.
"After that, I think the idea is to push people who aren't vaccinated to get the shot, but know that if you're fully vaccinated in a space where there are unvaccinated people unmasked you're still safe," he added.
Baker's administration had previously signaled that they would continue to require masks in indoor public settings through the summer. When asked about the future of indoor mask requirements Tuesday, the governor said he views the CDC "as sort of the guideposts on a lot of this stuff," adding that "in many cases we've made adjustments to their recommendations based on what we saw going on here in the commonwealth."
State officials are planning to gradually lift other COVID-19 restrictions on businesses and gatherings over the course of May, with plans to allow for a full reopening by Aug. 1, if not sooner, depending on how many people get vaccinated.
Still, that timeline remains more cautious than a number of neighboring states, and business groups have pressured Baker to more up the state's reopening plans.
Rhode Island plans to phase out virtually all limits on businesses and gatherings by Memorial Day weekend; Connecticut plans to do so this coming Wednesday. Two weeks ago, New Hampshire replaced their COVID-19 rules with a set of voluntary guidelines.
Newsletter Signup
Stay up to date on all the latest news from Boston.com