Business
Boston will follow state plans to remove almost all COVID-19 restrictions on May 29
The city was previously reopening on a three-week delay from the rest of Massachusetts.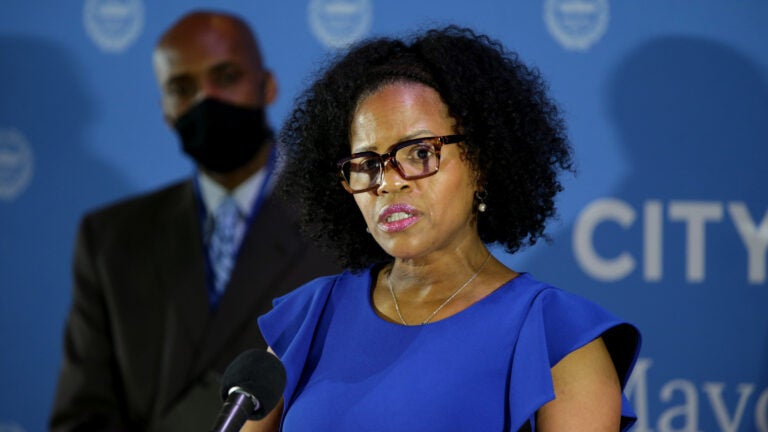 Boston will follow state plans and lift virtually all COVID-19 restrictions on Saturday, May 29, forgoing the city's initial strategy of reopening on a largely three-week delay, acting Mayor Kim Janey said Monday.
Janey's announcement came hours after Gov. Charlie Baker revealed the state will remove nearly all of the pandemic-era regulations Memorial Day weekend, as Massachusetts remains on track to vaccinate 4.1 million residents by the first week of June.
The move will let all industries fully reopen with no capacity limits and will also remove limits on public and private gatherings, thereby allowing everything from nightclubs and gyms to wedding venues and Fenway Park to reopen at 100 percent capacity.
Masks, however, will still be required in certain locations, including nursing homes, health care settings, schools, child care centers, ride-sharing services, taxies, and on public transit. Unvaccinated residents will be asked to wear face coverings indoors and when they cannot physically distance themselves when outside.
Janey said the city's most recent data shows 58 percent of Boston residents have received at least one shot of a vaccine. There are 63 cases per day on average in the city, and as of Monday, a total of fewer than 65 COVID-19 patients in city hospitals — the lowest sum in over a year, according to officials.
"It is clear that vaccines are working to get people from developing serious cases of COVID and greatly decreasing the spread of the virus," said Marty Martinez, the city's chief of health and human services.
Janey said officials have "more than a month of data showing that cases are low and continue to be low over time."
Still, she cautioned residents should still be mindful of the presence of the contagious virus and take steps to minimize its spread.
"Let me be clear: Our battle against COVID is not over," she said. "Reopening our city will only work if we all continue to do our part to fight the pandemic."
Last month, as state officials released an initial reopening timeline, Janey said Boston would follow the state's plan mostly on a three-week delay, with some exceptions.
The acting mayor, who is vying for a full term this fall, received pushback from her fellow candidates on the decision, but her office was steadfast in defending it.
However, Janey indicated last week she was considering if and how Boston could accelerate its own reopening, citing "encouraging trends" in coronavirus data collected by the city over the previous two weeks.
Some candidates, including Boston Medical Center doctor and state Rep. Jon Santiago and the city's former chief of economic development John Barros, once again pushed Monday for Janey to align with the state following Baker's announcement.
"As an ER doctor who serves on the frontlines of COVID, I understand the pandemic as well as anyone," Santiago said. "Boston needs to re-open on May 29th — like the state. Our neighborhoods and small businesses can't wait."
Janey, on Monday, also outlined the remaining work in vaccinating communities of color, which were hit disproportionately hard by COVID-19. Only about 30 percent of the city's Black and brown residents are vaccinated, she said.
And so, Janey also announced an infusion of funding into her administration's vaccine equity grant initiative, doubling available grant funds to $3 million. The program provides grants to support neighborhood groups and nonprofit organizations working to bring vaccines to and promote vaccine awareness in areas that were hit hardest by the virus.
"We've got to keep it up, but there's a lot to celebrate today," Janey said. "The numbers are going in the right direction. We need to keep them going in the right direction."
Newsletter Signup
Stay up to date on all the latest news from Boston.com