Coronavirus
What to know about the COVID-19 vaccination effort in Mass. this week
A weekly roundup of vaccination information you need to know.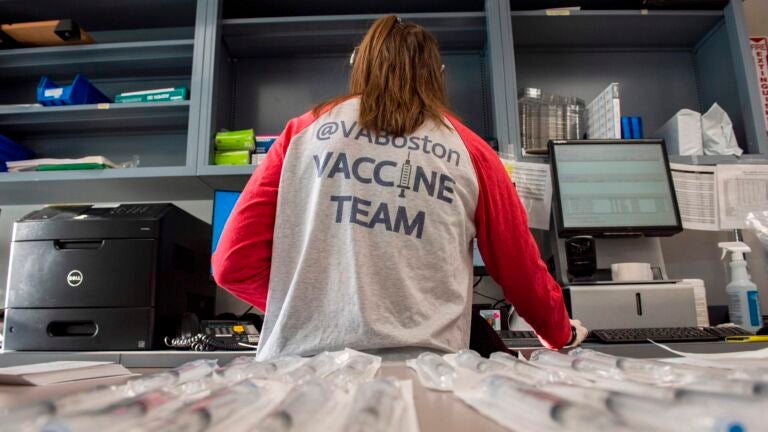 The effort to vaccinate Massachusetts residents continues for another week, with state officials moving forward with the reopening as more and more people get the jab to protect against COVID-19.
The state has begun altering its approach to vaccines in an effort to reach those who haven't gotten inoculated yet, with the hope of making it easier for more people to access vaccinations. Below, what you should know about the COVID-19 vaccination campaign and its impacts in Massachusetts this week.
The Centers for Disease Control and Prevention eased its mask-wearing guidance Thursday for people who have been fully vaccinated against COVID-19. And while the Massachusetts mask mandate has initially remained unchanged by the CDC's new advice, Gov. Charlie Baker's administration has said updates are on their way "in the near future."
Baker said he plans to release updates to the state's reopening plans on Monday in response to the updated guidance from the CDC, noting that Massachusetts is on track to reach its goal of vaccinating over 4 million adults "soon."
Watch his 11 a.m. press conference here.
Residents as young as 12 are now able to get Pfizer's COVID-19 vaccine in Massachusetts. The vaccine was previously authorized for individuals as young as 16, but the Centers for Disease Control and Prevention's Advisory Committee on Immunization Practices gave approval last Wednesday for people ages 12 to 15 to get the two-dose vaccine regimen as well.
The change meant roughly 400,000 additional people in Massachusetts became eligible on Thursday to start booking vaccine appointments.
Like 16 and 17 year olds, the new age group will have to bring a written consent form signed by a parent or guardian to their vaccination appointment. The state has downloadable versions of the form on its website in a dozen different languages. It is not required that guardians go to the appointment with the minor, they just have to sign the permission form to give consent.
The state's employer vaccination program begins Monday
The Baker administration on Monday is launching its Employer Vaccination Program, which aims to help Massachusetts businesses "easily and conveniently" vaccinate employees. As part of the program, employers can request a block of appointments at any of the state's seven mass vaccination sites. Their employees can then register for appointments during the set aside block. The minimum number of slots required to request a block of appointments is 10, but there is no maximum limit.
Under the program, employers with 35 or more employees who want to be vaccinated can request a pop-up mobile clinic to provide vaccines on-site. The clinic would return again three to four weeks later to administer second doses.
Employers will have to complete a survey and confirm the participation of at least 35 employees before requesting the clinic.
Baker was on a national stage last week to promote the state's progress vaccinating residents against COVID-19, joining a group of governors sharing strategies for distributing vaccines and overcoming hesitancy in a call with President Joe Biden. The president has set a goal of getting 70 percent of American adults at least one shot by July 4.
In his remarks, Baker noted that Massachusetts has 74 percent of its adult population at least partially vaccinated, achieved through its "mixed model" approach. The state began with a deliberately slow start to vaccinations, prioritizing residents most at risk due to COVID-19 before pivoting to high-efficiency mass vaccination sites. Now, with demand for appointments easing, Massachusetts is shifting its supply of vaccine doses back toward local providers and offering widespread walk-in vaccinations.
In response, Biden said that Baker was doing a "hell of a job."
The mass vaccination site at Gillette Stadium in Foxborough began accepting walk-in patients last week. The update means that appointments are no longer required at any of the state's seven mass vaccination sites.
With more than 70 percent of eligible adults at least partially vaccinated, the Baker administration is planning to gradually close four mass vaccination sites, including the Gillette Stadium one, by the end of June, in order to shift doses to local providers.
The list of colleges and universities requiring students to get vaccinated against COVID-19 before returning to campus in the fall is growing. We asked Boston.com readers if they agreed with vaccination mandates at colleges in the city, and the majority of them said they approved of the requirement. Of the 893 people who responded to our poll, 66 percent said they agreed with the mandatory vaccinations, and 34 percent said they didn't. See the full results of our informal survey here.
The state of the vaccination rollout in Massachusetts
The number of people who have been fully vaccinated (as of Sunday): 3,202,166
According to The New York Times vaccine rollout tracker, Massachusetts ranks fifth among states for the percentage of residents who are fully vaccinated (47 percent). The Bay State is also third in the nation based on the percentage of the state population who have received at least one dose (62 percent). See how Massachusetts compares to other states and U.S. territories here.
General COVID-19 vaccination information to know
Here's who is currently eligible for getting the vaccine:
Individuals age 12 and older who live, work, or study in Massachusetts are eligible to get the COVID-19 vaccine. People who are ages 12 to 17 can only receive the Pfizer vaccine, but individuals 18 and up can get any of the approved vaccines (Pfizer, Moderna, or Johnson & Johnson).
Here's how to make an appointment:
Massachusetts residents have three options for getting the jab:
1. Find a vaccination clinic offering walk-up appointments
State and federal officials have rapidly expanded options for walk-up vaccine appointments over the last month. As of May 11, all seven mass vaccination sites in Massachusetts, as well as CVS, Walmart, and Stop & Shop locations, are offering walk-up vaccinations, meaning appointments are not needed in order to get a shot.
2. Use vaxfinder.mass.gov to search for appointments at pharmacies, health care providers, and other community locations on your own.
3. Pre-register for an appointment to be notified when you can schedule an appointment at a mass vaccination or regional collaborative location. Once you are pre-registered, you will receive weekly updates from the state and when an appointment becomes available you will be contacted. You will have 24 hours to accept the invitation to book an appointment. If you don't select a time, you will be added back onto the state's waiting list.
Those who are 75 or older or without internet can connect with a state vaccine hotline operator by dialing 2-1-1 Monday through Friday from 8:30 a.m. to 5 p.m. (press 2 for the call center) for help finding and booking appointments.
Newsletter Signup
Stay up to date on all the latest news from Boston.com