COVID
Charlie Baker accelerates Massachusetts reopening plan to lift nearly all COVID-19 restrictions on May 29
"We are now prepared and protected, and we can move forward together."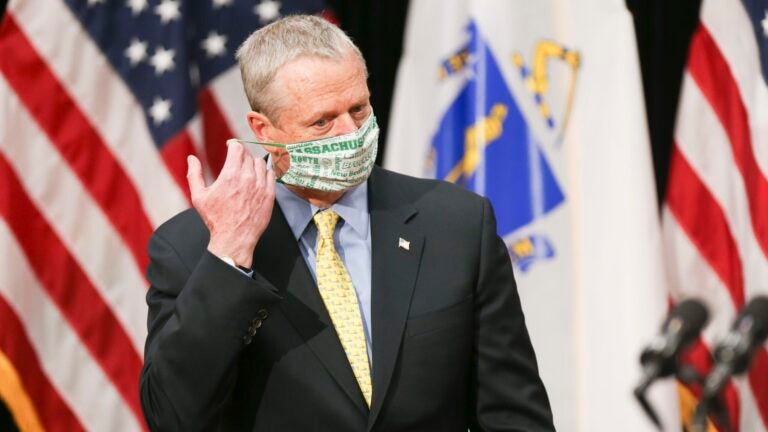 "Normal" is making a sooner than expected return to Massachusetts.
Gov. Charlie Baker's administration announced plans Monday to lift virtually all COVID-19 restrictions on businesses and gatherings on Saturday, May 29, with the state on track to reach its goal of vaccinating 4.1 million residents by the first week of June.
"We are now prepared and protected, and we can move forward together," Baker said during a press conference Monday.
The move — a significant acceleration of the previously announced reopening timeline — will allow all industries to fully reopen with no capacity limits and rescind all limits on public and private gatherings. That means, effective Memorial Day weekend, everything from gyms to nightclubs, wedding venues to Fenway Park will be allowed to resume operations at 100 percent.
Baker also announced the state will rescind its mask mandate on May 29 and replace it with an advisory that generally mirrors the recently updated Centers for Disease Control and Prevention guidance saying that people who are fully vaccinated — meaning two weeks past their last required dose of a COVID-19 vaccine — can safely resume normal activities, indoors or outdoors, without wearing a mask or physically distancing.
As of May 29, the state will still require a mask for everyone — regardless of their vaccination status — in nursing homes, health care settings, schools, child care centers, ride-sharing services, taxis, and public transportation systems, including train stations, bus stops, and airports (both riders and employees).
However, only unvaccinated individuals will be asked to wear face coverings in other indoor public settings and when they can't socially distance outside.
"If you've not yet gotten vaccinated, please get vaccinated to protect yourself and your family," Baker said.
State officials also noted that businesses may continue to set their own masking or vaccination requirements.
"We encourage them to do whatever works for them, for their employees, and for their customers," Baker said. "And we also encourage everyone to be respectful and to follow those requirements if a private organization puts them in place."
Baker declined to say when the universal mask requirements for schools, public transit, and other select settings might be lifted.
Baker's office said he will end the COVID-19 State of Emergency on June 15.
Local cities and towns can also choose to keep more cautious masking or reopening rules in place. For example, acting Boston Mayor Kim Janey had said the city would follow the state's previous reopening timeline on a three-week delay. However, Janey announced Monday afternoon that Boston would align with the statewide plans to lift restrictions on May 29.
Baker's move comes after a number of neighboring states — including Connecticut, Maine, Rhode Island, and Vermont — recently accelerated their reopening plans and moved to align their mask mandates with the new CDC guidance (New Hampshire had already lifted its statewide mask mandate) over the course of the last week, with the New England region leading the country in vaccination rates.
Baker's administration previously had announced plans to relax a more modest slate of restrictions on Memorial Day weekend, with a full reopening targeted for Aug. 1 — though officials had repeatedly hinted the timeline could be accelerated depending on the state's vaccination and infection rates.
Some disease experts have argued that states should keep indoor mask mandates in place for at least a few more weeks to allow time for the last group of adults, who became eligible to get vaccinated on April 19 in Massachusetts, to reach full immunity, which wouldn't happen until next week at the earliest. People as young as 12 also became eligible to get the Pfizer vaccine Thursday.
So far, 3.2 million people in Massachusetts have gotten all their required vaccine doses, and over 4 million people — 75 percent of the state's adults — have received at least one shot, Baker said Monday. The governor also noted that virtually everyone who has gotten one of the two-dose COVID-19 vaccines has returned for their second shot.
Baker acknowledged the varying vaccination rates across different communities and racial groups in Massachusetts, but said officials were "working day and night to reach everyone where they are."
"We know this is more important and harder to do in our hardest-hit cities and towns," he said. "There's no question we've made tremendous progress."
State officials noted that COVID-19 infection and hospitalization rates are down nearly 90 percent since the beginning of the year, which Baker attributed to the effectiveness of the vaccines.
The governor had previously called it "almost impossible" to impose differing rules to vaccinated and unvaccinated individuals. However, he said Monday that the new face-covering guidelines reflect both the science that fully vaccinated individuals are very unlikely to transmit or get sick from COVID-19, as well as a shifting emphasis from community protection to individual risk assessment, due to widespread vaccine availability.
"This is in some respects a question of personal responsibility," Baker said.
The pushed-up reopening timeline still puts Massachusetts about a week behind a few neighboring states. Connecticut and Rhode Island plan to lift business and gathering restrictions this week; New Hampshire did so in early May, though many cities and businesses have opted to keep certain rules in place.
Baker said it made sense to wait a little longer until May 29 because Massachusetts was already slated to lift restrictions on gatherings, restaurants, bars, and street festivals that day under its previous multi-step reopening plan. The accelerated plans mean that nightclubs, dance floors, saunas, and ball pits can reopen — and that gathering limits are completely rescinded — two months earlier than the previously planned Aug. 1 date.
According to Baker, Massachusetts will be "pretty close" to its goal of fully vaccinating 4.1 million people by May 29. Mike Kennealy, the state's secretary of housing and economic development, also noted that the 12-day window will give businesses more time to adjust their physical spaces and increase staffing levels.
There is however one change that will happen before May 29: Effective on Tuesday, the state will no longer require masks for athletes under the age of 18 playing outdoor sports or during school recess, a change which comes after pressure from some local parents. Mask requirements for indoor youth and amateur sports remain in place, until all restrictions are lifted on May 29.
The climatic announcement Monday came just a day shy of the one-year anniversary of when Massachusetts entered the first phase of the state's four-step reopening plan. Baker said Monday that the orders imposing restrictions of businesses were "the most difficult decisions I've ever had to make."
"The loss and the isolation so many of our friends and families experienced is likely to impact all of us for a very long time," he said, adding that COVID-19 — which has killed more than 17,000 people in Massachusetts — "will be with us after any rule or regulation expires."
View Survey
Newsletter Signup
Stay up to date on all the latest news from Boston.com