COVID
Here's where masks will still be required for everyone in Massachusetts after May 29
Regardless of your vaccination status.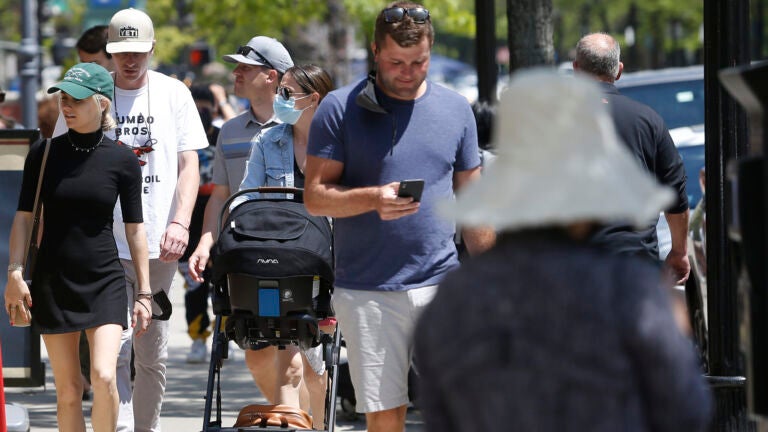 Massachusetts is eliminating its mask mandate on Saturday, May 29, but in certain settings, face coverings will still be required into June and beyond, regardless of one's vaccination status.
Gov. Charlie Baker announced the move Monday — along with plans to lift virtually all other COVID-19 restrictions on May 29 — to replace the state's universal mask mandate with an advisory mirroring recent Centers for Disease Control and Prevention guidelines saying that fully vaccinated individuals can safely resume normal activities unmasked.
Under the new rules, only people who are not at least two weeks past their last required COVID-19 vaccine dose will be asked to wear a face covering where they're currently required: all public indoor locations and outside areas where they can't maintain six feet from others.
However, after May 29, masks will still be required for both vaccinated and unvaccinated people over the age of 5 in certain settings in order to protect "our most vulnerable populations," said Health and Human Services Secretary Marylou Sudders.
The state's' website has a full list of where masks will remain required:
On public and private transportation systems, including trains, buses, ferries, airplanes, subway stations, bus stops, airports, rideshares (Uber and Lyft), taxis, and livery vehicles.

The requirement applies to riders and workers.

Inside K-12 public schools, including collaboratives and special education schools.

The requirement applies to students, teachers, and staff.

Inside child care programs

The requirement applies to students, teachers, and staff.

In health care facilities and provider offices, including nursing homes, rest homes, emergency medical services, hospitals, doctor's offices, urgent care settings, community health centers, vaccination sites, and behavioral health clinics.

The requirement applies to patients and staff.

In congregate care settings, including assisted living facilities, group homes, prisons, jails, residential treatment programs, shelters, private special education, and schools that offer residential services.

The requirement applies to clients and staff.

In health care and rehabilitative day services and programs

The requirement applies to staff and consumers.
State officials also noted that local communities or individual businesses may choose to continue requiring masks. Baker urged residents to "be respectful and to follow those requirements."
"Just as many residents will continue to wear masks on a go-forward basis, some restaurants, stores, and venues will continue to ask you to do so at their place of business." Mike Kennealy, the state's housing and economic development secretary, said Monday.
"Let's all pledge to respect each other's right to get back to normal at our own pace and in our own way," Kennealy added.
Newsletter Signup
Stay up to date on all the latest news from Boston.com