COVID
What an infectious disease doctor thinks of Mass. accelerating its reopening timeline
"I'm simultaneously elated and disoriented."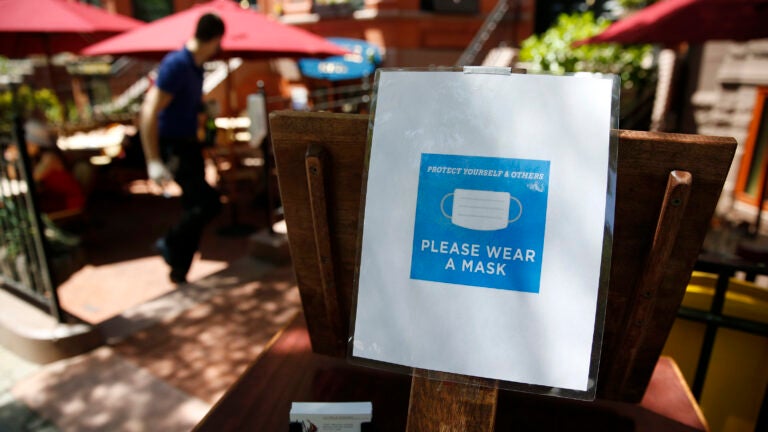 Massachusetts is bumping up its timeline for lifting COVID-19 restrictions.
The original timeline for rolling back restrictions in Massachusetts saw some measures easing around Memorial Day with full reopening targeted for Aug. 1. Instead, the Bay State will see the bulk of its COVID-19 rules lift on May 29.
Dr. Cassandra Pierre, associate hospital epidemiologist at Boston Medical Center, told Boston.com that consistently low and declining COVID-19 positive rates, hospitalizations, and deaths in Massachusetts support having the rules relaxed.
But even so, she acknowledged that it feels surreal for the moment to have finally arrived.
"I'm simultaneously elated and disoriented," she wrote in an email.
Gov. Charlie Baker announced Monday that with the state on track to reach its goal of vaccinating 4.1 million residents by the first week of June, his administration will roll back nearly all restrictions on businesses and gatherings on May 29. The move will allow all industries to fully reopen with no capacity limits and lift limits on public and private gatherings, and Baker will end the COVID-19 State of Emergency on June 15.
The governor also announced that the state's mask mandate will be rescinded on May 29 and replaced with a new advisory that reflects the recently updated guidance for fully vaccinated individuals from the Centers for Disease Control and Prevention. Following the CDC's recommendations, the state will allow fully vaccinated individuals — meaning they are two weeks past their required dose of the COVID-19 vaccine — to resume most activities indoors and outdoors without wearing a mask or social distancing.
Unvaccinated individuals will still be asked to wear face coverings in indoor settings where social distancing isn't possible. Masks will still be required for everyone on public transit, in schools, health care facilities, and certain other settings.
Pierre said she's certain that many people will be watching COVID-19 trackers closely over the next few weeks — particularly after Memorial Day weekend when many may take advantage of the relaxed restrictions — to make sure case rates, hospitalizations, and deaths are still declining.
The doctor said she is hopeful that good weather will encourage outdoor gatherings, which would present a reduced risk of transmission even in crowded settings, as the restrictions lift.
"That said, I think it will be especially important to monitor COVID-19 cases in the communities that have been hardest hit by the pandemic to date, as they may show disparate trajectories in infections and hospitalizations compared to the state as a whole," Pierre said. "This is because these communities are disproportionately undervaccinated in comparison to the rest of the state."
She said she is concerned that under the accelerated timeline, there will be a perpetual cycle of infections in marginalized and undervaccinated communities that have already been hardest hit by the pandemic. Communities that have disproportionately undervaccinated are more likely to be made up of front line workers employed at restaurants, entertainment venues, and other similar locations. With restrictions being relaxed, workers could find themselves in crowded settings with unmasked individuals, who may or may not be vaccinated since there is no formal enforcement or tracking for vaccinated individuals in the forthcoming face covering advisory.
"We cannot afford to have a tale of two pandemics (declared as over in the state while vulnerable populations — including people of color — continue to be infected and experience severe complications of disease), and need to continue to address access issues while building vaccine confidence in the communities that will continue to be at risk," Pierre said.
The BMC infectious disease doctor said when it comes to rescinding the mask mandate for fully vaccinated individuals, there is enough evidence to feel confident that there will be a low risk of infection for those who have been inoculated.
But even with that scientific evidence, putting aside the practice of masking for those who are fully vaccinated will likely feel strange, especially for those who "now instinctively panic when we see an unmasked face in our proximity," she said.
"We'll need some time to acclimate I think (especially as certain towns/cities within Massachusetts and specific establishments may have their own mask requirements and people may become confused or frustrated when they come across recommendations that differ from the state's or the CDC's)," Pierre said. "We all need to continue to be kind to each other and realize that this will be a process of trusting the science and easing out of wearing the masks in all situations — we've been wearing masks for about 14 months and it's become a habit for most people."
As a result of the changes the state is making, some populations that are medically vulnerable, such as those who are immunocompromised, may delay returning to reopened society, she said. The doctor recommended immunocompromised individuals continue to wear masks in indoor spaces outside of their household and consider limiting their exposures to large groups of people with unknown vaccination statuses, even if they themselves have been fully vaccinated.
The biggest issue Pierre said she sees isn't related to the change in the mask mandate on its own.
Rather she's concerned about the lack of a system for verifying an individual's vaccination status.
"Much has been said about how the CDC (and now Massachusetts) has mentioned that the enforcement of this guidance among the unvaccinated relies solely on the honor system," Pierre said. "Given what we've seen over the past few months, however, I'm sorry to say that I don't believe people will necessarily do the right thing."
She said she'd like to see a system put in place to verify vaccine status for public, indoor events. But such infrastructure doesn't exist and likely won't be built before May 29.
With the state moving forward with its full reopening, Pierre stressed the importance of monitoring for infections in vulnerable communities, paying attention to the vaccine trajectory in those communities, and giving "more serious consideration" to a vaccine verification system. She also said it will be important for the state to provide closer tracking of concerning, more transmissible variants to ensure any outbreaks can be quickly contained.
Doing so will help prevent the loss of the "well-earned reprieve from restrictions and mask mandates," she said.
"We hope that this is the new normal we've been dreaming of for months — in order to keep it that way (and prevent us from going back to restrictions, physical distancing and universal masking) we need to ensure that we get vaccinated and encourage others in our social networks to do so as well," Pierre said. "There is so much to look forward to."
Newsletter Signup
Stay up to date on all the latest news from Boston.com