COVID
Why the looming end of the COVID-19 state of emergency has officials scrambling
The state of the emergency is coming to an end on June 15. But there are some executive orders and laws attached to it that many officials and residents want to keep.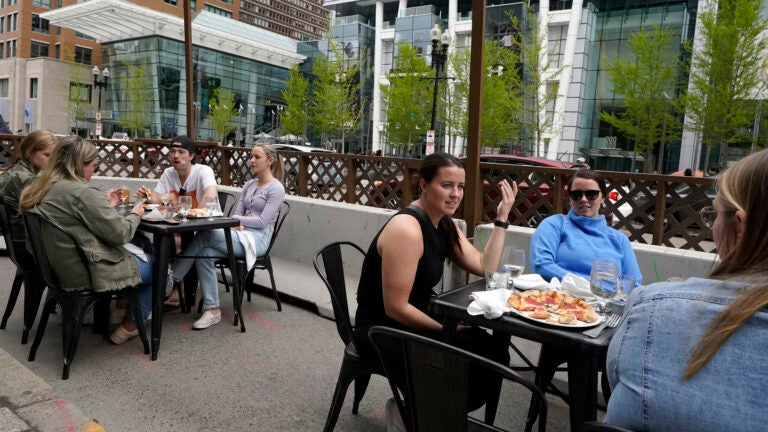 Gov. Charlie Baker announced plans Monday to lift virtually all remaining COVID-19 restrictions in Massachusetts this Memorial Day weekend, bringing an end to the gathering limits and business shutdowns that defined the state's battles against the pandemic.
But now, Baker and his legislative colleagues have to figure out which special pandemic-era rules they want to keep. And that may take some work.
The governor's announcement came with the news that he will let the COVID-19 state of emergency he declared 14 months ago expire on June 15.
That official declaration gave Baker extraordinary power to swiftly enact temporary laws — often bypassing the usual legislative rule-making process — through executive orders.
And he did so often. Since last March, he signed a total of 68 COVID-19 orders, from school and business closures to mask mandates to curfews to gathering limits.
But along with headline-grabbing moves, Baker also used that power to enact a "basket of orders" that, in his words, "aren't particularly related to the stuff that people pay the most attention to."
And some people aren't ready for those to end quite yet.
For example, Baker's first emergency order allowed public meetings to be conducted through virtual platforms like Zoom and required that residents were able to participate remotely. Another made it easier for local governments to permit outdoor dining.
"Many of these options proved to be successful and popular," the Massachusetts Municipal Association said in a statement this week.
Many also have expiration dates tied to the end of the state of emergency, which is a point of concern for many local officials.
"Once the emergency order is over, the emergency order is over," Baker said Monday, adding that the administration is reviewing the state's laws to figure out what might be undone by the state of emergency's expiration.
Some legislation passed during the pandemic — such as allowing restaurants to sell takeout alcohol or requiring insurance companies to reimburse telehealth services at the same rate as in-person care — also included expiration dates tied to the end of the COVID-19 state of emergency.
With the clock now ticking, Baker's office says they'll work with legislative and municipal partners in the coming weeks "to manage an orderly transition from emergency measures adopted by executive order and special legislation during the period of the State of Emergency."
Representatives for Senate President Karen Spilka and House Speaker Ron Mariano say the Legislature has asked Baker's administration for "a full list of executive orders and emergency regulations" that will be affected.
"Throughout the pandemic, the Legislature has adapted to the times and acted swiftly to provide protection, support, and relief to residents and businesses," the spokespeople said. "The Speaker and the Senate President look forward to working together with the Baker Administration as we seek to provide a seamless transition out of the State of Emergency and back to 'new normal.'"
During a call with local officials Tuesday, Lt. Gov. Karyn Polito said the administration is forming a working group involving its legal team to start the review process.
And while Baker suggested additional state-level laws may be necessary, Polito also raised alternative routes. She noted Tuesday that local officials could act at the municipal level to ensure outdoor dining permits are extended through the summer (currently, provisions allowing an expedited permit process and expanded outdoor alcohol service are set to expire 60 days after the state of emergency ends).
However, Geoff Beckwith, the executive director of the MMA, said that, "at a minimum, some legislative solution will be necessary to serve as a bridge to be able to give communities time to work out the changes in bylaws and ordinances in licenses and permitting," given differing town meeting schedules.
"We'll work with our legal department on what that bridge needs to look like," Polito said, adding that an extension could also come through a "future order," presumably before the state of emergency ends.
Even before Baker announced the state of emergency's coming end, local restaurants and legislators had begun rallying for a law to make takeout cocktails and pandemic-era caps on delivery fees permanent to help the battered industry.
With the state of emergency ending during a month when many town meetings are scheduled, Beckwith said that local officials are also "extraordinarily interested" in continuing remote participation, for both local board members and residents.
Polito noted that no law changes are necessary to allow public remote participation, which some state agencies and local boards had already implemented before the pandemic. But state law currently requires a quorum of governing board members to be physically present for a meeting to take place. Beckwith also suggested it would be important to continue to require remote participation options for members of the public. In addition to boosting transparency and public participation, he noted that the option will ensure that people who aren't fully vaccinated or immunocompromised — or who are simply still adjusting to post-pandemic life — have a comfortable way to attend meetings.
"While the state of emergency is lifted, we'll still be in a transition period for a significant period of time regarding public comfort in attending crowded municipal town hall meetings," Beckwith said. "We look forward to working with you on an immediate solution to get to get this answer before June 15. And we look forward to working with the Legislature, too."
Newsletter Signup
Stay up to date on all the latest news from Boston.com