COVID
What to know about the coronavirus pandemic in Mass. this week 
A weekly roundup on the latest information on COVID-19 cases, vaccinations, and the state's reopening.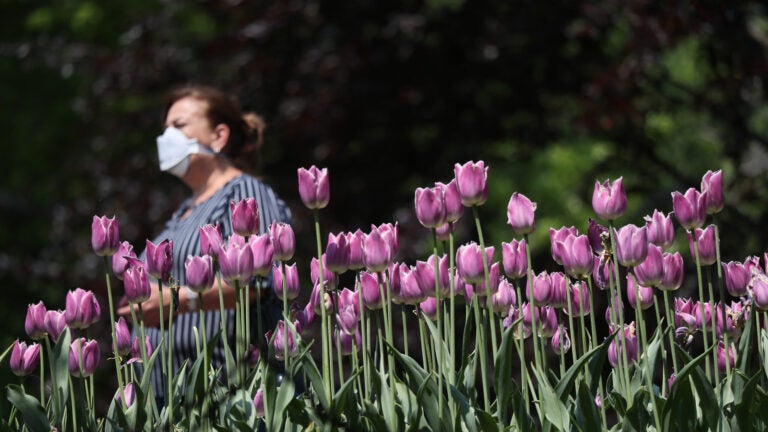 Massachusetts is headed toward a full reopening after more than a year of restrictions to prevent the spread of the coronavirus, as more and more residents get fully vaccinated and case rates of COVID-19 continue an encouraging downward trend.
Below, what you need to know about the state's reopening, vaccinations, and COVID-19 trends this week.
The latest on the state's reopening
The hallmarks of life during the pandemic — social distancing and mask wearing — are going to look a lot different in Massachusetts come Saturday, May 29. Gov. Charlie Baker's administration is moving ahead with lifting virtually all COVID-19 restrictions on businesses and gatherings, citing the state being on track to reach its goal of vaccinating 4.1 million residents by the first week of June.
The change — accelerating the previously announced reopening timeline — will allow all industries to reopen with no capacity limits and rescind all limits on public and private gatherings, allowing everything from gyms to nightclubs, wedding venues to Fenway Park to operate at 100 percent just in time for the Memorial Day weekend.
The governor also announced that the state's mask mandate will be rescinded on May 29 and replaced with a new advisory that reflects the updated guidance for fully vaccinated individuals from the Centers for Disease Control and Prevention. Following the CDC's recommendations, the state will allow fully vaccinated individuals — meaning they are two weeks past their required dose of a COVID-19 vaccine — to resume most activities indoors and outdoors without wearing a mask or social distancing.
Boston, and even the most cautious communities in Massachusetts, are aligning with statewide plans. Local restaurateurs are welcoming the accelerated timeline after 14 months of struggling to survive.
Dr. Cassandra Pierre, associate hospital epidemiologist at Boston Medical Center, told Boston.com that consistently low and declining COVID-19 positive rates, hospitalizations, and deaths in Massachusetts support having the rules relaxed. But she said she is concerned that under the accelerated timeline, there will be a perpetual cycle of infections in marginalized and undervaccinated communities that have already been hardest hit by the pandemic. It will be especially important for officials to continue to monitor COVID-19 cases in those communities as the reopening goes forward, she said.
"We cannot afford to have a tale of two pandemics (declared as over in the state while vulnerable populations — including people of color — continue to be infected and experience severe complications of disease), and need to continue to address access issues while building vaccine confidence in the communities that will continue to be at risk," Pierre wrote in an email.
In addition to restrictions lifting May 29, Baker has also announced the end of the COVID-19 State of Emergency on June 15. That official declaration gave Baker extraordinary power to swiftly enact temporary laws — often bypassing the usual legislative rule-making process — through executive orders. Since last March, he has signed a total of 68 COVID-19 orders, from school and business closures to mask mandates to curfews to gathering limits.
Now, Baker and his legislative colleagues have to figure out which special pandemic-era rules they want to keep after the State of Emergency lifts.
The federal government's $300 weekly boost to state unemployment benefits isn't coming to an end any time soon in Massachusetts. Baker pledged last week that his administration will "continue to support the supplemental payments" until the week ending on Sept. 4, when the federal pandemic-era unemployment boost is set to expire under the COVID-19 relief package passed this past March.
The latest on the state's vaccination progress
Massachusetts is shutting down the preregistration system it launched over two months ago to manage the mad dash to secure the then-limited number of vaccine appointments.
With nearly two-thirds of Bay Staters at least partially vaccinated and demand dramatically easing, it's no longer necessary to even sign up in advance to get an appointment. All seven of the state's mass vaccination sites, as well as hundreds of local pharmacies, are accepting walk-in appointments for shots.
Baker announced officials will close the preregistration system "by the end of the month," with signups ending early this week.
"New signups will close on 5/25 and everyone will be offered appointments by June," Baker wrote in a tweet, noting that the preregistration system "has scheduled hundreds of thousands of COVID-19 vaccine appointments."
Officials have said most of the state's mass vaccination sites will close by the end of June.
Massachusetts is expanding its homebound vaccination program on Monday, Baker announced last week. The program, which helps individuals who are unable to get to a vaccination site, was initially launched in March and uses the one-shot Johnson & Johnson vaccine. Through the program, residents can call and make an appointment to have a vaccination team administer the shot at their home. The program is open to all Massachusetts residents who "have considerable difficulty and/or require significant support" to leave their home for medical appointments.
Officials in New Bedford started offering $20 Dunkin' gift cards last week to any city resident over the age of 65 who gets their first dose of a vaccine, in an attempt to immunize those most vulnerable to COVID-19 ahead of statewide plans to fully reopen Massachusetts.
The gift cards will be available at the walk-up, FEMA-run clinic at the Waterfront Vaccination Center on Hervey Tichon Avenue, city-operated clinics, mobile clinics, and through New Bedford's appointment-based homebound vaccination program.
General vaccination information to know:
The number of people who have been fully vaccinated (as of Sunday): 3,438,241
According to The New York Times vaccine rollout tracker, Massachusetts ranks fourth among states for the percentage of residents who are fully vaccinated (50 percent). The Bay State is also second in the nation based on the percentage of the state population who have received at least one dose (65 percent). See how Massachusetts compares to other states and U.S. territories here.
Eligibility and how to book an appointment:
Individuals age 12 and older who live, work, or study in Massachusetts are eligible to get a COVID-19 vaccine. People who are ages 12 to 17 can only receive the Pfizer vaccine, but individuals 18 and up can get any of the approved vaccines (Pfizer, Moderna, or Johnson & Johnson).
Use vaxfinder.mass.gov to search for appointments at pharmacies, health care providers, mass vaccination sites, and other community locations on your own.
Those who are 75 or older or without internet can connect with a state vaccine hotline operator by dialing 2-1-1 Monday through Friday from 8:30 a.m. to 5 p.m. (press 2 for the call center) for help finding and booking appointments.
For more on booking appointments, visit the state website here.
View a map of vaccination sites in Massachusetts here.
The latest on the state's COVID-19 case trends
Last week, state health data revealed that just two communities remain in the "red zone" for COVID-19 risk as Massachusetts continues to see a decline in cases.
This is four less communities than the previous week, when there were six cities and towns on the list.
Lawrence and New Bedford are the two remaining, with positivity rates of 4.46 percent and 4.31 percent, respectively.
As of Sunday, Massachusetts is reporting the following information on COVID-19 cases:
Newly reported cases: 287
Estimated active cases: 10,062
Newly reported deaths: 5
Percent positivity (seven-day average): 0.93%
Hospitalized patients: 257
Average age of hospitalized patients: 59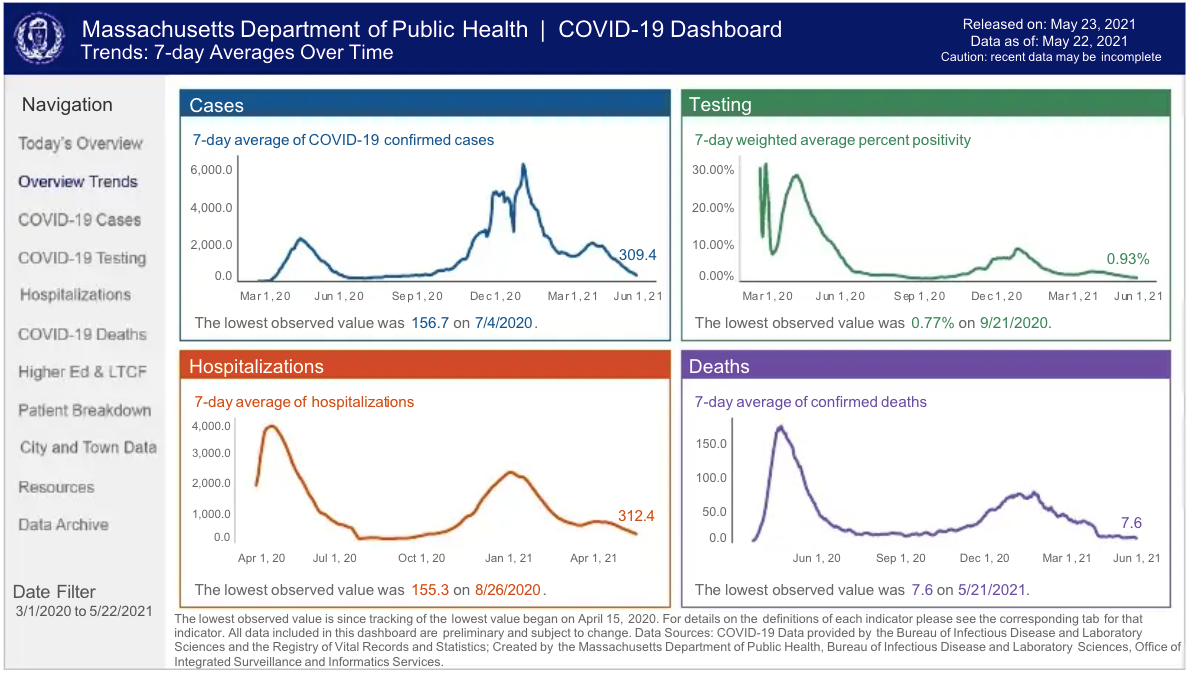 See the latest data report here.
Newsletter Signup
Stay up to date on all the latest news from Boston.com