Coronavirus
More than 3,000 readers voted, here's how they feel about COVID-19 restrictions lifting
"LET'S GOOOOOOOOOOOOOOOOOOO," said one reader.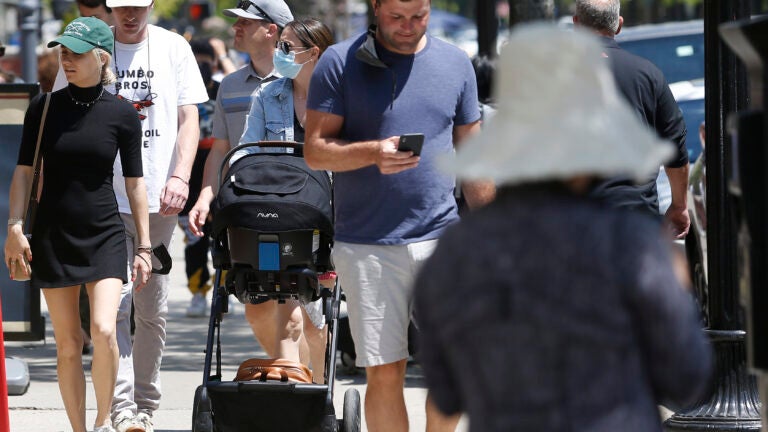 We're just days away from nearly all pandemic-related restrictions on businesses lifting and life will start to return to normal in Massachusetts.
The state is currently on track to reach its goal of vaccinating 4.1 million residents by the first week of June, according to the governor. The Centers for Disease Control and Prevention issued similar guidance earlier this month, saying those who are fully vaccinated can stop wearing a mask and physically distancing. The announcement may come as a warm welcome for many. But the sweeping changes also arrive two months ahead of the previous reopening schedule, and some worry plans are being rushed.
With May 29 on the horizon, we asked Boston.com readers if they were happy to hear Gov. Charlie Baker's announcement that restrictions would be lifting.
The majority of Boston.com readers who responded to our survey have their calendars marked in anticipation, with 56 percent of respondents saying they agree with the governor's decision. Others feel more wary about the move, with 33 percent saying it's far too soon, and another 12 percent saying guidelines should be relaxed in some situations, but not all.
One of our readers is particularly excited about the return to normalcy writing, "LET'S GOOOOOOOOOOOOOOOOOOO!"
Newsletter Signup
Stay up to date on all the latest news from Boston.com
Many in support said the wait until May 29 was too long. One reader said, "This is too late. [Massachusetts] did not have excess deaths, relative to pre-COVID period, for a long time now, according to CDC. However, the negative impact of restrictions, on economy and quality of life in general, drags on."
Others are less optimistic. "While I look forward to the re-opening, going from 0 to 100 seems rather foolish — both for individuals and also businesses. A staggered re-opening would've been much wiser," said another reader.
Read some of the major points that Boston.com readers made about mask wearing and reopening plans below.
Responses were lightly edited for clarity.
Readers are glad to be able to make 'individual choices.'
"I'm vaccinated and I'm glad we are finally reopening! However, I'll still be wearing my mask in many public places since I don't trust people to tell the truth about their vaccination status. I see keeping my mask routine for the foreseeable future." — Bill, Taunton, voted 'yes'
"No concerns since we have a high rate of vaccination in the Bay State and in New England. I'll still be wearing my mask among crowds, but at least outdoors I can bring it down if I need some extra fresh air." — Rafael, Revere, voted 'yes'
"I am hopeful that individuals on both sides of the mask debate — those for wearing them at their discretion and those against wearing them at their discretion — can respect the individual choices being made by the other side, even if they don't agree with the choice." — Bruce, Pembroke, voted 'yes'
But some are concerned about the actions of those around them.
"How will we know who's vaccinated versus who is not? Vaccination is not guaranteed protection just one tool along with masks and social distancing. We are not at herd immunity yet. What about those who have reduced protection due to being immune compromised even with vaccines. How about kids who can't get vaccines? Not saying never lift restrictions, just too soon." — Mary, Quincy, voted 'it depends'
"Unfortunately those who refuse to get vaccinated are sometimes the same ones who refuse to wear masks. That puts others at risk. This disease rages on and every day people in Massachusetts are spreading COVID, getting COVID and dying of COVID. I will wear a mask in public until we are safer." — Pat, Cambridge, voted 'no'
"The new guidance throws the immunocompromised and children under 12 to the wolves. I recognize that Massachusetts is among the leaders for adult vaccination rates. But let's face it, a good chunk of those who have yet to vaccinate aren't planning on it. And they are likely planning on acting (selfishly) as though they have. Since stores won't be requiring proof of vaccinations this guidance basically tells those who are not eligible or able to vaccinate that they are no longer welcome as active members of indoor society. And that's a shame that could be prevented by either continuing to require masks or by requiring proof vaccination to go maskless indoors." — Ben, Sharon, voted 'no'
Parents on both sides are worried about their unvaccinated children.
"My unvaccinated young children are at less risk than a vaccinated adult. It kills me to see their little faces covered all day in daycare. By far the most important thing to me is allowing our children to go back to being children and have normal school interactions with their friends. Aside from the deaths, this has been the biggest tragedy resulting from COVID. For some reason we prioritized letting people eat out without masks but then we force the children to wear a mask all day at school." — Anonymous, voted 'yes'
"We need to stop masking children in schools. The risk of COVID to children is very low. The masks are dirty and uncomfortable for children to wear all day. Many schools are not air conditioned and summer weather is coming while kids continue to finish up their classes." — Jon, Leominster, voted 'yes'
"I have unvaccinated children under 12. We do not know the long term effects of COVID on kids, and some have serious symptoms. I feel as if my children's safety is being ignored and now we will be stuck at home to avoid the dishonest unmasked individuals. This press conference read strongly of 'it's over,' but it's not." — Jane, Littleton, voted 'no'
"Kids under 12 still are vulnerable because they can't get vaccinated. I have to trust that people who chose not to get vaccinated are going to wear a mask in public indoor spaces now instead of relying on universal public health measures to protect my children?" — Anonymous, voted 'no'
Other readers are concerned about the 'chaos' it will bring to businesses.
"If you work in a restaurant, it's going to be utter chaos! We're already short-staffed and once the floodgates are open, customers will forget their manners and their patience. UGH!" — Liz, Salem, voted 'no'
"If businesses decide to keep mask requirements, which is their right, I hope that people that have an issue with that either take their business elsewhere or comply anyway. Just add it to "no shirt, no shoes, no mask, no service." I have fears that there will be a lot of people taking it out on the messenger, which is not fair to employees." — Anonymous, voted 'yes'
"If you work in a restaurant, lifting all restrictions on Memorial Day weekend is going to be absolute chaos for the staff. We are already under-staffed! Now we have two weeks to hire and train additional employees and with the unnecessary continuation of federal pandemic unemployment assistance, this is no easy task! Be prepared for exhausted wait staff and bartenders, a plethora of rude customers due to longer waits to be seated and served." — Anonymous, voted 'no'
Boston.com occasionally interacts with readers by conducting informal polls and surveys. These results should be read as an unscientific gauge of readers' opinion.