COVID
In-person learning required in Mass. schools this fall as COVID restrictions are lifted
Physical distancing requirements will be lifted, and districts will not be permitted to offer remote learning as a standard learning model.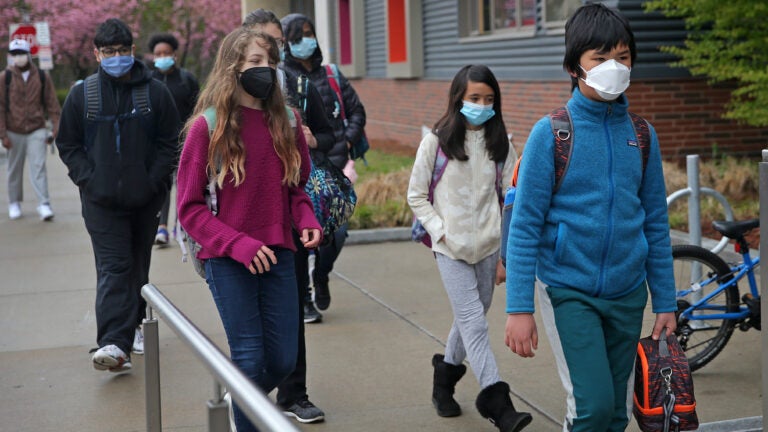 This fall, students at all Massachusetts school districts will be required to learn in person, with all health and safety requirements lifted, including physical distancing.
The fall 2021 guidance was issued by the Department of Elementary and Secondary Education to superintendents on Thursday.
Districts will not be permitted to offer remote learning as a standard learning model.
"Pathways that existed prior to the pandemic for offering virtual learning to individual students in limited cases will remain available to districts and schools," including home tutoring for a documented medical condition, single-district virtual schools, or other "narrow circumstances," DESE wrote. More information is expected to be provided in June.
Districts will still be encouraged to maintain ventilation upgrades where possible, as well as smart hygiene practices, and extend policies that make it possible for sick students and faculty to stay home.
The core mitigation strategies used all year will remain in place through the end of the 2020-2021 school year, DESE wrote, with the exception of outdoor masking. The current guidelines will also apply to summer camps.
Graduation guidance has also been revised to reduce restrictions, following the state's move to drop all COVID safety restrictions on May 29.
According to reporting from the Boston Globe, documented cases of COVID-19 transmission in schools have been extremely limited, and reports of coronavirus cases among public school students and staff members have dropped in recent weeks as more people have been able to get vaccinated. Just 229 new coronavirus cases among students and 21 among staff members were reported for the week that ended Wednesday; it was the lowest recorded single-week level of staff-member cases yet.
The most recent COVID data showed 215 new cases and 9 new deaths, with vaccination rates continuing to rise. The May 27 vaccine report showed 3,558,197 people have been fully vaccinated against COVID-19.
Read DESE's full recommendation:
Newsletter Signup
Stay up to date on all the latest news from Boston.com