COVID
The latest strategy to close Massachusetts vaccination rate disparities: Market Basket
"We know these are convenient community locations. They're very heavily traveled."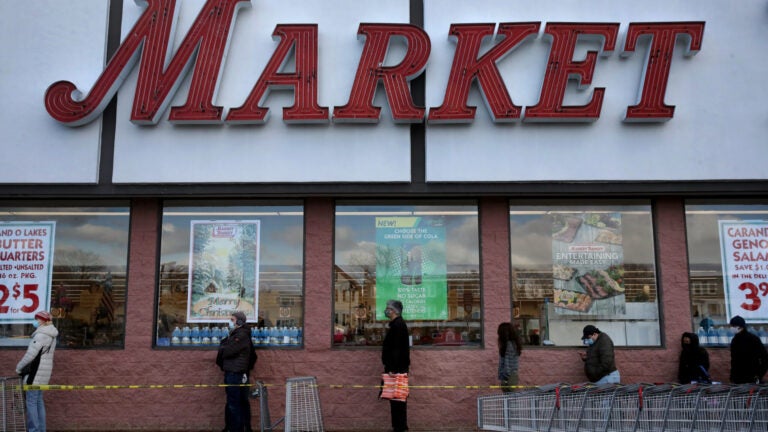 Nearly 80 percent of adults in Massachusetts — and two third of all residents — have gotten at least one shot of the COVID-19 vaccine. However, with vaccination rates still lagging in some of the communities that bore the brunt of the pandemic, state officials are turning to a local standby to make shots convenient, and enticing, as the rollout enters its final push.
Market Basket.
During a press conference Wednesday outside the local grocery chain's store in Chelsea, Gov. Charlie Baker announced that his administration is launching a series of pop-up vaccination clinics this month in the parking lots of five Market Baskets in Massachusetts, as part of their effort to increase vaccine access in the hardest-hit communities.
The no-appointment, walk-up clinics will be open for first doses Thursday through Saturday for the next two weeks at Market Basket stores in Chelsea, Fall River, Lawrence, Lynn and Revere, followed by corresponding second dose days in late June and early July.
And while pharmacies and other supermarket chains, like Wegmans and Stop & Shop, have provided the COVID-19 vaccine for months, the new target effort comes with the additional sweetener of $25 Market Basket gift cards for anyone who gets their first shot.
Baker said Wednesday that his administration is funding the gift cards, and will also send phone alerts to residents of the five cities "to make sure people have a chance to take advantage of a vaccine in their backyard."
Resident can also text "free ride" to 833-460-2202 to get a free Lyft ride to and from vaccine sites.
"We know these are convenient community locations," Baker said. "They're very heavily traveled, as anybody who's ever been to one knows. And we encourage all residents to come down and get their vaccine while they're doing their shopping."
Massachusetts is on track to meet its goal of fully vaccinating 4.1 million people later this month. And while Baker touted the state's nation-leading status, public health experts have expressed concern about "stunning" disparities in the vaccination rates at the local level linked to socioeconomic factors.
The double-digit differences can be seen in several of the Gateway Cities targeted by the new Market Basket clinics.
For example, while 67 percent of all Massachusetts residents have gotten at least one shot, the same can be said for just 45 percent of Lawrence and Fall River residents, according to the most recent municipal-level vaccination data. Lynn also lags behind the statewide average, with 54 percent of its residents at least partially vaccinated. Revere and Chelsea, meanwhile, are close to the state average at 60 percent and 65 percent, respectively.
The six cities were among the 20 hard-hit communities that were chosen to receive additional vaccination resources in February, due to elevated COVID-19 case rates and other factors, such as poverty, lack of transportation access, and crowded housing. Still, vaccination rates in those communities — and among people of color statewide — have continued to lag behind.
Asked about the persistent disparities, Baker cited vaccine hesitancy — for various reasons — as the dominant factor. He noted that some people don't think they need to get vaccinated because they already had COVID-19 or because they're young and their older relatives already got the vaccine.
A recent national poll from the Kaiser Family Foundation found that 32 percent of residents who have yet to get vaccinated say they would be more likely to do so if the vaccines, which are currently authorized on an emergency use basis, received full approval from federal officials. Another 21 percent said they would be more likely to get the vaccine if they got paid time off from their employer to recover from the possible side effects. And small portions pointed to financial incentives, such as cash, free transportation, sports tickets, or food coupons, as the most inducive.
Baker stressed that reducing barriers to access remains their top priority.
"We need to make this available anywhere and everywhere we can," he said Wednesday outside Market Basket.
But the $25 in free groceries likely doesn't hurt either.
Newsletter Signup
Stay up to date on all the latest news from Boston.com