COVID
What to know about the coronavirus pandemic in Mass. this week 
A weekly roundup on the latest information on COVID-19 cases, vaccinations, and the state's reopening.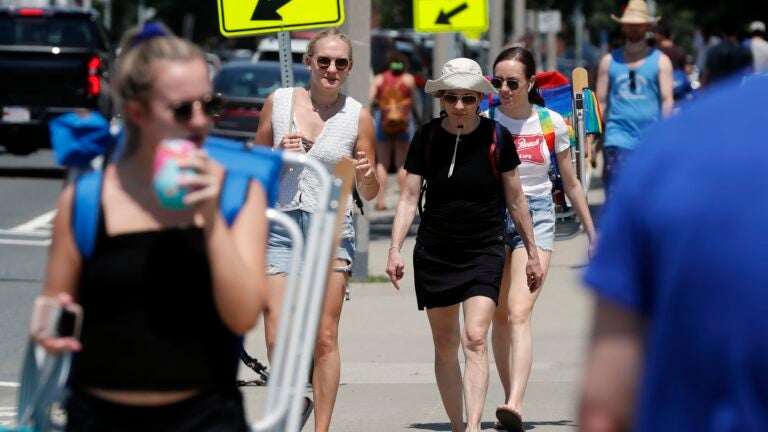 The reopening of Massachusetts is fully underway, with the state headed toward seeing an end of the state of emergency on June 15.
And with the lifting of COVID-19 restrictions, state officials have been adjusting the approach to vaccinations as more and more residents get their shots. Below, what you need to know about the state's reopening, vaccinations, and COVID-19 trends this week.
The latest on the state's reopening
Gov. Charlie Baker is at odds with State house leaders over their move to take control of the $5.3 billion in federal COVID-19 relief funds allocated to the state from the American Rescue Plan. The one-time windfall is intended to boost recovery from the pandemic and temper its economic fallout.
The state needs to spend the money within the next two-and-a-half years. Currently, money is in a federal grant fund controlled unilaterally by the Baker administration, but last week, Massachusetts House Speaker Ron Mariano and Senate President Karen Spilka announced plans to allocate the money into a "segregated fund." Doing so would officially give state lawmakers authority over how the aid is allocated.
Massachusetts lifted nearly all remaining COVID-19 restrictions on May 29, allowing restaurants to fully reopen with no capacity limits or other COVID-19 mandates. And while many chefs and restaurateurs celebrated the development, a handful told Boston.com that the shift in protocol will take some getting used to. They're asking diners to be patient as everyone adjusts to this latest reality.
"Like a light switch, most people seem to think the pandemic is over," one restaurateur said. "Many people come in without masks. When we ask them to put one on, nearly all are pleasant and apologetic. A few perhaps not."
While almost all of the state's COVID-19 restrictions are lifting, some pandemic policies are staying in place at the Massachusetts Registry of Motor Vehicles.
Baker has said the RMV will continue to operate using the online appointment system because so many have shared positive feedback about the experience.
"The RMV has received a tremendous amount of positive feedback from its customers about its appointment-based approach to service, and people have found it to be incredibly helpful with respect to planning their day," he said during a recent press conference. "The registry is a great example of an agency that has managed to do a terrific job in-person serving its constituents and customers over the course of the whole pandemic, and has learned some valuable lessons about customer service and moving significant transactions that used to be done only on a face-to-face basis to the online world, as well."
The latest on the state's vaccination progress
Five of the state's mass vaccination sites will be shutting down over the next several weeks, as officials focus on a more targeted strategy for vaccines going forward. The Baker administration said last week it is planning to ramp up community-based vaccine efforts to reach remaining unvaccinated populations. Meanwhile, Gillette Stadium, the Hynes Convention Center, the Reggie Lewis Center, Natick Mall, and the DoubleTree in Danvers will end operations by the end of June.The Eastfield Mall in Springfield and the former Circuit City in Dartmouth will remain open into July.
Officials in Massachusetts are taking a closer look at lotteries in other states aimed at enticing residents to get vaccinated against COVID-19, but the Baker administration so far seems reluctant to launch such a grand promotion. Instead, the administration says it is focused on making shots convenient for those who already want them.
Even if the administration remains hesitant on big prizes for vaccines, it has partnered with providers to offer smaller incentives, from Dunkin' iced coffees to free museum tickets to Market Basket gift cards. Last week, officials announced a series of walk-up vaccination clinics at Market Basket stores in five cities that were hardest hit by the pandemic. People who get their shots at the clinics will also get a $25 gift card for Market Basket.
General vaccination information to know:
The number of people in the state who have been fully vaccinated (as of Sunday): 3,835,277
According to The New York Times vaccine rollout tracker, Massachusetts ranks third among states for the percentage of residents who are fully vaccinated (55 percent). The Bay State is also third in the nation based on the percentage of the state population who have received at least one dose (67 percent). See how Massachusetts compares to other states and U.S. territories here.
Eligibility and how to book an appointment:
Individuals age 12 and older who live, work, or study in Massachusetts are eligible to get a COVID-19 vaccine. People who are ages 12 to 17 can only receive the Pfizer vaccine, but individuals 18 and up can get any of the approved vaccines (Pfizer, Moderna, or Johnson & Johnson).
Use vaxfinder.mass.gov to search for appointments at pharmacies, health care providers, mass vaccination sites, and other community locations on your own.
Those who are 75 or older or without internet can connect with a state vaccine hotline operator by dialing 2-1-1 Monday through Friday from 8:30 a.m. to 5 p.m. (press 2 for the call center) for help finding and booking appointments.
For more on booking appointments, visit the state website here.
View a map of vaccination sites in Massachusetts here.
The latest on the state's COVID-19 case trends
Last week, no communities were designated in the so-called "red zone" for COVID-19 transmission in the state. Cases in Massachusetts have been on a mostly steady downturn since earlier this year, which has only been accelerated by the vaccine rollout. Currently, there are just seven communities currently left with a yellow designation, calculated to have a moderate risk of COVID-19 spread. They include Brockton, Edgartown, Fall River, Lawrence, Oak Bluffs, Tisbury, and West Bridgewater.
As of Sunday, Massachusetts is reporting the following information on COVID-19 cases:
Newly reported cases: 126
Estimated active cases: 4,335
Newly reported deaths: 4
Percent positivity (seven-day average): 0.53%
Hospitalized patients: 178
Average age of hospitalized patients: 58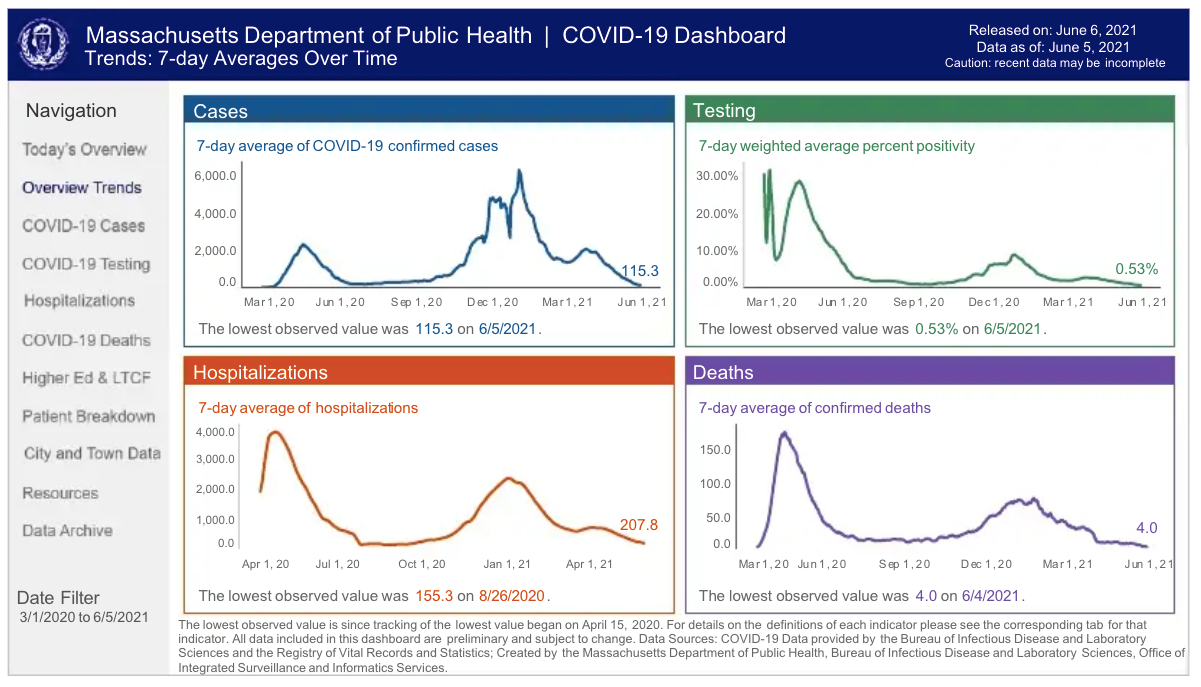 See the latest data report here.
Newsletter Signup
Stay up to date on all the latest news from Boston.com