COVID
Mass. reaches milestone of 4.1 million people fully vaccinated. Here's why that matters.
Massachusetts hit the big 4.1 — but what does that really mean?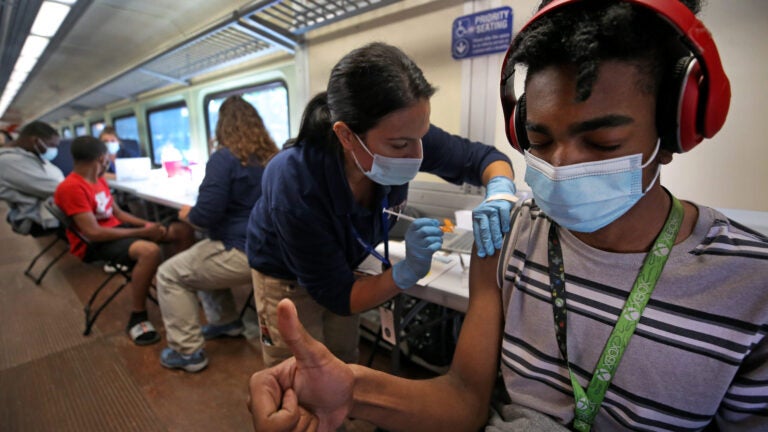 Earlier this spring, Governor Charlie Baker set the goal of fully vaccinating 4.1 million Massachusetts residents by the beginning of June. Though the state didn't quite meet the goal on time, as vaccinations slowed down in recent weeks, Massachusetts has finally hit the target.
On Tuesday, the state announced that 4,104,162 residents had been fully vaccinated, representing about 68% of the eligible population.
But what does that really mean?
Dr. David Hamer, a professor of global health and medicine at Boston University, told Boston.com the number itself isn't so meaningful, it's more about the work it represents.
"What's more important is the level of coverage, what proportion of the eligible population have had ideally two doses, or at least one," he said. "Those metrics are more important than the absolute number."
Right now, Massachusetts is in the top five states when it comes to full and partial vaccination rates, and well above the national average of 52%, according to the New York Times vaccination tracker. The average rate of cases, hospitalizations, and deaths are also extremely low.
Hamer pointed out that while the numbers are good, decreasing rates are partly due to the season like we saw last summer, and testing and contract tracing remain essential.
"We need to continue having surveillance, we need to be watching for the new strains, but we also just need to keep testing and watching for continued transmission," he said. "A lot of epidemiologists are concerned about what's going to happen in the fall. Last summer we had a big slow down in transmission and a serious second wave in the fall. This year I think we're going to be in a much better place because of high levels of vaccine coverage, but I think we have to be prepared and keep our surveillance systems in place."
The work isn't done
In May, when the Baker administration announced they were on track to meet the 4.1 million vaccinated goal, officials acknowledged that while it would represent progress there was still more to be done. The administration announced efforts to shift vaccinations to smaller-scale operations in order to target certain disproportionately impacted populations and communities.
"We're starting to see the benefits, but the challenge is the uptick has been slowing down and it's getting to people who don't have as easy access to the vaccine — or the vaccines are not available in their neighborhoods," Hamer said. "Or groups are more hesitant — or completely unwilling — to receive the vaccine because of whatever understanding they have about potential side effects, which may be a misunderstanding."
On Tuesday, Vaccine Equity Now! — a coalition of civil rights groups — called for more "urgency" to address the growing disparities in vaccination rates. "Massachusetts' vaccination program has been deeply inequitable from day one. As of June 17, 56.5% of white residents were fully vaccinated compared to 40 percent of Black residents and 38 percent of Latinx residents," the coalition said in a statement. "This is despite the fact that Black and Latinx residents have been disproportionately impacted by high COVID-19 hospitalization rates. Many of the 20 hardest hit communities continue to have vaccination rates that lag behind the rest of the state. The state must not pretend that these disparities don't exist."
Dr. Alister Martin, an emergency room physician at Massachusetts General Hospital, told Boston.com it was too early to pat ourselves on the back because there are still issues to address.
"What we're going to start to see, as we already have been seeing, is widening disparities in vaccination rates across racial and ethnic lines," he said. "That's evidenced by looking at places like Mattapan… What I'm concerned about in terms of the work moving forward is the overall number looks good – the state or city is above 70% – and yet that's because the South End has 81% of folks vaccinated and Mattapan still has 45%."
Martin founded GOTVax, an organization working to get vaccinations to disproportionately impacted communities, with a focus on sharing information and building trust. Conversations look different from Chelsea to East Boston, he said, and providers need to meet people where they are when it comes to language, representation, and location.
"It's almost not as simple as saying that the barriers are access and hesitancy, we are identifying that there are different species of both of those things," he said. "If you truly are invested in making sure that anyone interested gets vaccinated, that means you have to go out of your way to get people vaccinated. …We need a full-scale ground offensive to bring this vaccine into communities that have issues accessing the vaccine."
Newsletter Signup
Stay up to date on all the latest news from Boston.com