COVID
American Airlines flight delayed overnight after local students refuse to wear masks
"All they had to do was follow the rules, put the mask on, sit there. No smart-mouth comments. And they couldn't do it."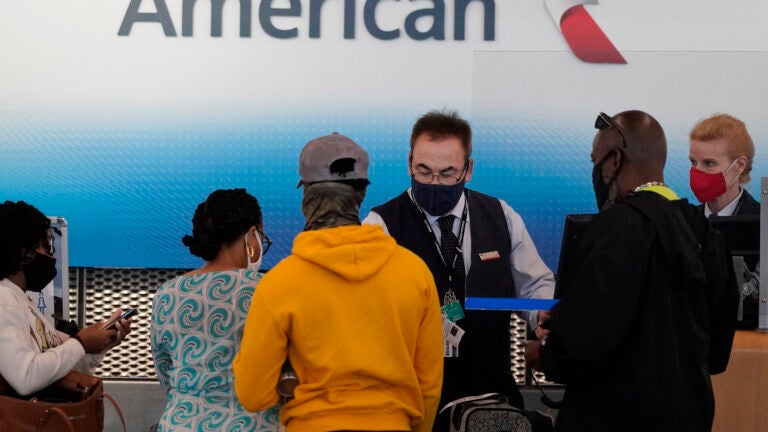 An American Airlines flight from Charlotte, North Carolina to Nassau, Bahamas was delayed overnight after a group of local high school students refused to comply with the federal mask mandate.
The group originated in Boston and was connecting through Charlotte to Nassau, according to an American Airlines statement, and local station WSOC-TV reported that it was a group of around 30 high schoolers.
"Prior to departure on July 5, passengers traveling on American Airlines Flight 893 from Charlotte (CLT) to Nassau, Bahamas (NAS) were reported to be noncompliant with the federal mask mandate, became disruptive to other customers and refused to follow crew member instructions while onboard," American Airlines said in a statement to Boston.com.
American Airlines flight 893 was originally scheduled to leave Charlotte around 9:30 a.m. on Monday, arriving in Nassau around 11:45 a.m. The flight was initially delayed due to a mechanical problem and switched to another plane, WSOC-TV reported.
After boarding, the group of disruptive customers was asked to deplane, an American Airlines spokesperson told Boston.com, and as a result, the flight was delayed overnight, departing Charlotte around 9 a.m. on Tuesday. Though all customers were provided with hotel vouchers, the high schoolers were too young to take advantage of them and had to stay in the airport overnight, WSOC-TV reported.
"Per procedure, the customers involved were asked to exit the aircraft. We expect our customers to comply with our policies when they choose to fly with us, and we take action when that is not the case," the statement read.
Internal reports indicate the group was reminded of the face-covering policy several times by crew members, the airline spokesperson said, and Charlotte staff told the group they can travel if they comply with the policy. Eventually, the group agreed and was allowed to continue to Nassau.
Passenger Christina Randolph told WSOC-TV she was frustrated and disappointed with the student's behavior and resulting delay.
"All they had to do was follow the rules, put the mask on, sit there. No smart-mouth comments. And they couldn't do it," she said. "Well, I'm a nurse, and it's really, really hard to get time off work. So when you finally get time off, you really want to be somewhere you want to be."
Passenger Stephanie Krzywanski told WCOC Charlotte she wasn't so sure about the students being let back on the flight.
"I think it's a bad, bad idea for them to let a bunch of kids that everyone is angry with back on the plane," she said.
Newsletter Signup
Stay up to date on all the latest news from Boston.com