Coronavirus
Are the risks of vaccinating your child worth it? Two local doctors say the math is clear.
"The risk of vaccination must be compared against the risk of the disease that a vaccine prevents, not against zero risk."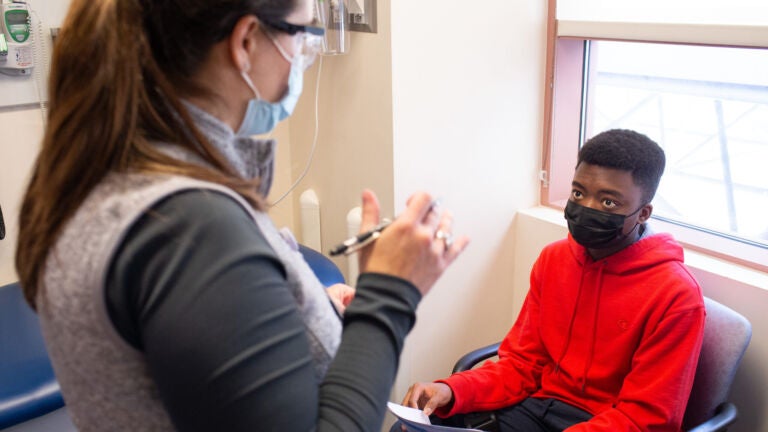 For unvaccinated children, the risk of COVID-19 infection is a matter of not if, but when, according to two Boston emergency medicine physicians.
And compared to the vaccines, they say the risks that come with infection are also much worse.
In a New York Times essay Sunday along with infectious disease expert Dr. Celine Gounder, Brigham and Women's Hospital's Dr. Jeremy Faust and Dr. Katie Dickerson Mayes, a resident physician in Harvard Medical School's emergency medicine program at Mass General Brigham, argued that ultimately protecting the United States against COVID-19 and its emerging variants will require vaccinating children and accepting the "exceedingly small risk" of the short-term side effects of doing so — especially when compared to the alternative.
"The choice is between getting vaccinated against Covid-19 and eventually getting it," the three doctors wrote. "Given the current data, the conclusion is clear: The virus is more dangerous."
The column comes after an advisory committee for the Centers for Disease Control and Prevention met last month to review rare cases of inflammation of the heart muscle — known as myocarditis — in teenagers who had gotten one of the mRNA vaccines from Pfizer or Moderna (no associated deaths occurred).
However, the doctors said the CDC's recommendation for minors between the ages of 12 and 17 to get vaccinated against COVID-19 remains the "right call."
Why?
Simply compare hospitalization rates between those who get vaccinated and those who get infected. They wrote:
So far, among the 6.14 million Americans 17 and under who have been fully vaccinated, there have been 653 possibly related hospitalizations lasting a day or longer, which could include myocarditis and other conditions, lasting one day or more. If that rate holds, it means that if all 73 million Americans ages 17 and under are eventually vaccinated, there will be around 7,700 hospitalizations.

Most of these hospitalizations would be like the ones seen so far: brief and uneventful. Over 74 percent of vaccine-associated hospitalizations among this age group that we have data for lasted three days or less. Just 3.5 percent lasted longer than a week.
On the other hand, as the COVID-19 pandemic becomes an endemic, the group says it's fair to assume all unvaccinated individuals will eventually contract the virus. And for that group, the risk of hospitalization is nearly twice as high.
According to the American Academy of Pediatrics, 0.1 percent to 1.9 percent of all coronavirus infections in young people require hospitalization. To be fair to those who believe, as early data has suggested, that around 45 percent of those hospitalizations were actually unlikely to be caused by Covid-19, and to account for the large number of undocumented infections that have already occurred, we could imagine the real hospitalization rate could be even lower, say as low as 0.02 percent, or one in 5,000 pediatric coronavirus infections.

That means that if the coronavirus were eventually to infect all 73 million children in the United States, we would conservatively expect Covid-19 to be responsible for around 14,600 hospitalizations.
The nature of the hospitalizations are also much more severe.
While just 326 of the more than 600,000 deaths from COVID-19 in the United States have been people under the age of 17, the group cited a CDC study showing that nearly a third of coronavirus hospitalizations in adolescents required stays in the intensive care unit.
Additionally, some children — even those who showed no symptoms from COVID-19 — later developed a mysterious inflammatory syndrome. Extrapolating from existing data, Faust, Mayes, and Gounder wrote that allowing all children to get COVID-19 would result in another 27,000 hospitalizations from that syndrome.
Taken together, their math suggests the ultimate risk of hospitalization is nearly six times higher for unvaccinated children than it is for vaccinated children, assuming the virus eventually infects everyone who isn't immune.
And even then, they might be underestimating the risks for the unvaccinated.
Faust, who also teaches at Harvard Medical School, pointed out on Twitter that they used "absolute worst assumptions about vaccine-related hospitalizations" and "incredibly conservative" assumptions about infection-related cases.
"Bad things inevitably happen to a small number of people after any vaccination, a few caused by the vaccines, but most not," the group wrote in their Times essay. "The risk of vaccination must be compared against the risk of the disease that a vaccine prevents, not against zero risk."
Newsletter Signup
Stay up to date on all the latest news from Boston.com