COVID
Elizabeth Warren and Ayanna Pressley urge Baker administration to reconsider change to COVID-19 hospitalization data reporting
"Governor Baker must reverse course."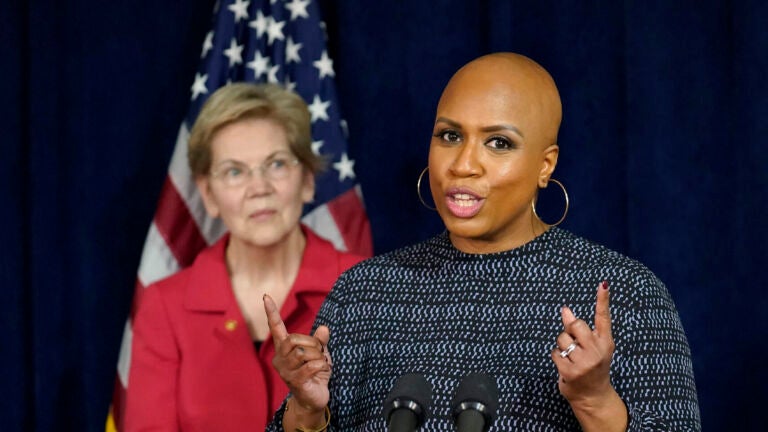 Sen. Elizabeth Warren and Rep. Ayanna Pressley are urging Gov. Charlie Baker's administration to reconsider the state's recent move to stop reporting demographic data on COVID-19 hospitalizations, calling the metric a critical part of ensuring an equitable recovery from the pandemic.
"Governor Baker must reverse course," Pressley told Boston.com in a statement.
In separate statement, Warren also pressed the Baker administration to continue to report COVID hospitalization data broken down by age, race, and sex.
The administration announced its move to stop reporting demographic COVID-19 hospitalization data on its interactive dashboard last week. The small change was among a host of data reporting tweaks "to reflect the improving trends," with 73 percent of Massachusetts adults fully vaccinated and infection rates subsiding across the state.
Hospitalizations due to COVID-19 in Massachusetts have also dropped from over 2,400 to just 85 over the past six months. And the Department of Public Health is continuing to report COVID-19 cases and deaths by age, race, and sex.
However, with COVID-19 vaccination still lagging in communities of color and the more transmissible Delta variant of the virus on the rise, Warren and Pressley — who have consistently pushed for COVID-19 data at the national level broken down by race and ethnicity — say the state is losing an important tool to track and respond to the racially disparate impacts of the pandemic.
"That which gets measured gets done," Pressley said, "and scaling back the collection and publication of demographic data on COVID hospitalizations will only hurt our efforts to address the disparate impact of COVID-19 on Black and brown communities and target resources to the communities most impacted."
"Demographic data collection on all aspects of the COVID response, including but not limited to vaccination and testing, is critical to help us equitably respond to the pandemic," Warren said. "Congresswoman Pressley and I have been calling for CDC to collect this data since the early days of the pandemic and I urge the Baker administration to continue to collect and make public demographic data on COVID-19 hospitalizations."
The two Democratic lawmakers' calls come after the Massachusetts-based Vaccine Equity Now coalition raised concerns about the change.
"The reality is it's a complicated situation and the top line narratives, when everything is in aggregate, misses and leaves out the inequities," Dr. Atyia Martin, a co-chair of the coalition, said in an interview.
Martin said the detailed hospitalization data had provided better insight into COVID-19's impact in the state's hardest hit communities than do case counts or deaths, the latter of which have been in the single digits since early May.
Martin noted that the average number of COVID-19 tests taken each day in Massachusetts has plunged since April, and less-serious "breakthrough infections" in already-vaccinated individuals are expected to make up an increasing share of positive tests. Those factors make infection counts a less meaningful measurement, while hospitalization data "tells a story about the severity of the disease that people are getting," she said.
While she said the Baker administration has made some progress closing racial disparities in the vaccine rollout, Black and Latino residents remain roughly 22 percent and 25 percent less likely, respectively, to be vaccinated than white residents, according to DPH data.
Several cities, including New Bedford and Springfield, have yet to even at least partially vaccinate 50 percent of their population.
Baker's administration has pushed to target those communities with its recent vaccination efforts. However, Martin fears that the gaps will leave Black and Latino residents vulnerable to future upticks and that the impacts will be tougher to track without racial data on COVID-19 hospitalizations.
"It's particularly scary with this Delta variant," she said.
For now, the Baker administration is standing by the decision to stop reporting demographic data on hospitalized patients.
Officials say the reason is because such data is incomplete and not the most useful for tracking day-to-day COVID-19 trends.
The state usually gets information about a patient's age, race, and sex through an interview. And because the timing of those interviews can vary — they most often happen before the patient actually ends up hospitalized or while they're ill at the hospital — such information isn't always relayed to case investigators.
The administration is still reporting overall hospitalizations as part of its data dashboard. But with metrics trending downward, officials say they're shifting efforts to focus on the metrics they believe better track COVID-19 activity.
"The Commonwealth maintains one of the most robust and comprehensive public data reports on COVID-19 in the nation and has continued to regularly review and adjust its reporting to improve metrics as impacts of COVID-19 in the Commonwealth has evolved," Kate Reilly, a spokeswoman for the state's Executive Office of Health and Human Services, said in an email.
Still, Martin questions why that change is coming now, if the data was always incomplete.
"Why did we report it for five months if it wasn't accurate?" Martin said. "It's a bizarre position to take. Many folks who are trying to support their communities used that data to help them prioritize their resources."
Reilly, however, stresses that the administration remains committed to documenting disparities as officials focus on vaccinations in hard-hit communities.
The state has devoted a webpage to detailed COVID-19 information on the 20 communities in its vaccine equity initiative, including weekly vaccination data reports for each city and town. Some, such Chelsea and Framingham, currently have higher vaccination rates than the state average, while others — Leominster, Malden, Revere, Randolph, Boston, and Everett — are close behind (the administration also reports demographic data on vaccinations in every city and town in Massachusetts, updated on a weekly basis).
"Case rates are down, hospitalizations are down, and vaccination rates are up, including in our disproportionately impacted communities," Reilly said.
Newsletter Signup
Stay up to date on all the latest news from Boston.com