COVID
Charlie Baker's explanation for the recent COVID-19 uptick in Massachusetts: Fourth of July weekend
"People need to continue to be cautious."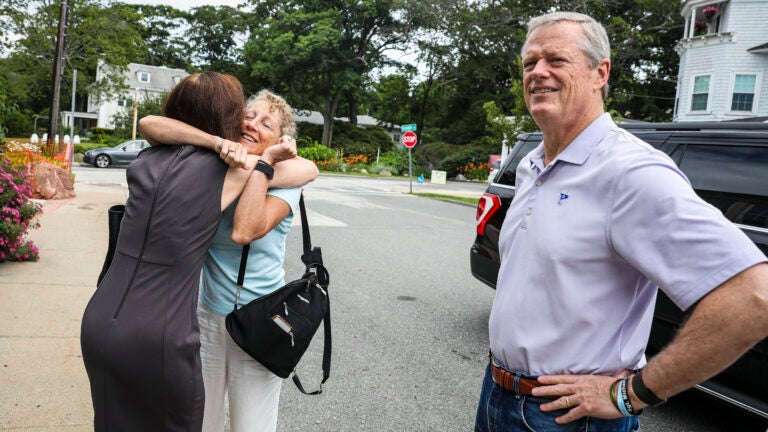 Gov. Charlie Baker is urging residents to remain cautious — but not overly concerned — amid a "very small" but "significant" spike in COVID-19 cases in the wake of the Fourth of July weekend and with the more contagious Delta variant on the rise.
Even with 68 percent of the entire Massachusetts population at least partially vaccinated, the state has seen the average number of new daily COVID-19 infections double over the last three weeks. The Department of Public Health reported 236 new cases Thursday, the most since early June. And while the rates remain a tiny fraction of their earlier peaks, hospitalizations due to COVID-19 have also slightly ticked up from their pandemic-era lows earlier this month.
During a press conference Thursday afternoon, Baker said he thinks the uptick is "absolutely a function" of gatherings during the Fourth of July holiday weekend, echoing opinions expressed by infectious disease experts.
"We have seen a significant increase on a very low number in cases, which I do believe is probably driven to some extent by the Fourth of July holiday," he said.
Some have noted that the unseasonably cold, rainy holiday weekend pushed many gatherings indoors, where the risk of transmission is far greater. Baker recalled how Massachusetts similarly saw an uptick in cases — although to a much greater magnitude — following Thanksgiving last fall. And while the vaccine rollout has driven down infections and hospitalization, he also noted that the "very, very contagious" Delta variant now makes up more than half of all new cases in the United States and has fueled spikes in under-vaccinated areas.
"Our spike is very small compared to the spikes we've seen in other parts of the country," Baker said. "And we do have a much higher vaccination rate, which I believe will be very helpful, but I definitely think the Fourth of July weekend was a real issue for the same reason that just sort of informal behavior generally has always been, for quite a while, a bigger deal with respect to spread than some of the more [formal] things people do."
Asked if there was a specific level at which COVID-19 rates would give him "pause," Baker said there was no "hard number" but a "combination of factors."
"I don't think there is a so-called marker in time that represents the only thing you can make a decision on," he said. "This ends up being about a lot of different things."
Baker noted that the Delta variant drove an increase in cases in the United Kingdom, but because they did a "pretty decent job of getting their people vaccinated," there was no corresponding spike in COVID-19 deaths.
That's a good omen for Massachusetts, according to Baker.
"We have one of the highest vaccination rates among people over the age of 65, which is the population that is fundamentally most at risk and most vulnerable when it comes to COVID," he said. "Our vaccination rate for that population is over 85 percent, which is a very good thing."
Recent data in Massachusetts also suggests that 70 percent of new COVID-19 cases between June 19 and July 10 have been among unvaccinated residents.
Baker called it "critically important" that residents continue to get vaccinated. He also suggested that people — regardless of vaccination status — should wear masks in certain indoor settings.
"People need to continue to be cautious," he said. "I met this morning with some of the folks from the courts, who are going to continue to require people to wear masks in court. I think that's a good thing. Our health care community, for the most part, is going to require people to continue to wear masks. I think that's a good thing. I think in many ways when you're dealing with close quarters and indoors, and you don't know or have the ability to determine if people are vaccinated or not, masks will continue to be an important part of keeping people safe."
Newsletter Signup
Stay up to date on all the latest news from Boston.com