COVID
Boston University announces vaccination requirement for faculty and staff
"Vaccination of the great majority of our community is critical for the safe repopulation of our campuses."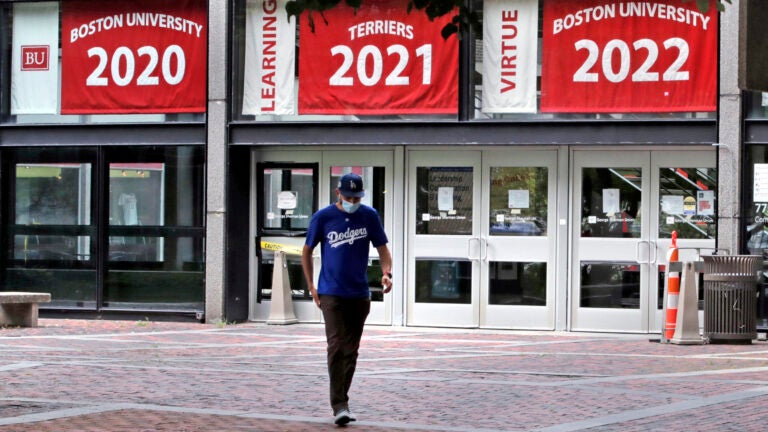 Boston University will require faculty and staff to be vaccinated against COVID-19 for the upcoming fall semester, according to a letter sent out by the University's president Robert Brown.
"Throughout the summer we have worked with our faculty and staff to get all members of our community vaccinated against COVID-19 because vaccination of the great majority of our community is critical for the safe repopulation of our campuses," Brown wrote in the announcement.
The letter was sent to staff and posted on the Office of the President's website on Monday morning. Faculty and staff will have until Sept. 2 to upload their COVID-19 vaccination status.
"We hoped to accomplish the goal of community-wide vaccination without a mandate, but kept the option of requiring vaccination open if we did not reach our goal," Brown wrote.
In April, Boston University announced their coronavirus vaccination requirement for all students to attend classes in the fall semester. The university has been offering COVID-19 vaccines on campus and will continue to offer walk-in clinics on the Charles River Campus.
In Monday's letter, Brown said faculty and staff will also be able to apply for exemption due to medical or religious reasons, similar to the student requirement. He added faculty and staff who fail to get vaccinated or provide an exemption before the deadline will either have to maintain further public health requirements or may be placed on a leave of absence until the person is vaccinated or the risk of COVID infection is over.
Brown cited a survey sent to faculty and staff in May about vaccination status – to which 72% of staff and 76% of faculty responded – as a reason for making the requirement.
"From this survey and from the uploaded vaccination information we know that only 71.3% of faculty and 73.6% of staff are currently or will be vaccinated by August 1," Brown wrote. "These totals are significantly below what we need to safely return our campuses to near-normal operation in the fall."
Other local colleges and universities – including Boston College, Harvard University, Tufts University, and Emerson College – have already announced they will require faculty and staff to be vaccinated or apply for religious or medical exemption.
According to Tufts University's policy, faculty and staff will also have the option to "formally decline vaccination after speaking with the Office of the Infection Control Health Director."
Northeastern University, while requiring students to be vaccinated, has not made vaccinations required for faculty and staff.
In their FAQ about their vaccination requirements for the fall, when asked about faculty and staff vaccinations, Northeastern writes "The COVID-19 vaccine is mandatory only for students."
Other vaccinations for diseases such as tuberculosis and meningitis have been required for Boston University students in the past. This is the first vaccination requirement for faculty and staff published on the university's website.
"We all share responsibility for the health of the Boston University community," Brown wrote.
Newsletter Signup
Stay up to date on all the latest news from Boston.com