COVID
'The most contagious version': Dr. Ashish Jha weighs in on the Delta variant spike
"Everybody is either going to end up at some point getting vaccinated or they're going to end up getting infected."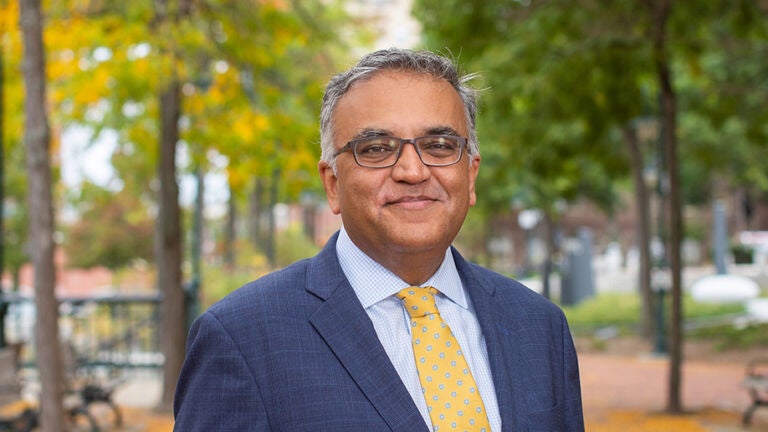 The Delta variant of COVID-19 has caused a huge spike in reported cases, even causing some counties around the U.S. to reinstate a mask mandate. More than 97% of those hospitalized are unvaccinated individuals, said Dr. Rochelle Walensky, director of the CDC, during a White House press conference.
Dr. Ashish Jha, the dean of the school of public health at Brown University, addressed the spike in cases Monday morning on Good Morning America, stating the importance of getting vaccinated as a way to protect against the Delta variant.
The Delta variant is so far the most contagious version of the virus so far and is much more easily contracted than previous iterations, Jha said. Unvaccinated individuals are contracting the virus with shorter exposure times than before, even if they are more than six feet away.
"Everybody is either going to end up at some point getting vaccinated or they're going to end up getting infected," he said. "People have to be really careful out there if you're unvaccinated and the best way to protect yourself is to get the shot."
Approximately 68.2% of the U.S. population has had at least one dose of the vaccine, according to the CDC. Vaccination rates in the past month, however, have dwindled, at least partly due to the misinformation on vaccines being put out on social media, say health officials.
Last Thursday, the White House press briefing addressed this issue, calling a group of 12 online posters "the disinformation dozen," for spreading 65% of anti-vaccine misinformation. Facebook has been one of the biggest social media platforms in spreading misinformation.
One group that has been significantly impacted by misinformation on social media is the Black community which, in tandem with Hispanics, has experienced slower vaccination rates as compared to the total population in most states.
"It's multifactorial, there's issues of access… but there is concerted misinformation targeting the African-American community, playing up historical and present day racism and linking it to anti-vaccine rhetoric," Jha said on the Sunday Show.
However, the Delta variant has not exempted those who are vaccinated either. There have been reports of breakthrough cases from those who have been vaccinated and significantly exposed to the variant. But very few of those who are vaccinated end up being sick, hospitalized or dead from the virus, Jha said.
Amid concerns of breakthrough cases, Jha says that a booster shot for the average individual is not necessary. An advisory panel for the CDC is set to meet later this week to discuss the potential of booster shots.
"I could imagine some high risk people: people in nursing homes, people who are immunocompromised, needing that extra level of protection… but for most of us, I don't think we're going to need a booster, certainly not anytime soon," he said.
Newsletter Signup
Stay up to date on all the latest news from Boston.com