COVID
Watch: Anthony Fauci says kids wearing masks in school would be 'extra step of caution'
The top infectious disease doctor said the CDC is "carefully looking" at its COVID-19 guidance for schools.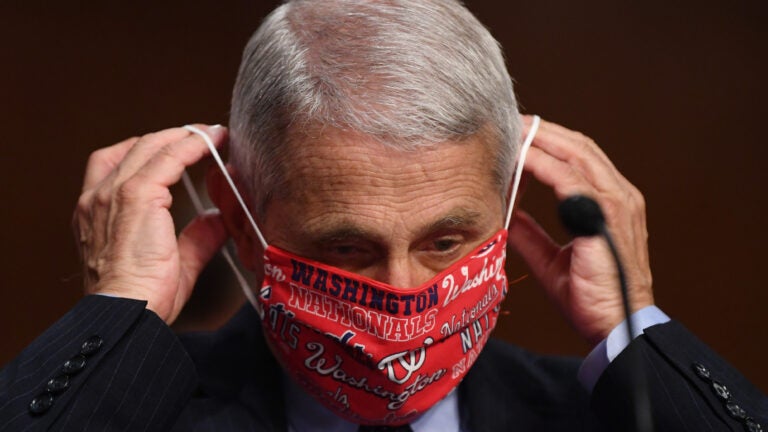 The American Academy of Pediatrics issued new COVID-19 guidelines on Monday for schools, recommending that everyone over the age of 2 wear a mask this fall, even if they have been fully vaccinated.
Dr. Anthony Fauci weighed in on the new recommendation, which is a departure from the guidance from the Centers for Disease Control and Prevention, on Tuesday. The federal agency has recommended masking in schools for individuals over the age of 2 only if the person is unvaccinated.
The director of the National Institute of Allergy and Infectious Diseases told CBS This Morning that the recommendation of universal masking in schools is "the extra step of caution."
"In general, that is a bit different from the CDC guidelines, but right now the CDC is carefully looking at that," Fauci said. "And hopefully we'll now have some concordance of the recommendations."
The top infectious disease doctor said parents should do what local officials require in the fall.
"The reason for what the Academy did was because of the high degree of infection dynamics that we're seeing," he said. "If you look at the map of the country right now, there's an uptick in cases in virtually all the states in the United States. And for that reason, they want to go the extra mile to make sure that the children are protected in school."
The more contagious Delta variant is driving a resurgence of COVID-19 cases across the country, particularly in areas with lower vaccination rates.
Fauci stressed on CBS This Morning that "99.5 percent" of the deaths due to COVID-19 in the country are among unvaccinated individuals.
"That's a striking statistic," he said. "So when people are unvaccinated and they look at that, hopefully, they'll really take a look at that and say, 'Wow, really for my own safety and that of the community, it's very important to get vaccinated.' Put all other things aside, ideological differences, political differences, and just focus on what this really is. It's a public health issue, a very serious public health issue."
The infectious disease doctor said he would not be surprised if at some point in the future, COVID-19 vaccines will be required for children attending schools, in the same way that other immunizations are currently mandated.
But he said it likely depends on how the nation continues to handle the outbreak of COVID-19.
"If we completely crush this and it stays away and there's very little activity at all — which I hope happens and right now that's not happening, but if it does happen — then I don't think you'd require that," Fauci said. "But if we go into this year and the next year and we see we still have a problem with this, it very well might be required."
Watch Fauci's full appearance below:
Newsletter Signup
Stay up to date on all the latest news from Boston.com