COVID
'Hell on wheels': Experts predict a tough commute when most offices reopen this fall
"We need to move more people in fewer vehicles, but now we're moving fewer people in more vehicles."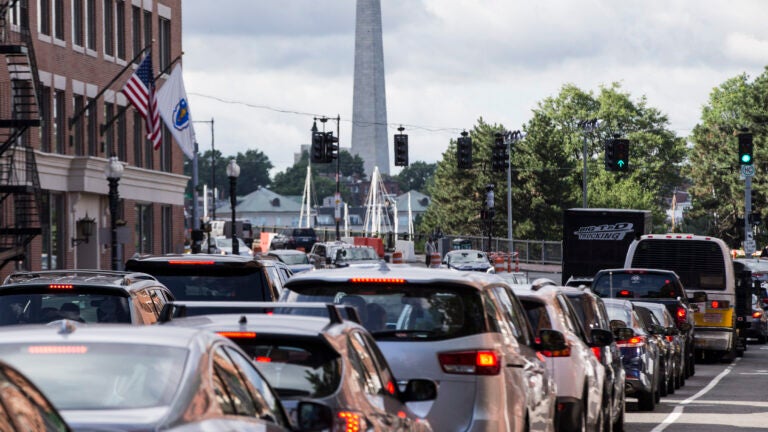 Exactly how Boston commuting patterns will shift as more offices reopen this fall remains to be seen, but one thing is certain: traffic congestion is already reaching pre-pandemic levels.
Boston area transit experts agree that traffic will likely be worse than it was before the pandemic as hesitant transit riders choose to drive instead. An annual study ranked Boston as the most congested city in the United States in 2018 and 2019, so anything worse will mean harrowing commutes for Boston workers.
"I think it will be hell on wheels and not in a good way," Josh Ostroff, interim director of Transportation for Massachusetts, told Boston.com. "We're going to see people coming back to workplaces and finding the MBTA is not meeting enough needs, that our roads and bridges don't have the capacity, which is likely to become apparent shortly after Labor Day. In some ways, it represents just another pandemic curveball, but in other ways, it's sending a signal that we need to get past the transportation status quo."
Transportation for Massachusetts and Transit Matters, two local groups working to improve public transportation, are advocating for strategies that will make public transportation available to everyone. Jarred Johnson, executive director of Transit Matters, hopes that more riders will choose public transit once the MBTA gets out the message that routes are open again. Johnson added that free or reduced fares could make a big impact.
"The commuter rail [fare] is far too high," he said. "Whereas before if your office was buying you a pass, or you were getting a discount on a monthly pass, if you're only going in a couple days a week or less that starts to not make as much sense."
In November 2020, the city of Boston surveyed residents about their commuting plans after the pandemic. Though most planned to return to pre-pandemic commuting habits, the majority among those who planned to change their commute said they would switch to driving alone over another mode, potentially putting tens of thousands more cars on the road. However, of the drive-alone respondents open to changing their behavior, almost half said a free or reduced-cost MBTA pass was most likely to get them to make the switch.
"We need fare equity so that no one is denied a seat on public transit because it's out of their financial reach," Ostroff said. "And then we need fast and convenient service on busses all across the state."
A recently released report from McKinsey and Co., commissioned by the Baker Administration, found that 15% to 50% of pre-pandemic commuter rail ridership could be lost in the long-term, depending on how many continue to work from home and "mode shifts" to driving, biking, and walking. Bus and subway ridership will also be impacted but less so, the report found. This shift is significant, however, because the commuter rail made up 31% of MBTA operating revenues in 2019.
To Johnson, the commuter rail presents a real opportunity for equity-driven reform, as well as encouraging drivers to choose public transit. The commuter rail carried a fraction of the MBTA's ridership while generating significant revenue, but that's changing, he said, and cutting commuter rail fares will increase access and incentivize drivers — whether workers or shoppers — to take the train.
"I would like to see the commuter rail be used to give suburban drivers another option besides the mind-numbing traffic," Johnson said, "and to serve so many of the low-income gateway cities that line the commuter rail network, and are often at the ends of the network so therefore face the highest cost — it shouldn't cost you more to take the train than it costs you on the pike in gas."
As for the T, The Boston Globe reported that the fall service schedule will be a bit different: bus service hours will be at 93% of pre-pandemic levels, and service hours for the Blue, Red, and Orange lines will be at or near normal.
Ostroff and Johnson emphasized that people need to be given safe, efficient, affordable alternatives to driving; the point being, people won't choose public transit en masse, and therefore reduce traffic congestion, until these alternatives are reliable. Strategies could include fare cuts, extensive bike and bus lanes, new routes, and more busses and trains making trips.
These changes, of course, will not only support everyone's commute, they said, but are also essential to increasing equity and slowing climate change.
"We need to move more people in fewer vehicles, but now we're moving fewer people in more vehicles," Ostroff said. "That is an economic and environmental catastrophe."