COVID
Amid Delta-fueled COVID-19 uptick, Charlie Baker says he isn't planning to reissue mask mandate
"We're not looking at changing any of our existing rules or policies."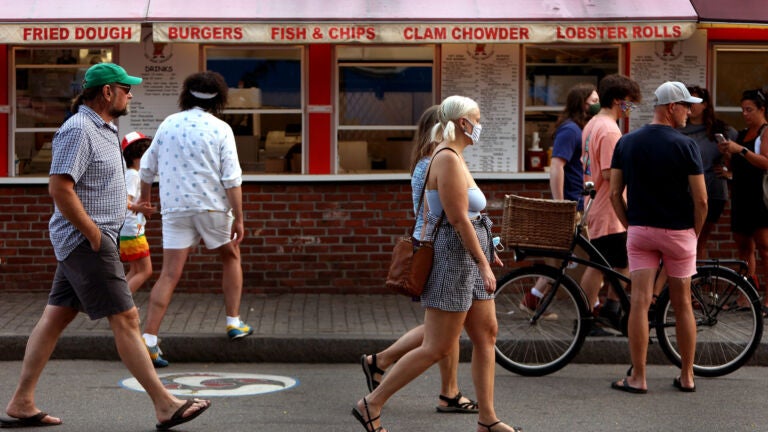 Don't expect mask rules to get tightened in Massachusetts anytime soon.
As local jurisdictions across the country — and in Massachusetts — ask residents to resume mask wearing in indoor public places regardless of their vaccination status in response to the national increase in COVID-19 cases fueled by the more contagious Delta variant, Gov. Charlie Baker said Thursday that his administration isn't considering any such statewide action.
"No, we're not looking at changing any of our existing rules or policies," Baker told reporters following a press conference Thursday morning in Sandwich.
Since May 29, the state's rules have asked unvaccinated individuals to wear a mask when in crowded or indoor public places, but allow fully vaccinated to go maskless, except for certain places like public transit systems and health care facilities.
Baker's comments come after Provincetown and Nantucket issued advisories this week strongly recommending all residents and visitors wear masks indoors, as the Cape and Islands weather a spike in cases in the midst of peak tourist season. Officials in Nantucket noted that the Delta variant has shown a "high ability" to infect even vaccinated individual, most likely due to "prolonged exposure, indoors and at high concentrations."
Baker reiterated Thursday that it was "appropriate" for local communities to take more aggressive action in response to local outbreaks, but that it didn't necessitate a change to statewide policy.
"We have a set of statewide standards, and they're based on what we see on a statewide basis," the governor said.
After averaging fewer than 70 new COVID-19 cases a day in June, Massachusetts reported 457 new confirmed infections Wednesday and is averaging 244 new cases a day. According to data published Thursday by Axios, the state has seen the fifth-biggest percentage increase in cases in the country over the past week.
Still, as Baker noted Thursday, hospitalizations, which have climbed slightly since early July, remain very low, compared to other states, as well as the levels at the height of the pandemic in Massachusetts.
"In Massachusetts, there are states that are running COVID case counts that are 30 and 40 times higher than they are here in Massachusetts — same with respect to hospitalizations," Baker said. "And I think what's got to be the rule of thumb here is that people make decisions based on the current state of play with respect to the virus in their states, and we're in a very different place than most other parts of the country."
Breakthrough infections have accounted for nearly a third of all recent cases in Massachusetts, which health officials argue is somewhat expected given the state's high vaccination rate. Additionally, more than 90 percent of statewide breakthrough infections have been relatively mild (not involving hospitalization or death), which officials say is evidence of the vaccines' effectiveness.
Nationwide, with more than 57 percent of eligible Americans fully vaccinated, over 99 percent of recent COVID-19 deaths have been among unvaccinated individuals.
Baker noted that Massachusetts is only second to Vermont for the highest vaccination rate in the country and "a mile" ahead of other big states. Still, he urged unvaccinated residents to get their shots.
"The vaccines are overwhelmingly effective," he said. "If you look at the number of people have been hospitalized who've been vaccinated, it's a very small number. And not just here in the commonwealth but across the country, the difference between the impact of COVID on those that are vaccinated and those who aren't is stark and profound."
Newsletter Signup
Stay up to date on all the latest news from Boston.com