Coronavirus
Here's how Mass. is preparing to handle COVID-19 vaccinations for over 880,000 children
"We will continue to think outside the box."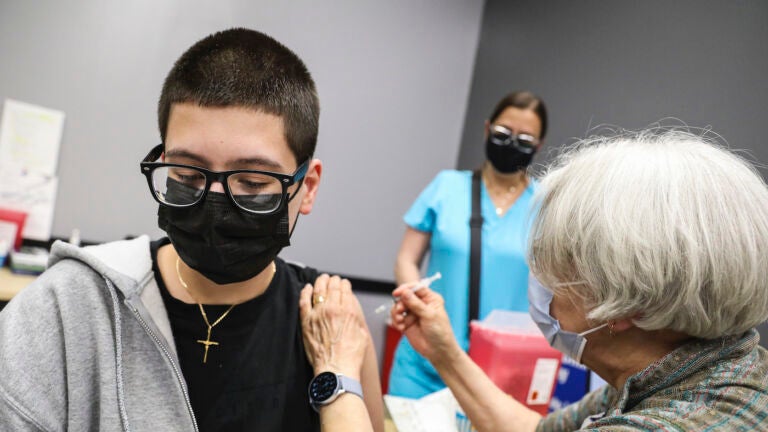 Although the available COVID-19 vaccines are not yet authorized for children under age 12, Massachusetts health officials are getting ready as the population of over 880,000 minors is anticipated to become eligible for the jabs, potentially later this year.
Pediatric practices and school vaccination clinics are two of the major avenues state leaders are eyeing for the rollout of the vaccines to the commonwealth's youngest residents, state Secretary of Health and Human Services Marylou Sudders said Monday.
Emergency use authorization for vaccines for children under 12 from the Food and Drug Administration could come this fall, Sudders said, or by midwinter, as one agency official told NBC News earlier this month.
On Monday, vaccine manufacturers Pfizer and Moderna each announced they are expanding the number of children ages 5 to 11 participating in studies to determine any rare side effects of the vaccines in people under the age of 30.
In Massachusetts, over 63 percent of the general population is fully vaccinated, according to the U.S. Centers for Disease Control and Prevention — a rate that's among the highest in the country.
Sudders, speaking before the Legislature's Joint Committee on Public Health during a hearing on COVID vaccinations for children, credited that to the state's varied approach of traditional and nontraditional mechanisms for the vaccine rollout — a practice she indicated will continue as more residents become eligible for the vaccines.
"As we actively plan for pediatric vaccinations, we will continue to think outside the box," she said. "We will continue to lean in and to increase access to vaccines by employing a wide range of strategies and settings from pediatric and primary care offices to museums, school settings, retail, pharmacies, community health centers, and anything else in between that makes sense to us."
Sudders said the state currently has 902 vaccination locations — places officials will keep in place as children become eligible.
But officials are also planning to expand other avenues in their push to get the state's children vaccinated — a demographic that can play a crucial role in bumping up the public's overall vaccination rate.
"When (emergency use authorization) is approved, over 880,000 more Massachusetts residents will be eligible to be vaccinated," said Margret Cooke, acting commissioner of the state Department of Public Health. "That will inevitably increase Massachusetts's already strong vaccination rates. It's going to reduce the chances of variants, it will provide an extra layer of protection when children return to schools, and it will bring the commonwealth just that much closer to community and herd immunity."
Cooke said DPH and the Department of Elementary and Secondary Education are holding weekly calls with boards of health, school administrators, and school nurses.
A DESE representative was not present at Monday's hearing — an absence that "baffled" committee co-chair state Rep. Marjorie Decker, a Cambridge Democrat, considering that students are returning to schools this fall amid the circulating Delta variant.
"I can assure you that parents and educators and staff across the state are sitting on edge and really deserve to hear, quite honestly, from DESE," she said.
Still, both Sudders and Cooke said health officials, in partnership with DESE, are planning to send a letter this week to schools regarding resources available to them this coming school year, including coronavirus testing, vaccination clinics, and public awareness materials.
"We are in the planning stage of a statewide initiative to increase vaccination rates among students aged 12 to 18, which includes an educational awareness campaign, leveraging key influential partners on social media, as well as on-site clinics at middle and high schools and mobile clinics at health centers and pediatric practices," Cooke said.
According to Sudders, the state first sent mobile vaccination clinics to schools beginning in May. Schools volunteered to host the clinics, and officials were able to get a clinic set up within 10 days, at most, after receiving a request, she said.
That model will expand to help deliver vaccines to children, once they are eligible, Sudders said.
But officials are also considering two other ways to get shots in arms at local schools, she said.
Some districts have pre-established "very robust, school-based health clinics," according to Sudders. She said the state could provide vaccine doses to those centers that wish to administer the shots on their own.
In other areas, some local boards of health may have strong working relationships with their community's school system and could potentially run their own temporary vaccination clinics, similar to how some cities and towns provide students with seasonal flu vaccines, Sudders said.
"I think one of the lessons around COVID, and we have 351 municipalities, is each of them are different, they're unique," Sudders said. "And so we don't want to say here's the one way to do vaccines."
Additionally, state officials plan to rely on pediatric health providers to dole out the vaccines. Already, the state has sent over 74,000 doses to pediatric practices, with more than 65,000 of those doses administered to date, Cooke said.
"We plan on doing the same thing when 12 and under is approved," she said.
Dr. Paul Biddinger, chief of the division of emergency preparedness at Massachusetts General Hospital, in testimony to lawmakers on Monday said officials must be mindful of limitations some pediatric practices face in storing the vaccines, such as the "cold chain" storage required.
"Trying to minimize waste means that some pediatric practices may have to pull efforts together," Biddinger said. "They're not necessarily going to have 15 children that they can vaccinate within a six-hour period at a practice, and so we need to make sure that we are supporting ways in which practices can come together."
Biddinger said practices and schools should also be able to coordinate together "so that a pediatrician can recommend a school-based clinic when one is available."
"Similarly, schools need to know what practices are vaccinating and what arrangements they're making," he said.
Sudders and Cooke said a new, multilingual public safety awareness campaign featuring pediatricians that's geared toward parents' questions and concerns about the vaccines is also in the works through a partnership with Boston Children's Hospital.
Dr. Vincent Chiang, chief medical officer at Boston Children's Hospital, said he is "extremely confident" Massachusetts has the proper infrastructure to successfully vaccinate children for COVID-19.
"If you look at the routine child immunization schedule, our performance on seasonal influenza, even what we have done with regards to COVID to date, Massachusetts is first or second on every single metric," he said. "We know how to deliver vaccine."
Newsletter Signup
Stay up to date on all the latest news from Boston.com