COVID
Provincetown brings back indoor mask mandate, wastewater testing as officials work to contain outbreak
"The number of cases is expected to rise as more individuals take advantage of testing opportunities available in Provincetown and surrounding areas."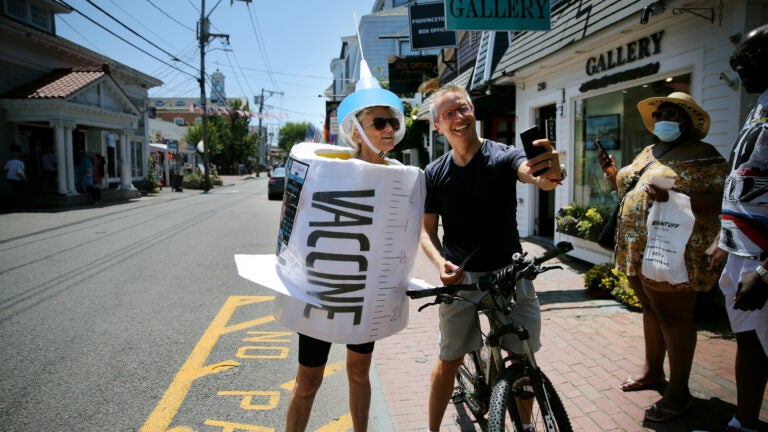 The Provincetown Select Board and Board of Health voted Sunday night to reimpose an indoor mask mandate as officials continue working to contain the surge in COVID-19 cases that emerged following the July 4th holiday.
The boards have also given Town Manager Alex Morse authority to enact additional restrictions, such as capacity limits, or to relax measures based on public health data. According to Morse, if the town's positive test rate dips below 3 percent for a period of at least five days, the indoor mask mandate will change to an advisory, which will be lifted if the test rate falls below 1 percent for five days.
Morse said in a statement on Saturday that Provincetown has already started to see a decline in its daily positivity rate.
As of Friday, the town had reported 430 confirmed positive cases of COVID-19 associated with its cluster. Of those cases, 342 are Massachusetts residents, and 153 are Provincetown residents.
Most of the cases among the Massachusetts residents (71%) developed symptoms, and Morse said 69% of the reported cases were in individuals who were fully vaccinated.
"Apart from 3 hospitalizations (2 in state and one out of state) associated with this cluster, symptoms are known to be mild and without complication," he said.
According to the latest COVID-19 data from the state's Department of Public Health, the 14-day average daily incidence rate for Provincetown is 177 cases per 100,000 residents. The state's 14-day average daily incidence rate is 2.6.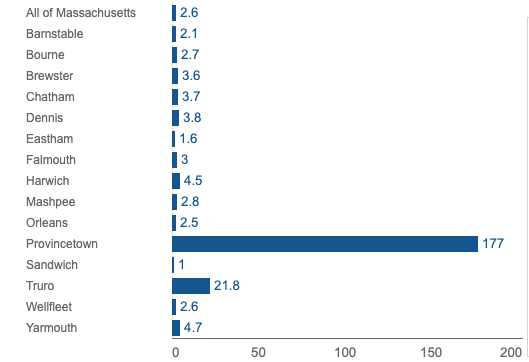 "The number of cases is expected to rise as more individuals take advantage of testing opportunities available in Provincetown and surrounding areas," Morse said.
In addition to requiring masks in public, indoor settings to curb the spread of the virus, Provincetown also resumed daily testing of the town's wastewater to monitor for COVID-19.
"Going forward, the wastewater testing data will indicate the presence of COVID-19 in the 50% of the buildings in Provincetown connected to the town's sewer," Morse said. "Given the current cluster, presence of COVID-19 in wastewater sampling tests is expected."
Since the town began pushing testing in response to the cluster of cases, Morse said test positivity rates have dropped from 15% to 9%.
"Anyone experiencing even mild symptoms should get tested, as well as anyone who has had a close contact with an individual who has tested positive for COVID-19," he said. "Testing is encouraged regardless of vaccination status."
The town is continuing to offer free testing and vaccinations daily, through July 30.
Newsletter Signup
Stay up to date on all the latest news from Boston.com