COVID
Here's what Charlie Baker said about the CDC's new mask guidelines
"We'll have something to say, but we're gonna process this. It's a big decision."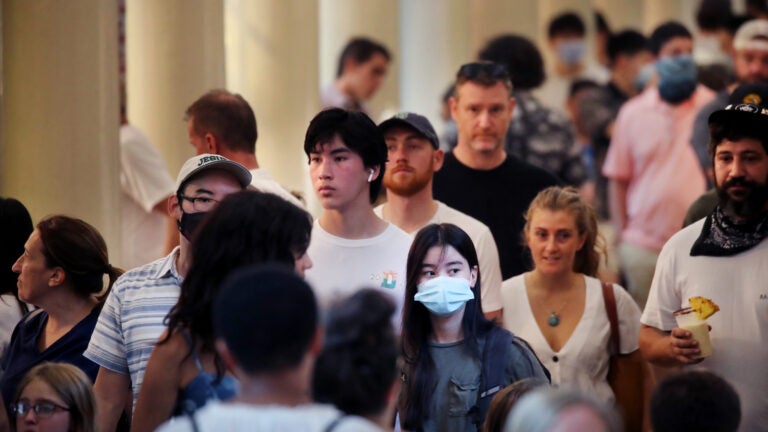 Gov. Charlie Baker hinted Wednesday that his administration will have "more to say" about the Centers for Disease Control and Prevention's new face covering guidelines "shortly," but isn't making any changes to COVID-19 rules in Massachusetts just yet.
"We just got it and we're reviewing it, and we'll have more to say about it later," Baker told reporters Wednesday afternoon in Gloucester.
Amid new evidence suggesting vaccinated individuals can catch and spread the Delta variant of the virus to others, the CDC revised its recommendations Tuesday to say that everyone — regardless of their vaccination status — in areas with "substantial" or "high" COVID-19 transmission should wear masks in all public indoor settings.
The CDC defines "substantial" or "high" COVID-19 transmission as counties that have reported at least 50 new cases per 100,000 people in the past week or have a seven-day average positive test rate above 8 percent.
Based on that criteria, the CDC's guidelines currently suggest that everyone in four Massachusetts counties — Barnstable, Bristol, Dukes, and Suffolk, which includes Boston — should be masking up indoors. And with statewide cases trending upward, other counties could soon also be in that threshold.
Currently, just about two-thirds of all United States counties also fall into the "substantial" or "high" transmission range, as the highly contagious Delta variant drives up infection rates nationwide.
The previous CDC guidelines advised that vaccinated individuals only needed to wear a mask in specific places like buses, subways, planes, Ubers, and health care facilities. And both state and CDC guidelines continue to ask unvaccinated individuals to wear a face covering in all public indoor settings as well as outdoors when they can't stay six feet away from non-household members.
For now, that remains the guidelines in Massachusetts, which repealed its mask mandate in late May.
Baker stressed Wednesday that Massachusetts remains in a "much better position than the vast majority of the states in this country" to deal with COVID-19 due to its high vaccination rates and hospital capacity.
"Remember, the federal government makes decisions and issues guidance for the country, right?" he said. "Massachusetts is in a very different place than the rest of the country. We have the second-lowest hospitalization rate for COVID in the United States. We've had the second-lowest hospitalization rate for weeks. We have the second-highest vaccination rate. We actually are behind Vermont in both of those cases. We're certainly number one, in terms of both our hospitalization rate and our vaccination rate, among the big states. And those things factored into how we make these decisions, and they should. Because the vaccines work."
Baker also said Wednesday that his administration was "considering" the CDC's additional new guidance Tuesday recommending that everyone — teachers, staff, students, visitors — wear masks in schools, even if they're vaccinated. His comments represent a shift from last week, when Baker said the state did not intend to changes its plans to lift all COVID-19 restrictions in schools this fall.
The administration similarly took several days to respond when the CDC previously — and somewhat controversially — revised its guidelines in May to say that fully vaccinated individuals no longer needed to wear masks or social distance in all but a few specific locations. The state ultimately announced plans to drop its mask mandate and align with the guidance the following week.
Now, with the COVID-19 state of emergency in Massachusetts expired, it's unlikely that the Baker administration could unilaterally reimpose any enforceable mask mandate.
However, the state could adjust the Department of Public Health recommendations on masks to align with the CDC's guidelines, which other states, like Maine, have done this week.
Marylou Sudders, the state's secretary of health and human services, told reporters earlier Wednesday that they expect to announce their plans later this week or next Monday.
Local municipalities and businesses are also free to set their own mask requirements, which Baker has said is "appropriate."
Baker said Wednesday that the administration is still looking over the national recommendations with local experts, contending that there are "many different opinions … about what the right things to do with respect to this issue are."
"We'll have something to say, but we're gonna process this," the governor said. "It's a big decision."