COVID
Kim Janey 'leaning toward' COVID-19 vaccine mandate for Boston city workers
"If it takes a mandate to get us there, that is what we will do."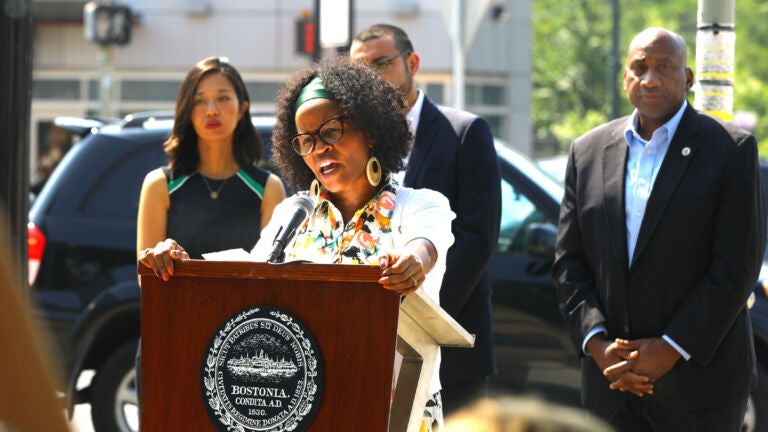 Acting Mayor Kim Janey says she wants "every single" City of Boston employee get vaccinated against COVID-19, but she isn't mandating them to do so.
At least, not yet.
During a press conference Thursday afternoon, Janey said she's "leaning toward" requiring the city's 18,000-person workforce to get the COVID-19 vaccine or face frequent testing, but announced no immediate policy changes, with the more contagious Delta variant driving an uptick in cases and hospitalizations in Boston, as well as across the country.
"We are strongly encouraging and working with our workforce to get everyone vaccinated," she said. "If it takes a mandate to get us there, that is what we will do."
The press conference Thursday — during which Janey also released a report on the Boston Police Department's handling of an accused child molester on the force — comes amid pressure from fellow candidates in the 2021 mayoral race for a vaccine requirement for city workers, following similar moves by New York City and California.
President Joe Biden is also reportedly slated to announced a vaccine requirement for federal government workers Thursday. And in Massachusetts, the state treasurer and auditor's office announced Thursday that they also will institute a mandate requiring employees to be vaccinated or submit to weekly COVID-19 testing.
City Councilor Andrea Campbell, a fellow mayoral hopeful, criticized Janey's noncommittal approach Thursday, calling it a "mistake" to not follow suit.
"We need to be using every tool to get more residents vaccinated and protected as the Delta variant spreads rapidly through our communities," Campbell said.
For now, Janey said she believes that making the vaccine accessible and convenient is the "best path forward." She noted that the city has set up priority clinics for teachers, police officers, firefighters, EMTs, and other frontline workers; held vaccine clinics at City Hall; and provided paid time off to employees who get vaccinated.
Still, with cases rising, Janey noted that "some of our employees are still not vaccinated," though she did not say how many. Citywide, over 66 percent of Boston residents have received at least one dose and vaccination rates are above 50 percent in every neighborhood, with the exception of Mattapan.
With roughly 90 percent of the city's workforce unionized, Janey said she's been talking with local labor leaders about a "worker-centered" plan to increase vaccination, which she said could include a requirement. For those who don't want to get vaccinated due to religious beliefs or other concerns, she said the city will offer frequent testing.
Janey also noted that she has "strongly" encouraged people to wear masks during the pandemic, noting that face coverings are required for all individuals in municipal buildings, including City Hall, schools, libraries, and community centers. Boston also plans to require face coverings for all students, staff, and visitors — regardless of vaccination status — in the city's public schools through the fall.
With recent data suggesting that even vaccinated individuals can catch and spread the Delta variant of the virus to others, the CDC revised its mask guidelines Tuesday to say that everyone in areas with "substantial" or "high" COVID-19 transmission should wear masks in all public indoor settings.
Based on the CDC's criteria, Boston is in a county with "substantial" transmission.
As of Tuesday, the city had seen 704 new cases over the past two weeks, compared to just 147 new cases during the previous two weeks. Hospitalizations in the city due to COVID-19 have also ticked up, from a weekly average of 26 to 36 since the beginning of the month.
"All of our tracking metrics remain below threshold levels — and well below the peak of 2020 — but they are increasing," Janey said.
With Gov. Charlie Baker expected to make an announcement in response to the CDC's recommendation in the coming days, Janey didn't institute any additional face covering guidelines Tuesday. However, she did say she "certainly" encourages "those in the private sector to do what they can to protect themselves."
"After a year and a half of battling COVID-19, I understand many of us feel ready to move on from the pandemic," she said. "But let me be clear, the pandemic is not over. We are still living with COVID-19 and we must do all we can to keep ourselves, our families, and our communities safe."
As she stressed repeatedly throughout the press conference, Janey reiterated: "We know that the best protection is the vaccine."
Newsletter Signup
Stay up to date on all the latest news from Boston.com