COVID
All but 2 counties in Mass. are now subject to the CDC's new face covering guidelines
Gov. Charlie Baker's administration has issued differing statewide recommendations.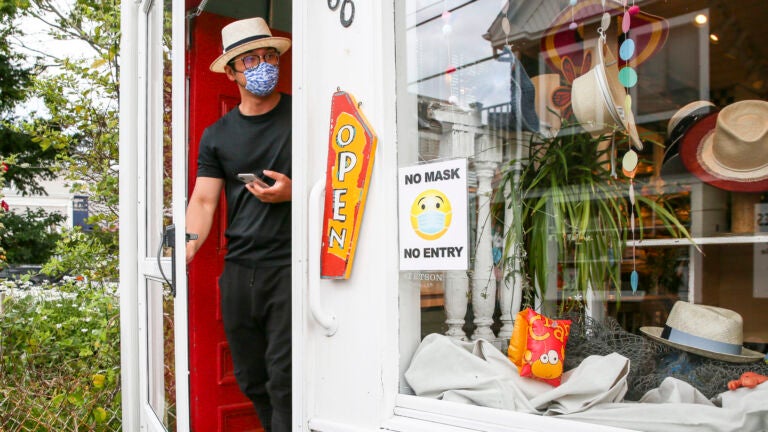 According to the Centers for Disease Control and Prevention, everyone in Massachusetts with the exception of those in two counties should be wearing a face covering in public indoor places, due to rising COVID-19 cases.
With the highly contagious Delta variant fueling a surge of infections primarily among unvaccinated individuals, 12 of the state's 14 counties now have "substantial" or "high" COVID-19 spread, according to the CDC's metrics.
That's an increase from five counties last week, and nine as recently as Tuesday.
Only Hampshire and Franklin counties remain below the threshold in the "moderate" transmission range. Of the other 12 counties, nine are seeing "substantial" transmission, and three — Barnstable, Bristol, and Nantucket counties — are seeing "high" rates of COVID-19 spread.
The new data comes after Massachusetts reported 883 new COVID-19 cases Tuesday, the highest single-day increase since early May.
Amid evidence that even vaccinated individuals can spread the Delta variant, the CDC updated its guidelines last week to recommend that everyone, regardless of vaccination status, where masks in indoor public places in these areas.
Gov. Charlie Baker's administration issued differing guidance last Friday, recommending vaccinated individuals where masks indoors only if they are at higher risk from COVID-19 due to their age or a medical condition, or if they live with someone who is at at higher risk or unvaccinated.
"We're in a very different place than other parts of the country are in," Baker said Tuesday, pointing to the state's high vaccination rates and relatively low case numbers compared to other states.
Hospitalizations in Massachusetts due to COVID-19 have nearly tripled since early July, but remain relatively low. The state's average number of daily deaths due to the disease also remains in the low single digits.
State officials continue to stress that the vaccines are overwhelmingly effective at preventing serious illness or death due to COVID-19. While there have been 7,737 breakthrough cases in Massachusetts as of July 31, just 395 have resulted in hospitalizations and 100 have resulted in death.
Newsletter Signup
Stay up to date on all the latest news from Boston.com