Charlie Baker
Massachusetts announces second winners of VaxMillions Giveaway
Thursday is also the deadline to sign up for all of the final three lottery-style drawings.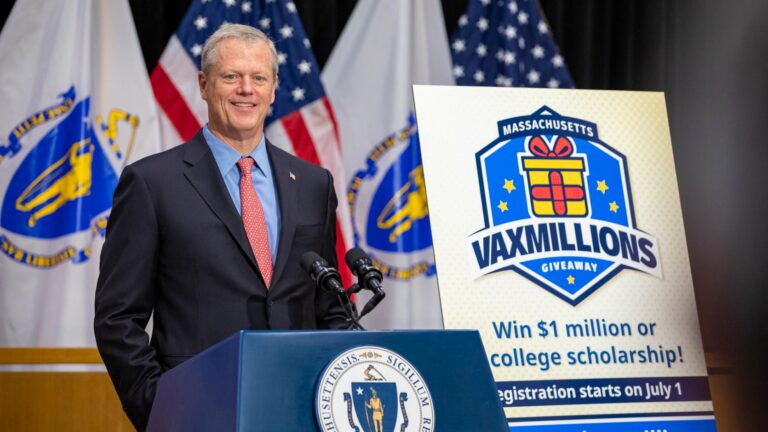 Two more Massachusetts residents are walking away with a significant sum of money after getting the COVID-19 vaccine earlier this year.
State officials announced the second round of winners in the state's VaxMilions Giveaway for fully vaccinated residents Thursday: Donna McNulty, of Billerica, won the $1 million prize for vaccinated residents over the age of 18 and Dylan Barron, of Norwood, won the $300,000 scholarship grant for those between the ages of 12 and 17.
Officials said that McNulty, a longtime employee of a small publishing and software company in Billerica, plans to use her winnings to support her upcoming retirement in December 2022.
Meanwhile, Barron is a rising junior studying automative at Blue Hills Regional Technical School in Canton. Officials said he is still exploring what schools he might attend after graduating.
Gov. Charlie Baker's administration, State Treasurer Deb Goldberg, and the Massachusetts State Lottery made the announcement Thursday in a press release, after holding a press conference to announce the giveaway's first winners last week (as the State House News Service first reported, Baker and his wife, Lauren Baker, are leaving the state Thursday for a weeklong vacation in California).
Baker announced the lottery-style sweepstakes in mid-June in the hopes of boosting the state's vaccination rates. The giveaways — which will award five $1 million cash prizes and five $300,000 scholarships — is open to Massachusetts residents who are fully vaccinated and received their shots in the Bay State.
The press release Thursday did not say when McNulty and Barron got their shots — but it did say why; officials said McNulty got the vaccine to protect herself, as well as a friend who is at high risk to COVID-19 due to health issues. Barron also got the vaccine to "keep his family, friends, himself and anyone he comes in contact with safe," the press release said.
So far, officials say that over 2.4 million of the 4,375,020 fully vaccinated Massachusetts residents have signed up for the VaxMillions Giveaway. And since the program was announced, over 235,000 residents have gotten a first dose.
Thursday is also the last day that residents can register for the third VaxMillions drawing, which will be selected Monday and announced next Thursday. Those who enter will also be entered in the final two drawings.
Read the full schedule of the next eligibility deadlines and drawing dates below: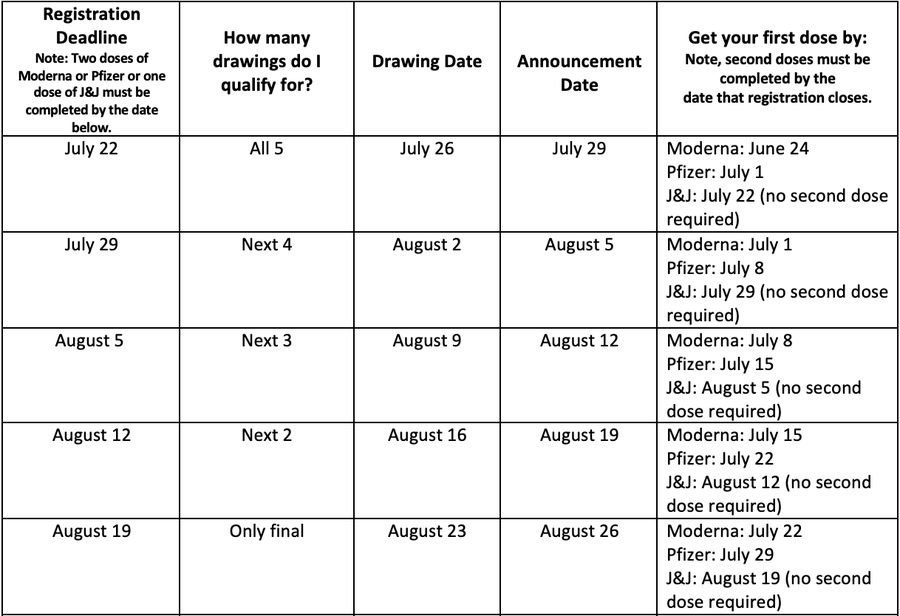 Newsletter Signup
Stay up to date on all the latest news from Boston.com