COVID
Belmont joins growing number of Mass. communities to require masks indoors
Face coverings are now required in restaurants, gyms, barber shops, and houses of worship, among other locations in town.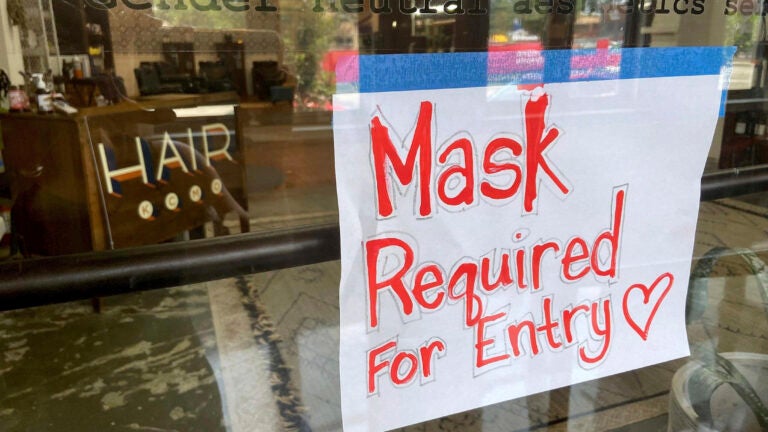 Belmont is the latest community in Massachusetts to require all people to wear masks while indoors as other municipalities have recently adopted similar ordinances to help stem the rise of COVID-19's more contagious Delta variant.
Town officials signed the mandate into law on Friday, with the new regulation taking hold on Monday.
Under the ordinance, all people ages 2 and older are required to wear face coverings "in all indoor public spaces, or private spaces open to the public, except where an individual is unable to wear a face covering due to a medical condition or disability," the law says.
The new rules apply to customers at restaurants when they are not seated, and also apply to patrons of indoor performance venues when they are not eating or drinking.
"Indoor bar and dance venue customers may only remove face coverings when seated at tables or seated at a bar," the ordinance states. "Patrons standing or ordering at the bar must be masked. Guests must be masked on indoor dance floors."
The law also extends to houses of worship, fitness centers, and "personal services establishments," such as barber shops and hair and nail salons.
The new mandate arrived a day after officials in Nantucket issued a similar order, as most counties in Massachusetts were classified as areas with high or substantial levels of community transmission of the virus by the U.S. Centers for Disease Control and Prevention.
"Nantucket is an area of high transmission. If you are vaccinated, you have done your part to protect yourself, but you can still spread the virus to others," Nantucket officials wrote on social media last week. "The intent of this order is to slow the spread of the highly contagious variant Delta and to protect those that are not vaccinated (children younger than 12 years old, adults with certain underlying medical conditions or with weakened immune systems)."
In July, the CDC updated its recommendations to say fully vaccinated people should wear a mask while indoors in public wherever there is substantial or high transmission.
Belmont officials said their mandate would be lifted once Middlesex County — currently at the substantial level — drops to either a low or moderate level over a consecutive, two-week period.
And in Provincetown, officials began mandating that all persons wear masks while inside public places late last month as the town experienced an outbreak in cases among vaccinated individuals. The situation was heading toward containment last week, according to the town manager.
Additionally, several communities have issued advisories that strongly urge residents to wear masks while indoors, but have stopped short of issuing an out-right mandate, including Wellfleet, Cambridge, and Somerville.
In Cambridge, officials have urged the public "to wear a mask and practice physical distancing in situations where transmission is likely."
On July 30, the City of Somerville issued a statement that it is "strongly recommending all people wear face coverings in indoor public settings regardless of whether they have been vaccinated against the virus."
In Wellfleet, masks are required in public buildings and are advised elsewhere, according to The Cape Cod Times.
Read the Belmont mask mandate:
Covid-19 Public Health Mandate 8.6.2021 by Christopher Gavin on Scribd
Newsletter Signup
Stay up to date on all the latest news from Boston.com