Coronavirus
Massachusetts announces third winners of VaxMillions Giveaway
Thursday is also the deadline to sign up for both of the last two lottery-style drawings.
Another two Massachusetts residents have hit the jackpot after getting their COVID-19 vaccine shots earlier this year.
State officials announced the third round of winners in the state's VaxMilions Giveaway for fully vaccinated residents on Thursday: Leo Costinos, of Attleboro, won the $1 million prize for vaccinated residents over the age of 18 and Lilla Eliet, a student at Coolidge Middle School in Reading, won the $300,000 scholarship grant for those between the ages of 12 and 17.
Costinos, a controller at a financial firm, plans to use his winnings to help his children pay for college, according to the governor's office. He said he got vaccinated to protect himself, his family, and the community.
Eliet, who will start eighth grade this fall, is a member of her school's science olympiad team and is already thinking about where she may attend college. She is interested in science and technology and hopes to have a career in medicine, according to the state. She got the vaccine as soon as she was eligible to protect herself and others from the coronavirus.
Gov. Charlie Baker's administration, State Treasurer Deb Goldberg, and the Massachusetts State Lottery announced the new winners Thursday in a press release. For the first drawing a press conference was held to announce the giveaway's initial winners, but since then the new winners have been announced via press releases.
The governor announced the lottery-style sweepstakes in mid-June with the aim of boosting the state's vaccination rates. The giveaways — which will award a total of five $1 million cash prizes and five $300,000 scholarships — are open to Massachusetts residents who are fully vaccinated and who received their shots in the Bay State.
Darrell Washington, a 63-year-old Blue Cross Blue Shield case manager from Weymouth, won the first $1 million cash prize announced in late July, and Daniela Maldonado, a 15-year-old Chelsea resident, won the giveaway's first $300,000 scholarship grant.
Last week, Donna McNulty, of Billerica, won the second $1 million prize for vaccinated residents over the age of 18, and Dylan Barron, of Norwood, won the next $300,000 scholarship grant.
So far, officials say that over 2.5 million fully vaccinated Massachusetts residents (2.3 million who were 18 or older and more than 163,000 between the ages of 12 and 17) have signed up for the VaxMillions Giveaway. Since the program was announced, more than 398,000 residents have gotten their first dose.
Thursday is also the last day that residents can register for the fourth VaxMillions drawing, which will be selected Monday and announced next Thursday. Those who enter will also be entered in the final drawing.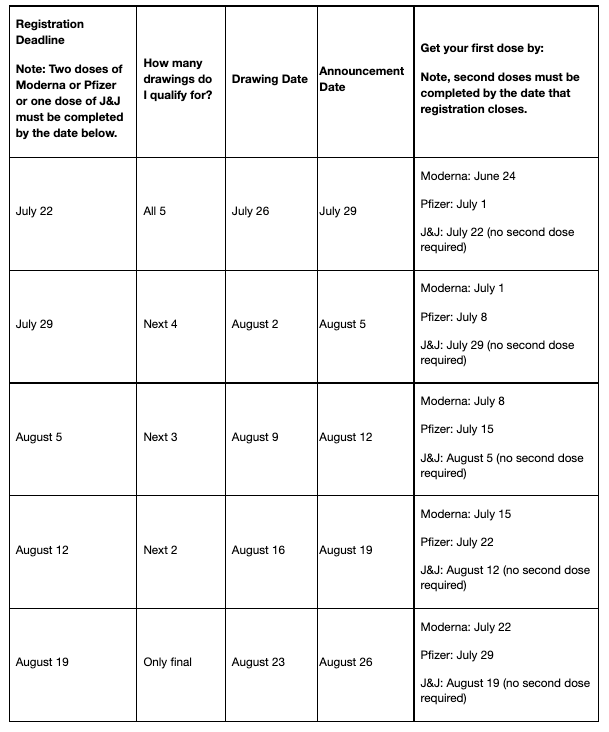 Newsletter Signup
Stay up to date on all the latest news from Boston.com