COVID
Here's where Boston's mayoral candidates stand on COVID-19 vaccine passports
Most but not all support a requirement in some form.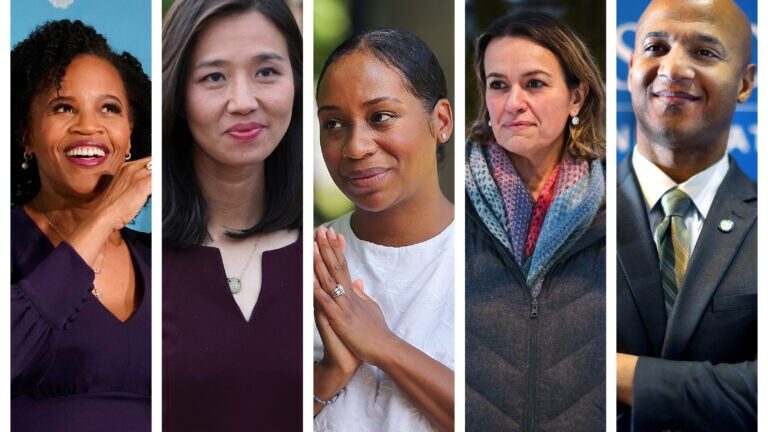 Last week, acting Mayor Kim Janey was asked about requiring so-called COVID-19 vaccine passports for workers at and entry to indoor spaces such as restaurants, gyms, and other venues.
Her response invoked slavery-era freedom papers and birtherism — remarks that sparked minor controversy and a hotbed for pushback from some of her fellow candidates in the five-way race for mayor.
"We know that those types of things are difficult to enforce when it comes to vaccine," Janey said on Aug. 3, according to the Boston Herald, adding that, "there's a long history in this country of people needing to show their papers — whether we talking about this from the standpoint of, you know, as a way to, after — during slavery, post-slavery, as recent as, you know, what the immigrant population has to go through."
Janey continued with a remark referencing former President Donald Trump's years-long demands that his predecessor in office, Barack Obama, the nation's first Black president, show his birth certificate to prove he was born in the United States.
"We've heard Trump with the birth-certificate nonsense," Janey said. "Here, we want to make sure that we are not doing anything that would further create a barrier for residents of Boston or disproportionately impact BIPOC communities."
Two days later, Janey said she regretted her comments, but she held firm in her opposition to imposing some sort of vaccine passport, soon to be required in places like New York City, where customers and workers at certain establishments will soon have to show proof of vaccination.
The concept is gaining attention as the United States grapples with the rise of the virus's more contagious Delta variant and yet another uptick in new cases.
But Janey has repeatedly shot down the idea, arguing that such a policy would lock out communities of color — demographics that have the lowest vaccination rates in Boston — from places in their own neighborhoods.
"If vaccine passports were imposed today, with a government mandate to ban unvaccinated residents from venues like restaurants or gyms, that would shut out nearly 40 percent of East Boston, and 60 percent of Mattapan," Janey said on Aug. 5. "Instead of shutting people out, shutting out our neighbors who are disproportionately poor people of color, we are knocking on their doors to build trust and to expand access to the life-saving vaccines."
Data from the Boston Public Health Commission shows that as of Aug. 3, 47.9 percent of Latinx residents were fully vaccinated while 45.8 percent of Black residents and 34.7 percent of American Indian and Alaskan Native residents had received their needed shots.
Meanwhile, 74.8 percent of Asian and Pacific Islander and 60.5 percent of white residents were fully vaccinated.
"That's not protecting people," City Councilor and mayoral hopeful Andrea Campbell, also a Mattapan resident, said last week, rejecting Janey's notion that vaccine passports would disproportionately hurt communities of color. "If we are protecting the City of Boston, including those in our communities of color, we are pushing them to get vaccinated because we know that is the number one way to keep yourself, your family, and your community safe against COVID-19 and this Delta variant."
On Thursday, Janey unveiled a new policy that mandates city employees either get vaccinated or undergo weekly COVID-19 testing.
But Janey left no room for doubt over whether her view on vaccine passports had changed.
"When it comes to customers, residents of our city, many neighborhoods that still have lower vaccination rates than others, or populations that still have lower vaccination rates, it is important that what we don't do is lock them out," Janey said. "We continue to prioritize them when it comes to the vaccine.
"But to suggest that half of Black residents couldn't go to a grocery store, I think is insane," she added. "So instead, we are prioritizing them, meeting them where they are, partnering with our community health centers, with all of the partners who received the (city's) vaccine equity grant. We are investing in people and programs that work."
Janey also asserted that she is "not going to politicize the pandemic."
"I'm going to continue to prioritize people in our city," she said.
Here's the latest on where the other candidates stand on vaccine passports:
Andrea Campbell: 'This is about making sure that folks are safe.'
On Monday, Campbell called on the Janey administration to take more substantial action in combatting the again-evolving pandemic, including instituting a vaccine passport requirement for indoor dining and at large venues.
"That's ridiculous," Campbell said, firing back at Janey at a press conference in Mattapan.
"This is about making sure that folks are safe, and that those in the community and the larger community are also safe," she added. "We're in a public health crisis, and it requires us to respond with the appropriate measures to keep our residents safe."
On Thursday, Campbell said it was "about time" Janey put a vaccine mandate in place for city workers, but also lamented Janey's misleading remarks on passports.
"Unfortunately, the Acting Mayor is once again spreading misinformation about the vaccine by saying that proof of vaccination would be required to shop in a grocery store," Campbell said in a statement. "No one has suggested that for Boston, and this wasn't part of the policy implemented in New York City. Misinformation like this erodes trust in our public health system and will likely prevent people from getting vaccinated."
Michelle Wu: 'We need to be setting the parameters.'
Like Campbell, City Councilor Michelle Wu also publicly reiterated her support for the passport concept during a press conference this week.
Joined by small business and restaurant owners on Wednesday, Wu said the city should require proof of vaccination for admittance to high-risk indoor establishments.
Officials must step up now so the burden of public safety does not fall on business owners, she said. Indeed a growing number of establishments in the Boston area already have those rules in place.
"We need to be setting the parameters, and working with our business owners, to get to the place where we have standards for proof of vaccination for high-risk indoor activities," Wu said. "And that could be anything from restaurants and dining indoors at a certain point in time. That could be movie theaters and gyms and many of the businesses that we have seen in various stages of the reopening and peeling back throughout the course of the pandemic, to make sure that we have for each category of those businesses, what makes sense and what is feasible for the city to step in and support enforcing."
Wu repeated her stance on Thursday.
"I'm glad the Administration has finally answered the call to mandate vaccines for city workers—but with the Delta variant surging, we need more than half-measures," she said in a statement. "City Hall must set out regulations on vaccination for high-risk indoor spaces like gyms, salons, and restaurants to ensure protections for all our communities."
Annissa Essaibi George: 'I'm willing to explore any option that increases vaccination rates, but do not believe a mandate for businesses is the first or only step.'
City Councilor Annissa Essaibi George has not closed the door on whether she would support requiring vaccine passports, but she does not consider the option Boston's first line of defense during this stage of the pandemic.
"I'm willing to explore any option that increases vaccination rates, but do not believe a mandate for businesses is the first or only step in reaching that goal," she told Boston.com in a statement. "The past year and a half has been incredibly challenging for our businesses. I worry about placing yet another burden on them when, instead, we could focus efforts on building trust in the vaccine and distributing it to our residents in a way that's equitable."
Essaibi George is also the only candidate to oppose Janey's vaccine mandate for city workers.
"I agree with pushing vaccination, and making sure that our city's residents and our city's employees have access to that vaccination," Essaibi George told WBUR's "Radio Boston" on Thursday. "I don't agree with a mandated vaccination, I think it's important to encourage it and to make sure that testing is available."
Janey's policy will require regular testing for unvaccinated workers.
"But I think a mandate is a dangerous precedent to start, and we've got to be very careful about those mandates, we've got to be very careful about the messages we're sending to our city's employees, especially if we have not had conversations with them," Essaibi George said.
The Boston Teachers Union came out in support of the mandate on Thursday.
Boston Firefighters Local 718 President John Soares, calling the rule a "violation" of human rights, told members in an email that the union only found out Janey was considering the policy two weeks ago through news reports.
John Barros: 'We must instill confidence in our public spaces and businesses.'
John Barros, the city's former chief of economic development, is pro-vaccine passport requirements similar to the order taking hold in New York City.
"We need our public leaders to be leading by example by encouraging vaccination with every possible tool," Barros told the Boston Business Journal in a statement last week. "We must instill confidence in our public spaces and businesses and do everything we can to keep people healthy and the economy open."
In a statement Thursday, Barros said Janey "has waited long enough to provide public health guidance with the Delta variant surging while only 61 percent of Bostonians are fully vaccinated."
"I urge the acting mayor to follow the lead of municipalities like Belmont, Salem, and Provincetown, and businesses like AEG concerts and our local museums in instituting a mask mandate. And if the acting mayor won't lead, I call on Gov. (Charlie) Baker to act," Barros continued. "As of this week, we've seen over 100 new cases of COVID-19 a day in Boston. We need to do everything to protect the health of residents and workers, while keeping our economy open."
Newsletter Signup
Stay up to date on all the latest news from Boston.com