COVID
'It can't be this hard': Boston doctor calls for more accessible, free COVID-19 testing after struggling to find test for toddler
"It shouldn't have taken me half of a day to find testing for my daughter. Because when we don't have testing, kids are out of school and adults are out of work."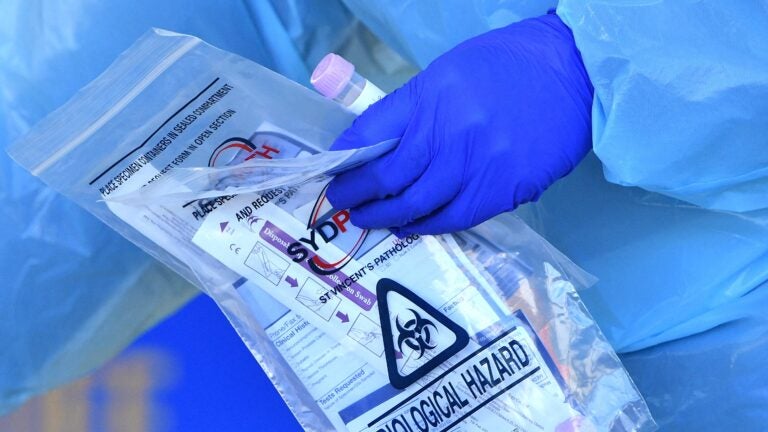 A Boston doctor is urging officials to make COVID-19 testing free and more accessible after he struggled to find a site where his 10-month-old daughter could be tested.
Dr. Scott Hadland, chief of Mass General Hospital's Division of Adolescent and Young Adult Medicine, wrote an op-ed in "USA Today" about his shock to find that when his daughter was sent home from daycare with a fever, it took him almost four hours to find testing for her in Boston.
His "first call" was to her pediatrician to get a test, but no appointments were available that day.
Next, he took her to one of Boston's free testing sites, where they waited for two hours only to learn that results might not be back for 72 hours.
"This would have meant three more days out of work for me, so we traveled across town to another testing site where we could get faster results," he wrote.
After another hour-long wait outside in the sun, his daughter was tested. The results came in the next day; she was negative for COVID-19.
"Y'all: It can't be this hard," the pediatrician wrote on his Instagram account of the experience. "We're entering a new wave of this pandemic and return to school."
With Massachusetts seeing an uptick in coronavirus cases driven by the highly contagious Delta variant, thousands more people have been heading to coronavirus testing sites, prompting some locations to expand their hours. But as of last week, the state has said it hasn't received any reports of increased wait times at testing sites related to the surge in demand.
That's not what Hadland encountered. He told CNN on Friday he was "shocked" by his family's experience.
"It shouldn't have taken me half of a day to find testing for my daughter," he said. "Because when we don't have testing, kids are out of school and adults are out of work."
Accessible, free-of-charge, and timely testing is needed for families in every part of the country, Hadland wrote in his op-ed.
"My family's experience was not unique," he wrote. "Americans are increasingly seeking testing and encountering long waits. Infections are rising from the delta variant, and schools are about to reopen.
"Our national attention has rightfully been focused on vaccinating as many people as possible," he wrote. "However, vaccines are still not approved for children under 12. This fall and winter, a rise in infections from COVID-19 and other viruses is inevitable. Children are going to need testing, and lots of it."
Caitlin McLaughlin, director of media relations for the Boston Public Health Commission, told Boston.com testing in Boston remains "widely available."
"We are currently working with some health centers in the City to expand their capacity so we can further increase access to testing across Boston as we move into the fall," she said. "Testing remains a critical tool to stopping the spread of this virus, which is why ensuring access to testing sites has been a priority throughout the pandemic."
McLaughlin said the public health commission is asking everyone, regardless of their vaccination status, to get tested and to self-isolate if they develop COVID-19 symptoms.
"Testing helps us better understand what is happening with COVID activity right now in the City of Boston," she said.
In a statement, a spokesperson for the Executive Office of Health and Human Services said Massachusetts has been a leader in COVID-19 testing and pointed towards the extension of free testing at 29 "Stop the Spread" sites though October.
"In addition to free testing clinics, local boards of health have access to Abbott BinaxNOW testing kits, and Massachusetts residents have access to free home testing kits via Pixel by LabCorp, and home testing kits are also available for purchase at all major drugstores," the spokesperson said.
Hadland told CNN that the problem is that many testing centers have cut back on hours.
Boston, he noted, has "wonderful testing," but the hours available are limited and not every day for all sites, making accessibility difficult.
And he said while there have been developments with home rapid antigen testing, many aren't recommended for young children and the cost for the tests can add up quickly.
Those barriers — of cost and accessibility — need to be addressed as the nation faces a new school year while Delta drives a new surge in cases, he told the network.
"Now is more an important time than ever … I'm worried that we're not ready for what's to come," he said.
Newsletter Signup
Stay up to date on all the latest news from Boston.com