Coronavirus
Per CDC guidelines, everyone in Mass. should wear masks indoors
"This new science is worrisome and, unfortunately, warrants an update to our recommendations."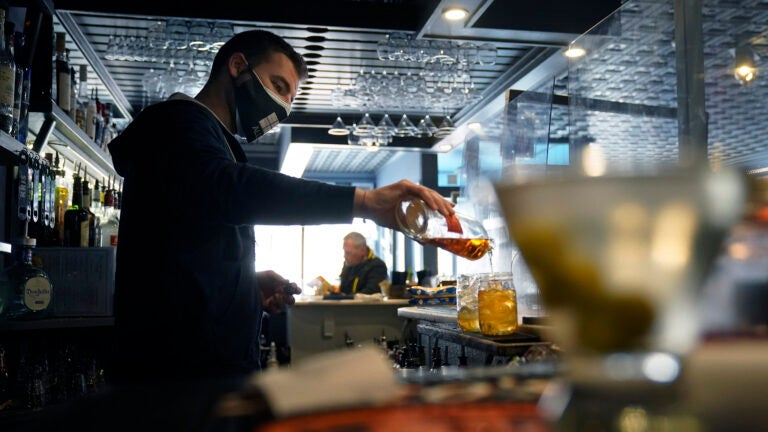 Every county in Massachusetts has high or substantial COVID-19 transmission, according to the Centers for Disease Control and Prevention, which, under CDC guidelines, means everyone should be masking indoors.
Data posted Sunday by the CDC shows that Massachusetts, like neighboring states, is experiencing increased rates of COVID-19 transmission. The CDC is classifying transmission in counties and states as low, moderate, substantial, or high. As of Sunday, Massachusetts has a high transmission rate, with a 7-day percent positivity of 3% to 4.9% and about 117 cases per 100,000 in the last week.
But let's break it down further: eight of Massachusetts's fourteen counties have high transmission rates — Berkshire, Hampden, Essex, Suffolk, Plymouth, Bristol, Dukes, and Nantucket — while the rest have substantial transmission.
On July 27, the CDC updated its mask guidelines to note that anyone in an area with high or substantial COVID-19 transmission should be masking indoors, regardless of vaccination status. CDC Director Rochelle Walensky said it was largely due to the increased transmissibility of the Delta variant.
"High viral loads suggest an increased risk of transmission and raised concern that, unlike with other variants, vaccinated people infected with Delta can transmit the virus," Walensky said in July, according to NPR. "This finding is concerning and was a pivotal discovery leading to CDC's updated mask recommendation… [which] was updated to ensure the vaccinated public would not unknowingly transmit virus to others, including their unvaccinated or immunocompromised loved ones."
Massachusetts State Profile Report | Aug. 6, 2021 by Julia Taliesin on Scribd
So, all of Massachusetts, as well as every bordering county in New Hampshire, Vermont, Rhode Island, Connecticut, and New York, has a high or substantial transmission rate, and, per CDC guidelines, everyone in those areas should be masking indoors.
"On rare occasions, some vaccinated people infected with the Delta variant after vaccination may be contagious and spread the virus to others," Walensky said. "This new science is worrisome and, unfortunately, warrants an update to our recommendations."
Though the state has not issued a mask mandate, a few municipalities have begun requiring residents to mask indoors, including Somerville, Salem, and Belmont.
Newsletter Signup
Stay up to date on all the latest news from Boston.com