COVID
'The writing's on the wall': Harvard doctor predicts seniors will need vaccine boosters in next 2 months
"We'll probably see these outbreaks in nursing homes turn into hospitalizations and deaths by the end of the year, absent boosters."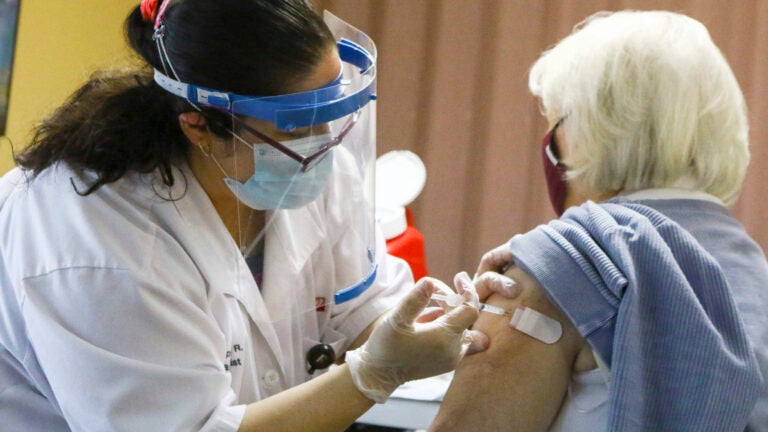 A Harvard epidemiologist is predicting fully vaccinated senior citizens will need to get COVID-19 vaccine booster shots in the next two months for continued protection against coronavirus as the highly contagious Delta variant drives new infections across the country.
Dr. Michael Mina, an assistant professor of epidemiology at Harvard University, told New York magazine that against the backdrop of breakthrough infections and Delta becoming the new "baseline" in the pandemic, he expects to see elderly people who have been fully vaccinated become susceptible to the virus the "further and further out" they get from their initial vaccination.
Bodies have an "immune age" and the elderly will likely need a booster nine months post-vaccine, he said.
"I can almost guarantee that our senior citizens will get boosters in the U.S. in the next two months, I think the [Centers for Disease Control and Prevention] is going to recommend it — there's no way they're not," Mina said. "I think the only reason we haven't announced it already is that the CDC doesn't want to concern people. The moment they admit that they're going to boost people, it sends a message, like, are we in vaccination purgatory here? But the writing's on the wall."
Without boosters, the doctor suggested the "immune memory" for seniors will start to wane by the fall.
If that were to occur, it could become a "perfect storm," he said.
"In some areas, we'll see that the mitigation strategies that we put in place are going to fend off Delta a little bit, especially in the Northeast," Mina said. "But it's going to fend it off just enough so that we hold it back until September, October. And then we'd probably going to see a lot of breakthrough cases in nursing homes. And we'll probably see these outbreaks in nursing homes turn into hospitalizations and deaths by the end of the year, absent boosters."
The professor stressed that breakthrough cases "are real" and said he believes the idea of herd immunity from two vaccine doses is "flying out the window very quickly" because of Delta.
"The message that breakthrough cases are exceedingly rare and that you don't have to worry about them if you're vaccinated — that this is only an epidemic of the unvaccinated — that message is falling flat," he said. "If this was still Alpha, sure. But with Delta, plenty of people are getting sick. Plenty of transmission is going on."
The immunologist said he's not nearly as concerned for younger generations as he is for the elderly.
Since Delta is now the baseline of infections, Mina warned that new variants that emerge will likely be worse, since they will derive from Delta.
"When you compound the two and you say, okay, you have immunological waning at the same time that you have a new variant, then all of a sudden, we're in a much more dire situation with the elderly, where people who think that they're protected, just won't be," he said.
Read his full interview in New York magazine.
Newsletter Signup
Stay up to date on all the latest news from Boston.com