Coronavirus
Somerville reinstates indoor mask mandate
"Putting on a mask indoors in public is easy to do...This is how we can best protect our community and keep the reopening going."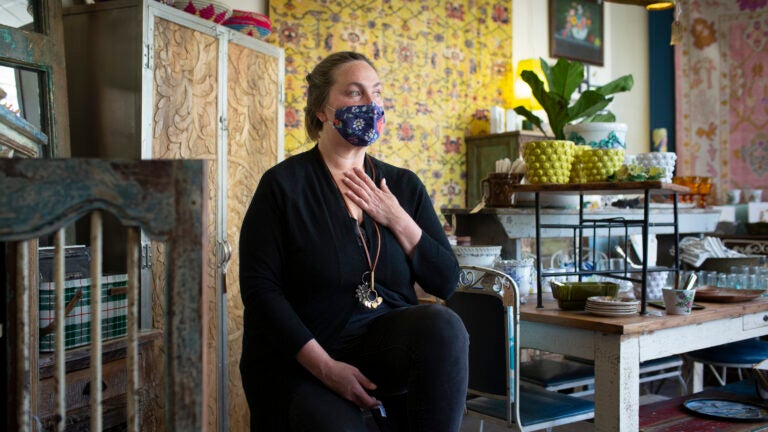 On Thursday, Somerville became the largest Massachusetts city yet to reintroduce an indoor mask mandate.
The approved order is not a copy of the one instituted in 2020 — for one, this mask mandate only applies to indoor public spaces. There are exceptions included, like medical reasons, impeding communication with someone who has a hearing impairment, and people actively eating, drinking, swimming, or receiving health care.
The move comes after the Centers for Disease Control and Prevention recommended last month that all individuals in counties with high COVID-19 transmission wear masks indoors, amid evidence of waning vaccine protection and the rise of the delta variant. Based on the CDC's criteria, everyone in Massachusetts should be wearing a mask indoors.
However, only a few communities — including Salem, Lexington, Belmont, Provincetown, and Nantucket — have reinstated indoor mask mandates, and Gov. Charlie Baker's administration is recommending that only unvaccinated or particularly vulnerable individuals wear masks indoors.
The Board of Health voted to approve the measure, but residents offered diverse opinions on whether this is the right public health and safety step.
Somerville resident Sam Freilich spoke about his concerns for his own kindergarten-age daughter, who can't get vaccinated yet.
"I believe it's prudent to avoid widespread COVID infections within the population of unvaccinated children," he said. "One of the best ways to protect them is to minimize spread in the community at large. The school is doing a lot, but I think it's reasonable to ask people in the community or require them to take on some inconvenience for the sake of limiting transmission of this disease."
Maria Terranova, owner of the popular Mike's Restaurant and Bar in Somerville's Davis Square, said that with restaurants at full capacity it could be hard to enforce.
"When we're at full capacity — with 90 or 100 people — and you have an open bar, how does the Board of Health expect us to police this in such a way that we can operate safely, and logically?" Terranova said.
Other residents suggested implementing vaccine requirements like in New York, and increased efforts to vaccinate residents. Board Chair Brian Green said there has been no shortage of attempts to vaccinate the community, and case rates are increasing.
"If most of the time people are wearing masks in most places, then, if people are choosing to go to restaurants and congregate and not wear masks, those people are still a smaller subset than there would be if mask mandates were not otherwise encouraged," he said. "Less transmission is less transmission is less transmission."
Mayor Joe Curtatone, who submitted the recommendation, was not present at Thursday's meeting. He shared his reasoning in a statement when he submitted the order.
"The last time case rates were this high in Somerville was this past spring. Then, with measures in place to slow the spread, the community stepped up, complied with the rules, and together we drove COVID cases down. Now that the delta variant is driving cases back up, we are asking the community to join together and break this cycle again," he said. "Putting on a mask indoors in public is easy to do. Getting vaccinated, staying home if you feel unwell, and quarantining if you were in close contact with someone with COVID-19 are also essential actions we can all take. This is how we can best protect our community and keep the reopening going."
The mask mandate goes into effect Friday.
Newsletter Signup
Stay up to date on all the latest news from Boston.com