COVID
In shift, Baker administration moves to impose K-12 school mask mandate this fall
The proposed order won't allow schools to lift the mandate until 80 percent of students and staff are vaccinated.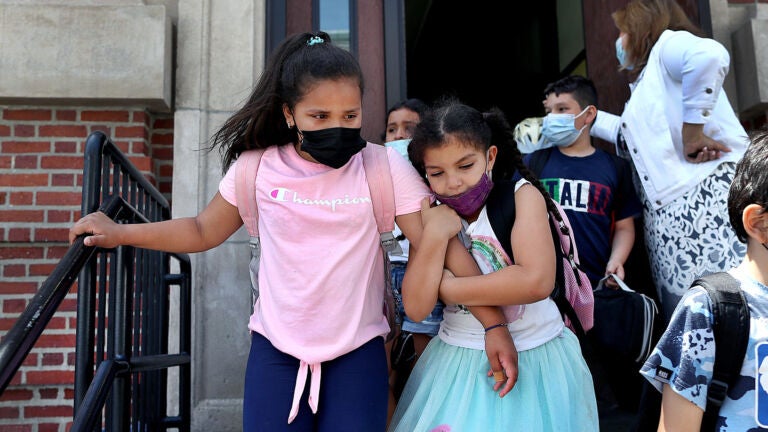 After resisting calls for a K-12 school mask mandate this fall for weeks, Gov. Charlie Baker's administration is changing course.
In a press release Friday, state Education Commissioner Jeff Riley said he will ask the Massachusetts Board of Elementary and Secondary Education for the authority to mandate masks for all public K-12 students, educators, and staff through at least Oct. 1.
After Oct. 1, middle schools and high schools would be allowed to lift the mask mandate for vaccinated students and staff only if at least 80 percent of students and staff in the respective school building are vaccinated.
The new policy would also indefinitely require all unvaccinated individuals ages 5 and over to wear masks, including children younger than 12 who remain ineligible for the vaccine (the state's current guidelines only "strongly recommend" that schools require students up to sixth grade wear masks).
"With cases rising, this mask mandate will provide one more measure to support the health and safety of our students and staff this fall," Riley said.
Officials said that Riley has asked the board to meet on Tuesday to vote to give him the authority to institute the mandate, which would include exceptions for students who cannot wear a mask due to medical conditions or behavioral needs.
"While Massachusetts leads the nation in vaccination rates, we are seeing a recent rise in COVID-19 cases because we still need more people to get vaccinated," Baker said in a statement. "This step will increase vaccinations among our students and school staff and ensure that we have a safe school reopening."
The news comes after Baker repeatedly defended the state's previous guidelines, which left the oft-contentious decision up to local officials. The governor had argued that the state's relatively low COVID-19 hospitalization rates and high vaccination rates put Massachusetts "in a very different place than most other parts of the country," even amid the delta surge.
Education Secretary James Peyser noted Friday that vaccination rates among young people in Massachusetts — 65 percent of 12- to 15-year-olds— are "among the highest in the nation."
Still, Peyser said the mask mandate — tied to vaccination thresholds for middle and high schools — was a measure to "further encourage vaccination rates among everyone in our schools."
Baker told reporters Friday that the state is also planning around 100 vaccination clinics at schools ahead of the return to in-person classes next month.
During a press conference, he also said Riley's proposed mandate creates "some serious incentives for middle and high school kids to get vaccinated."
Rather than encouraging, some local teachers unions have argued that the Baker administration — which recently ordered tens of thousands of state government workers to get the vaccine — should also be requiring vaccination in schools.
Earlier this week, the leaders of the Massachusetts Teachers Association voted overwhelmingly to support a mandate requiring the COVID-19 vaccine for all eligible public school students and staff. And after the state of Washington ordered school employees to get vaccinated or lose their job this week, Rep. Ayanna Pressley tweeted at Baker: "Your move."
Newsletter Signup
Stay up to date on all the latest news from Boston.com