COVID
Churches have been 'ground zero' for COVID-19 outbreaks. Why do they get an exemption from Boston's new mask mandate?
"There's no reason, if we're thinking about the science, for there to be an exemption."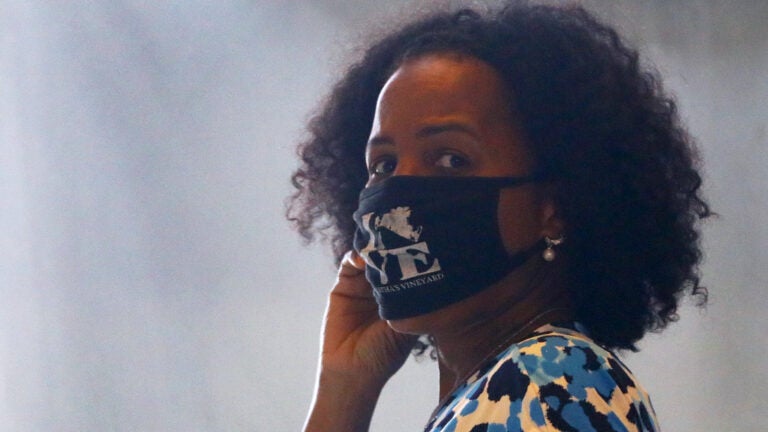 When Boston's new indoor mask mandate takes effect Friday, both vaccinated and unvaccinated individuals will again be required to wear face coverings in everywhere from restaurants to stores to gyms to private events to museums.
However, unlike previous statewide mask mandates in Massachusetts, the new order in Boston includes a curious carveout:
Churches.
Though places of worship have been repeatedly blamed for super-spreader events across the country and in Massachusetts over the course of the COVID-19 pandemic, Acting Major Kim Janey is giving them an exemption from the indoor mask mandate — and perplexing some local health experts.
"There's no reason, if we're thinking about the science, for there to be an exemption," Dr. Cassandra Pierre, the associate hospital epidemiologist at Boston Medical Center, said in an interview.
Dr. David Hamer, a global health professor at Boston University, said he was "shocked" when he saw the exception.
From an infamous Washington choir group outbreak to a Fitchburg church tied to more than 200 infections last fall, Hamer noted that the combination of singing, mingling, and having close contact in large groups while in an indoor, often poorly ventilated setting has proven to make houses of worship a "high risk environment" in the absence of preventative measures like masks. Gov. Charlie Baker blamed indoor religious gatherings for dozens of COVID-19 clusters in Massachusetts last fall.
A lot has changed since then; Massachusetts has one of the highest vaccination rates in the country, which has kept COVID-19 hospitalization and death rates well below their previous peaks, even amid the surge in infections driven by the highly contagious delta variant. As of last week, 61 percent of all Boston residents were fully vaccinated.
Still, concerns about the delta variant and waning protection from the vaccines have led leaders in Boston and other cites to reimpose indoor mask mandates for public indoor settings. In that context, an exemption for places of worship doesn't make sense, according to Pierre, who noted that an hourlong church service would be riskier than a 20-minute trip to the grocery store.
"You have people talking, hugging, singing, laughing, yelling," Pierre said, adding that the exemption could mislead individuals into thinking that "what's permissible is safe."
"These are high risk locations for outbreaks and should be treated similarly to other indoor locations," Hamer said.
Janey's administration says they have legal, if not public heath, reasons for the decision.
While the Supreme Court has not shot down any state or city mask mandates on places of worship, the acting mayor's office pointed to a lower federal judge's ruling last fall that blocked Colorado from enforcing church occupancy limits and mask mandates on First Amendment grounds, when asked about the exemption.
"We respect recent court decisions that allow places of worship to determine their own masking practices and strongly encourage faith communities to wear masks indoors as a responsible public health measure," a Janey spokesperson said in a statement.
"Wearing a mask indoors is one of the best ways to protect ourselves and others," the statement said.
The ruling in Colorado led the state to create an exemption allowing individuals participating in religious services to temporarily remove their masks indoors (with the conflict moot, the Supreme Court — which has overturned certain strict capacity limits on religious gatherings — turned down the case this past spring).
But that ruling hasn't stopped other states and localities — from Louisiana to Los Angeles County — from reimposing mask mandates this summer that apply to religious gatherings.
Nor did it give cause for officials in neighboring communities, like Brookline and Somerville, to exempt places of worship from their recently reimposed mask mandates.
Janey's move also comes in the midst of an increasingly heated race for a full term as mayor, during which sweeping mask mandates have proved unpopular among some religious groups.
"This just seems like trying to placate multiple bases," Pierre said, noting how other localities have ignored the Colorado case without consequence.
On the whole, Janey's mask mandate "will very much help reduce transmission," according to Dr. Louise Ivers, the executive director of Massachusetts General Hospital's Center for Global Health and a Harvard Medical School professor. But she stressed that "there is no reason to think risk is lower in a place of worship."
"It is possible to further reduce risk of transmission indoors with vaccination, testing, and ventilation," Ivers said in an email. "So it would still be my advice to people to ask about those tools and how they are being applied to reduce their risk of transmission if they did choose to unmask in a house of worship. I think it's important for the Public to understand the risks they might be taking."
Pierre said it's "great" that Janey's office is encouraging residents to wear masks in places of worship. But she said that the administration should be more aggressively messaging that in the absence of a requirement so that attendees can find community and practice their faith safely during "such a tough year."
"We've seen this so many times," Pierre said. "I'm Haitian; many Haitian churches were unfortunately ground zero for a lot of infection, serious disease, and death in the Haitian communities. … These are communities that have persisted and endured, despite COVID. People are going to continue to go back to them, and they should. We want to make life livable somehow."
Newsletter Signup
Stay up to date on all the latest news from Boston.com