COVID
Massachusetts will require masks in all K-12 public schools to begin the year. Here's what to expect.
"For now, the safest and simplest path forward is to mask up in schools."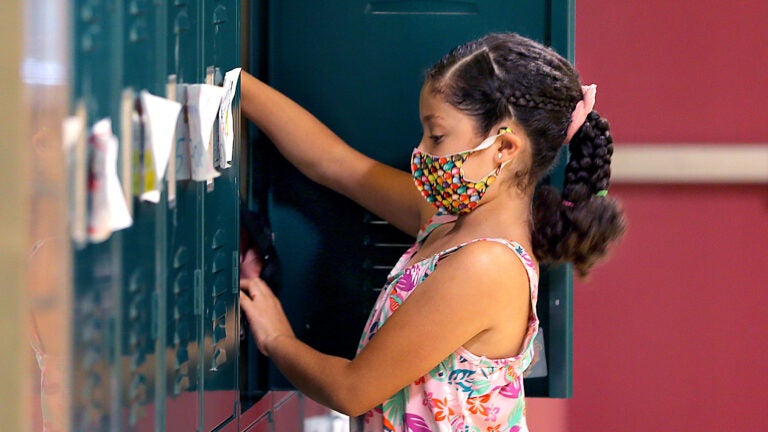 Back to school, and back to masks.
Citing "exigent circumstances" due to the recent rebound in COVID-19 rates, Massachusetts education officials will require all public K-12 students and staff to wear a face covering inside school buildings when they return to class in the coming weeks.
In a nearly unanimous vote Tuesday morning, the state's Board of Elementary and Secondary Education voted to give Education Commissioner Jeff Riley the power to reimpose his recently proposed mask mandate through at least Oct. 1.
The move comes after Gov. Charlie Baker's administration had resisted calls for a mandate earlier this summer. Riley, however, pointed to the dramatic increase in COVID-19 infections due the delta variant.
Officials are also hoping to use the new mask mandate to encourage eligible students and staff to get the COVID-19 vaccine — "the single most important tool in mitigating the impact" of the disease — by allowing schools to relax the requirement once they hit certain vaccination benchmarks.
"The only way we're going to be able to put COVID behind us is through vaccinations, and today's vote is another tool to help us get there," Education Secretary James Peyser said.
Here's what we know about the plan:
What to expect when classes start:
Almost all students and staff — regardless of their vaccination status — in public kindergarten, elementary, middle, and high schools in Massachusetts will be required to wear a face covering inside school buildings until at least Oct. 1.
There are some exemptions. The requirement does not apply to children younger than the age of 5, as well as those who cannot wear a mask due to medical conditions or behavioral needs.
In a memo, Riley said the Department of Elementary and Secondary Education will provide more specific implementation guidance to districts this week.
"I want to be clear that we are hopeful that this will be a short-term measure, and we continue to work with the health and medical community on off ramps for masking," Riley said during the meeting Tuesday.
What happens in October:
Riley says he'll reassess the mandate on Oct. 1 "based on conditions then in place." During the meeting Tuesday, he noted that vaccinations will not be the "sole determinant for unmasking," suggesting that COVID-19 infection and hospitalizations could also come into play.
That said, under the current plan, after Oct. 1, state officials will allow middle schools and high schools in which 80 percent of students and staff are vaccinated to lift the mask mandate — but only for vaccinated individuals.
In alignment with the Baker administration's statewide face covering guidelines, unvaccinated students and staff would be required to continue wearing masks indoors, while vaccinated individuals could go unmasked in those schools.
Will that affect a lot of schools?
It's unclear exactly how many schools are close to meeting that threshold.
According to Department of Public Health data released last week, 65 percent of all Massachusetts residents between the ages of 12 and 15 are at least partially vaccinated, and 68 percent of 16- to 19-year-olds have also gotten at least one shot.
At the local level, 41 of the state's 351 municipalities had at least 80 percent of their 12- to 15-year-olds fully vaccinated, The Boston Globe reported last week, while 92 had more than 80 percent of their 16- to 19-year-olds fully vaccinated.
Unlike a small but growing number of states (California, Connecticut, New Jersey, Oregon, and Washington) Massachusetts is not requiring that teachers and school staff get the vaccine. The state is also not yet collecting data on educator vaccinations.
Under the plan approved Tuesday, schools would individually submit an attestation form to DESE demonstrating they have met the 80 percent threshold.
Peyser said Tuesday that the benchmarks hopefully "reinforce the importance of vaccinations" and "create incentives for school communities to get all their eligible students and staff vaccinated as soon as possible."
Could the mask mandate get reimposed again, even for vaccinated individuals?
Maybe.
Riley hinted Tuesday that, even with the new plan, mask mandates may be needed throughout the year as the state continues to navigate the unpredictable pandemic.
"I know we all want this to be over, and we are hopeful that this will be the final hurdle of the pandemic, but we also cannot completely rule out the possibility that masks may be required intermittently throughout the year, based on the trajectory of the virus and any new emerging variants," he said.
What about elementary schools?
The long-term future of masking in elementary schools is also somewhat murky.
Children younger than the age of 12 remain ineligible for the COVID-19 vaccines, and federal officials have said that approval likely won't come until the winter.
That uncertainty elicited concern from some BESE members, who noted that children are dramatically less vulnerable to the disease than older adults.
However, both Riley and Peyser strongly suggested the approach could change if COVID-19 rates decline.
"Obviously, circumstances may change in the coming weeks, which may allow us to take a different course," Peyser said.
"But for now, the safest and simplest path forward is to mask up in schools as we all work to meet or exceed the 80 percent vaccination benchmark," he added.
How did the vote go Tuesday?
The board approved Riley's motion on a 9-1 vote, but not before a couple members did voice some concerns with the administration's approach.
Martin West, a BESE member and Harvard education professor, said he wanted to "reject the notion that the decision we're confronting is a simple matter of following the science." West argued that the effectiveness of masks in school settings "is less clear cut than is often suggested" and their benefits should be weighed "against the cost to students, of not being able to see their teachers faces for most of the school day."
West also vented about the fact that the state was imposing restrictions on schools "at a time when similar measures are not currently in place in seemingly similar settings populated by adults."
"In my view, schools should be the last places that we impose such measures on, not the first," he said.
West said he was ultimately supporting the motion, on the hope that it helps avoid quarantines for large numbers of students and incentivizes teacher vaccinations. However, he also expressed concern that requiring unvaccinated students to continue to wear masks after schools exceed the benchmark could put students in the position of "explaining why they're not vaccinated" or "tattling on each other for inappropriately going unmasked." West also asked Riley to work with the board to set a "clear end date or exit criteria for elementary school students."
Paymon Rouhanifard, the sole no vote on the board, argued that the mask mandate should be tied to COVID-19 community spread, rather than in-school vaccination rates, which he called "really bad public policy" due to the uncertainty around when children under 12 will become eligible.
"Without a clear off ramp, I just really worry about this proposal," Rouhanifard said, arguing that "erring on the side of caution loses sight of the bigger picture."
"I'm old enough to remember how this all started, when this all started, it was about flattening the curve, and the curve, you may recall, was about hospitalization rate and count," he said. "And all of a sudden we're now focused on case count, and I do believe the goalposts have shifted and there hasn't been an honest discussion about that. And I realize delta is more transmittable, and it has us tied up in knots for reasons that I do think are real. But when you look at hospitalization and death rates, it remains remarkably low in our country and particularly so in the commonwealth."
BESE member Matt Hills said however that he felt it was a "straightforward vote" of confidence in the Baker administration. He also noted that the same public health experts that were "sticking their neck out both medically and politically" last winter in support of the administration's move to force schools to reopen also support the new mask mandate.
"We have a public health situation that continues to evolve," Hill said, adding that Riley should have the "flexibility" to deal with it "appropriately."
"I sure hope we have a smooth opening to the school year across the state, and that one month from now we're talking about success in relaxing the mandate," he added.
Newsletter Signup
Stay up to date on all the latest news from Boston.com