COVID
How 'Test and Stay' aims to keep more kids in Mass. schools amid COVID this fall
"We only have our students for 180 days out of the school year in most of our schools in the state. And you know, that time matters, every day matters."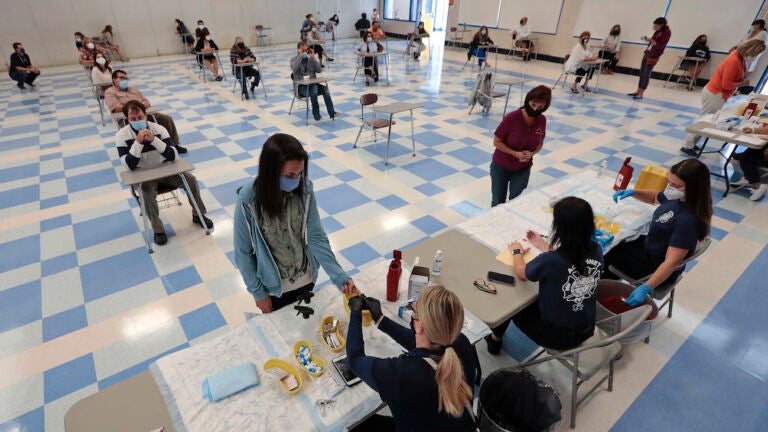 A new school year brings new teachers, new classes, new friends — and, yes, a new testing model.
Returning to classrooms during the COVID-19 pandemic, students and educators this fall at some Massachusetts schools will find new state-sponsored virus testing programs aimed at more quickly identifying positive cases and close contacts of infected persons with the hope to keep kids safely in schools as much as possible.
Among the offerings the Department of Elementary and Secondary Education is making available to districts this school year, the "Test and Stay" model has promising potential to help students remain in classrooms — rather than complete quarantine mandates at home — should they come in close range of a coronavirus carrier, educators say.
"We only have our students for 180 days out of the school year in most of our schools in the state," said DESE Deputy Commissioner Russell Johnston. "And you know, that time matters, every day matters."
Under "Test and Stay," students who are identified as close contacts of people who contracted COVID-19 are administered a daily test for at least five days following their initial exposure. Students may remain in class so long as they produce a negative test result each day.
According to Johnston, a close contact is considered anyone who was within 6 feet of an individual known to have COVID-19 for more than 15 minutes.
"As long as they remain negative, the real benefit to this is that we keep kids in school," Johnston said. "We really maintain those close teacher-student connections that we know are so valuable to students. We're able to offer the full range of school-based services: everything from social-emotional supports to, you know, food services that we just know are so important for child development."
State officials say research indicates the "Test and Stay" practice can be as effective at limiting virus spread as undergoing quarantine for asymptomatic close contacts.
Research published in May by the U.S. Centers for Disease Control and Prevention found that between November 2020 and March 2021, regular testing of students in Utah, including a "Test to Stay" model used during virus outbreaks, found approximately 3.2% of 59,552 students tested positive and saved "an estimated 109,752 in-person instruction student-days." Schools were also able to continue about 95% of extracurricular competition events.
Johnston said research on the subject "really helped to give us the confidence to promote this model in the state."
Also of note, transmission has remained low in Massachusetts schools while students were attending classes in-person last school year.
According to Johnston, at the end of this past school year, regular student testing found about 2 in 1,000 students tested positive.
"Our purpose here is to make it safe to come back to school, and we don't know with Delta how this will unfold, but we do know that since August of last year when we started testing," Tim Rowe, founder and CEO of CIC Health, the state's testing vendor, said during a back-to-school press conference at Boston City Hall on Thursday. "None of the schools where we tested had outbreaks and none of the schools where we tested had to close."
"Test and Stay" is only one model state educators are offering to local districts, free of charge thanks to $207 million the commonwealth received in federal funding.
However, schools are not required to use the state programs. As of Sept. 1, 2,048 schools registered for at least one of the models offered, according to a DESE spokesperson.
State officials are offering routine pooled testing, once again, to districts. Under this model, samples are collected and up to 10 are placed in a tube. If a group tests positive, individual samples are collected again to determine which individual is sick.
But a new offering this year will allow schools to save time and effort under that model: Two samples can now be collected from individuals at the same time, so that when a pooled test produces a positive result, health professionals can quickly determine the source of the virus, Johnston said.
"You can take action even that much faster because you're getting those results right then and there," Johnston said.
In the event someone displays COVID-19 symptoms while at a school, that individual can receive a rapid test under the models offered as well, according to officials.
Additionally, DESE is now offering schools additional testing staff for all models this year, according to Johnston. Last school year, extra staffers were only available for pooled testing efforts, he said.
In order to be tested at school, however, students will need the consent of a parent or guardian.
In Boston, where school leaders last week unveiled Boston Public Schools' reopening plans — including the district's use of "Test and Stay" and other state models this year — Superintendent Brenda Cassellius said Thursday the school system had only received consent for approximately 11,000 of the city's 54,000-plus students.
Families first received the consent form late last week, Cassellius said.
"We strongly encourage all of our parents and caregivers to provide consent for their child to get weekly COVID-19 testing at school," she said.
Officials are sending families additional emails and text messages and providing paper copies of the consent forum at schools as well, Cassellius said.
Newsletter Signup
Stay up to date on all the latest news from Boston.com