COVID
Most Boston residents support vaccine mandates for work, poll shows
Mask requirements in public schools also have strong public support, according to the survey.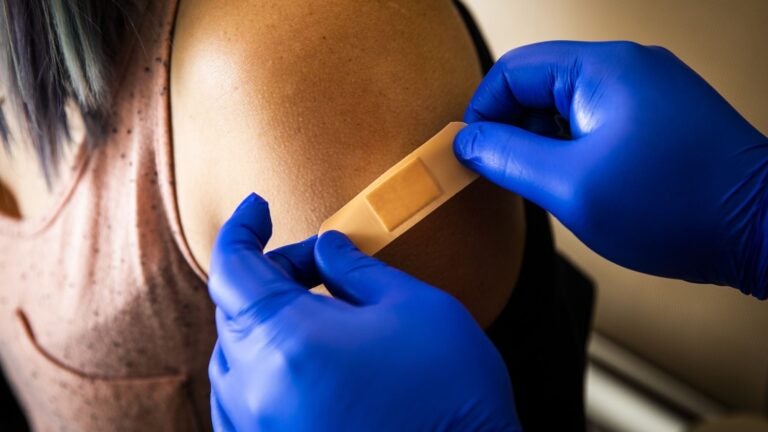 Most Boston residents support a COVID-19 vaccine mandate for the workplace, a new poll found.
A Boston Globe/Suffolk University survey of 500 likely voters revealed 72 percent of respondents think employers should require vaccinations for employees, and 87 percent of those polled support the Baker Administration's mask requirement for schools. (The margin of error was 4.4 percent.)
The mask policy requires nearly all students and staff, regardless of their vaccination status, in public K-12 schools to wear a face covering when inside school buildings until at least Oct. 1. (The mandate does not apply to children younger than 5 years old and to those who are unable to wear a mask because of medical conditions or behavioral needs.)
According to the poll results, only 9 percent disagreed with the state policy and 4 percent said they were undecided about how they felt.
Notably, the requirement has strong support from Democrats and independents, with 94 and 76 percent agreeing with the policy, respectively. Fifty-six percent of Republicans polled support the measure.
Fewer local Republicans, however, support employers requiring vaccinations: The poll found 44 percent of those asked back the vaccine mandates.
Meanwhile, 82 percent of Democrats and 55 percent of independents believe employers should issue such a requirement, survey results show.
Most Americans — about 56 percent — back proof of vaccination requirements for offices or workplaces, although support is split along party lines, Gallup polls released last week show.
Under a policy created by acting Mayor Kim Janey, Boston city employees will be required to either have a COVID vaccine or submit to weekly testing. The vast majority of poll respondents, nearly 84 percent, said they agree with the decision.
A significant majority, about 83 percent, also agreed with Janey's decision to impose a mask requirement for indoor public places, with 15 percent opposed and about 2 percent still undecided.
Most, or 57 percent, said they agree with the requirement as is, although some — 35 percent — said they think Janey "should have imposed the mandate sooner."
Newsletter Signup
Stay up to date on all the latest news from Boston.com