COVID
How local doctors are reacting to Biden's new plan to fight the delta surge
"It's doubling down on the things that work!!! Thrilled. But I want a little more."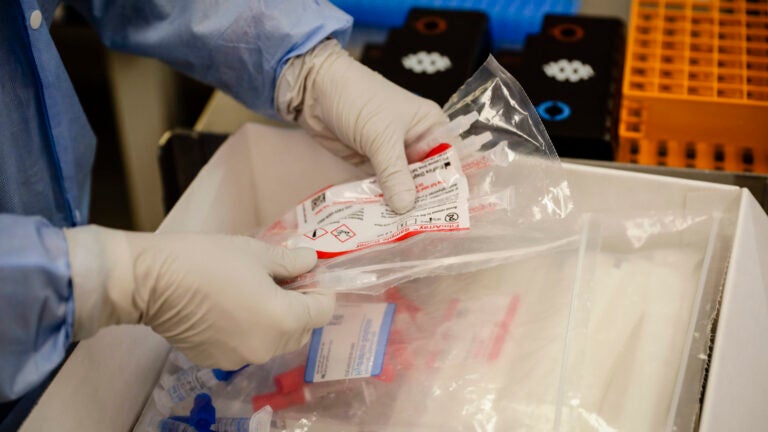 Local doctors and infectious disease experts say they are "thrilled" after President Joe Biden announced a broad new "action plan" on Thursday to combat the latest COVID-19 surge driven by the highly contagious delta variant.
The plan includes a range of steps, including sweeping vaccine mandates, mask requirements for interstate travel, expanding free testing, and urging governors to require school district employees to get the COVID-19 vaccine.
During the announcement at the White House, Biden criticized the millions of Americans who have not yet gotten vaccinated, despite the widespread availability of the shots.
"We've been patient," the president said. "But our patience is wearing thin, and your refusal has cost all of us."
The administration is now requiring federal workers and contractors be vaccinated with only a few exceptions; private employers with 100 or more workers must require vaccines or weekly testing and provide paid time off for vaccination; millions of health care workers in facilities that accept Medicare and Medicaid payments must get vaccinated; and employees of Head Start and other federal education programs must get fully vaccinated.
During an appearance on the "Today" show on Friday, Dr. Ashish Jha, dean of the Brown University School of Public Health, said the mandates will make a big impact in the fight against the coronavirus and data has already shown they are effective at getting more people vaccinated.
"The virus is not going away," Jha said. "So this is not what do they need to do over the next few weeks — it's how do we get our society back, how do we get workers back, and how do we do it safely. And I personally can't think of how you bring people back into indoor offices safely unless you actually require that people be vaccinated or you're doing regular testing. So from a pure worker safety point of view, this makes a lot of sense."
On Twitter, Jha said the United States is on track to see 40,000 deaths from COVID-19 in September.
"This relentless, preventable suffering must end," he said. "We should absolutely discuss whether the President's policy solutions will work or not. But doing nothing new can't possibly be an option."
The public health researcher isn't the only local doctor cheering the new plan from the Biden administration, though the experts weighing in also said that more steps are still needed.
Below, see how Jha and other medical professionals are reacting to the new plan — what they said hit the mark and what more still could be done — to slow the spread of the virus and protect Americans as the pandemic rages on.
Dr. Ashish Jha, dean of the Brown University School of Public Health

: 'Overall, very solid plan. And if we implement it right, will make a VERY big difference.'
Dr. Megan Ranney, emergency room physician and associate dean at Brown University School of Public Health

: 'Overall? I give this an 'A-'. It's action – woohoo!!!! It's doubling down on the things that work!!! Thrilled. But I want a little more.'
Dr. Thomas Tsai, a surgeon at Brigham and Women's Hospital and health policy researcher

: 'Plan rightly brings focus on vaccinations of all eligible individuals as a workplace and school safety. Getting vaccinated is part of the social contract that allows businesses and schools to stay open.'
Dr. Michael Mina, assistant professor of epidemiology at Harvard University

: '@POTUS fully supporting scale up of rapid at-home tests. I've been arguing for this – the Defense Productions Act to be invoked since early last year to drive production of rapid tests. Testing in a pandemic is a Public Health need.'
Information from the Associated Press was used in this report.
Newsletter Signup
Stay up to date on all the latest news from Boston.com