Coronavirus
An unvaccinated man met a doctor at a bar. He left agreeing to get his first dose.
"It was his decision obviously, but to just have been able to play a small part in helping him come to that decision was really gratifying."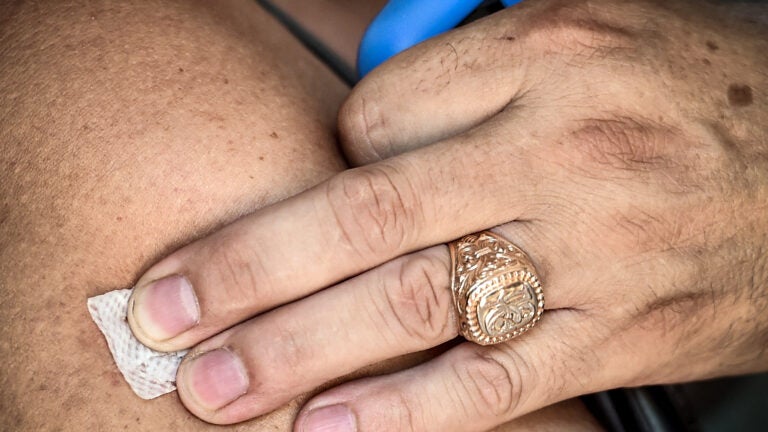 The conversation started with Brussels sprouts.
Mark Hall was not fond of Duane Mitchell's appetizer selection.
"That sounds awful. No, thank you," Hall joked.
Soon, the icebreaker that got the two strangers chatting at the bar of a Gainesville, Fla., restaurant earlier this month turned into an over three-hour-long conversation about coronavirus vaccines.
"What do you think about the vaccine?" Hall asked after Mitchell disclosed that he was a researcher studying human diseases at the University of Florida.
Mitchell replied that he believed in the vaccine and that he had been vaccinated. But Hall had no plans to get the shot. Hall said he had done extensive research about the vaccines, but plenty of his questions remained unanswered.
"It was a back and forth," Mitchell, 50, told The Washington Post. "It was clear that he was skeptical, but he kept asking questions."
By the end of the dinner, the men exchanged numbers, and Hall cracked one more joke. He'd get the vaccine – but only if Mitchell gave it to him, the physician told The Post. To Mitchell's surprise, Hall followed through and texted him to schedule his appointment at the university's clinic. Five days after their chance meeting, Hall received his first shot.
"I couldn't believe it," Mitchell told The Post. " . . . After the encounter I said, 'I don't know if he's ever going to actually call and follow through, but maybe he'll get the vaccine where he is, maybe down the road the opportunity will come up.' It seemed like our conversation made a difference."
Hall did not immediately respond to an interview request from The Post late Tuesday.
Although more than 187.7 million people have been fully vaccinated in the United States – more than half of the country's population – millions of Americans have yet to get immunized. Many remain skeptical about the vaccines' effectiveness despite public health experts' assurances that they are safe and reduce the chances of developing severe covid-19 symptoms. Some have changed their minds, while others have remained adamantly against the vaccine even on their deathbeds.
Hall had been skeptical about the coronavirus vaccine since the early stages of the pandemic. Although his wife got vaccinated, Hall had decided against it.
"I've been against the shot since the shot was even born," the Ocala, Fla., resident said in a University of Florida video. "Timelines weren't adding up for me. It seemed like the perfect storm."
When the Food and Drug Administration began approving the vaccines for emergency use, Hall was still not convinced. "It seemed like the information was forever changing. . . . I've stayed up dark, dark nights looking into information."
So when Mitchell sat beside him at the restaurant earlier this month, Hall wanted to know what the doctor thought.
"I literally just started bombarding him with questions," Hall said.
What did Mitchell know about the vaccines? What were the pros and cons? Was the information his friends shared on Facebook and TikTok reliable?
Mitchell answered the questions one after another over his steak and salad. By the time both men paid their bills, he offered Hall the option to schedule his vaccine appointment at the university's clinic.
"He's like, 'So, have I convinced you to maybe get your vaccine?'" Hall recounted in the video posted by UF. "I made a joke. I said, 'If you give it to me, I'll take it.'"
"Done. We'll figure out a way," he remembered Mitchell saying.
In reality, Mitchell had no expectations of Hall following through. So when Hall texted three days later to schedule his vaccine, the physician was overjoyed.
"It was his decision obviously, but to just have been able to play a small part in helping him come to that decision was really gratifying," he told The Post.
Mitchell stood feet away from Hall as he watched him get his first shot. The two men have stayed in touch, Mitchell said.
Newsletter Signup
Stay up to date on all the latest news from Boston.com