COVID
Three-quarters of Mass. residents support universal vaccine mandate
"It seems to me that the big takeaway from this is: If our leaders are willing to go there, a substantial majority of the public would be willing to follow."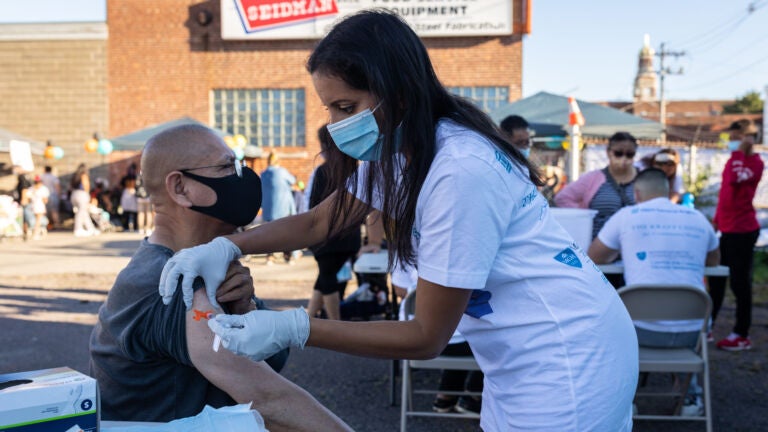 The numbers are in: most Massachusetts residents support a universal vaccine mandate.
According to a survey from the COVID-19 Consortium for Understanding the Public's Policy Preferences Across States — which includes researchers from Harvard and Northeastern universities — 75% of Massachusetts adults want to see a universal vaccine mandate. Support is high for more targeted mandates as well: 81% support a mandate for people getting on places, 71% want to see a mandate for kids going back to school, and 78% support one for college students.
"We're well above the national average," Matthew Baum, a public policy professor at Harvard's Kennedy School who was one of the study's authors, told The Boston Globe. "Our support level is one of the highest across the 50 states in nearly every case."
Nationally, the aggregate numbers are about ten points lower: 65% support the universal vaccine mandate, 71% support a mandate for air travel, 63% are for a school mandate, and 68% support a college student mandate. Six in ten respondents also support requiring large companies to be vaccinated or tested regularly for COVID-19.
"It seems to me that the big takeaway from this is: If our leaders are willing to go there, a substantial majority of the public would be willing to follow," Baum told the Globe. "Rather than paying a political price, you're likely to reap a political reward if you're willing to implement these sorts of policies in a great many circumstances."
It is along party lines that support varied most, however. According to the survey, 10 of the 11 most supportive states lean Democratic, while the 18 least supportive states lean Republican.
"Majorities of respondents – in most instances large majorities – support every mandate we surveyed across nearly all partisan and demographic subgroups we investigated," the authors noted. "The notable exception is Republicans, among whom fewer than half support an overall mandate (43%), or narrower mandates for kids attending in-person school (41%), returning to university (47%), or for employees of large businesses (35%). A bare majority of Republicans (51%) support mandating vaccines to get on an airplane."
Baum told the Globe vaccination had become politicized and "in this case it's become more polarized than any other public health issue in my lifetime."
The researchers measured public opinion on vaccine mandates over the summer and noted that support has marginally increased by about one to two points nationally.
The consortium has been conducting rounds of surveys since April 2020 to determine public behavior and opinion on a number of issues regarding COVID-19. More than 21,000 people, including 453 people in Massachusetts, responded to the most recent survey, which was conducted between Aug. 26 and Sept. 27. People could indicate whether they strongly approved, somewhat approved, strongly disapproved, or somewhat disapproved of a vaccine mandate, and the approval responses were grouped to get numbers for support of the mandate.
Newsletter Signup
Stay up to date on all the latest news from Boston.com