Coronavirus
The state vaccine mandate deadline is here — and suspensions could start this week
There are still a few thousand workers who haven't confirmed vaccination.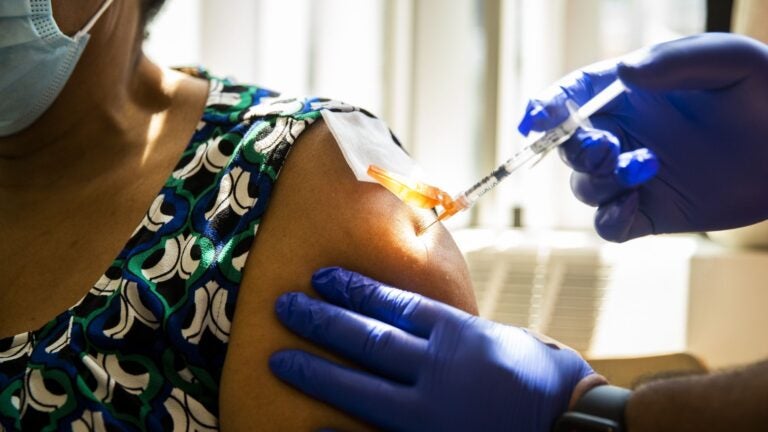 The deadline for state executive employees to get vaccinated was Sunday, and disciplinary action for the outliers could begin this week.
On Aug. 19, Governor Charlie Baker announced that all 42,000 executive department employees and 2,000 contractors for the department must get vaccinated by Oct. 17. Terry MacCormack, the governor's spokesman, told The Boston Globe on Friday that over 40,000 employees had confirmed their vaccination or sought an approved exemption.
The mandate applies regardless of whether employees are working in person or remotely, and allows exemptions based on a medical disability or a "sincerely held religious belief." The deadline to request an exemption was Oct. 8.
"The Baker-Polito Administration is encouraged by the response by Executive Department employees completing the vaccination verification process ahead of the October 17 deadline and will continue to work with employees to address questions and requests for exemptions," MacCormack told the Globe.
Employees are to show up to work on Monday, MacCormack said, when management will begin reaching out to those who haven't filled out a vaccine attestation form to find out why. According to state human resources, failure to comply will result in a five-day, unpaid suspension ending in termination for managers, and, for union members, a five-day, unpaid suspension followed by a ten-day, unpaid suspension for continued non-compliance, and then termination. It's also likely that employees fired for this reason won't be eligible for unemployment benefits.
Facing pushback
The mandate has faced some opposition from the Massachusetts Correction Officers Federated Union and State Police Association of Massachusetts.
The correction officers union and four members filed an injunction to postpone the mandate in court, WCVB reported, but U.S. District Judge Timothy Hillman denied the request on Friday. According to court filings obtained by the Globe, 1,400 correction officers, or 40% of members, were unvaccinated as of Wednesday.
The state police union told NBC10 Boston that 85-90% of members are vaccinated, but at least 150 have resigned or officially submitted their intent to resign because of the mandate. According to the union, state police are already short-staffed, and noncompliant troopers will go through a disciplinary process before termination begins.
Some union leaders are optimistic.
"I'm cautiously optimistic that, come Monday morning, for the folks that we represent, we're going to see high vaccination rates across the board," Peter MacKinnon, president of SEIU Local 509, which represents about 8,500 state workers, told the Globe.
Many mandates
The city of Boston began suspending workers last week for failing to confirm vaccination or submit to testing. On Wednesday, 812 workers were put on unpaid leave, but officials told the Globe that by the end of the day, 175 had filed paperwork to comply. As of Thursday, the number of people on leave was 602.
Hospitals are beginning to face enforcement of vaccine mandates, too. According to the Globe, Baystate Health in Springfield terminated 90 workers on Friday after trying to change their minds. Beth Israel, Tufts Medical Center, Boston Medical Center, UMass Memorial, and more are all staring down compliance deadlines in October and November, and some have already adjusted them.
Perhaps the biggest one is Mass General Brigham which, with an 80,000-person workforce — is the state's largest hospital system. The company told the Globe that as of Friday, about 1,900, or 3%, were unvaccinated or had failed to submit an attestation. About 800 of those are per diem workers without regular hours, so the company is focusing on the remaining 1,100.
"We are mandating the vaccine because we want to do everything possible to protect you, your families, and our patients," the company said in a Thursday memo to employees. "You make our system great, and we do not want to lose you as a result of this condition of employment."
Newsletter Signup
Stay up to date on all the latest news from Boston.com