COVID
Halloween is back. So are COVID-19 precautions. Here's what Boston is recommending.
"Enjoy the fun tricks and treats of Halloween, while taking precautions to stay safe."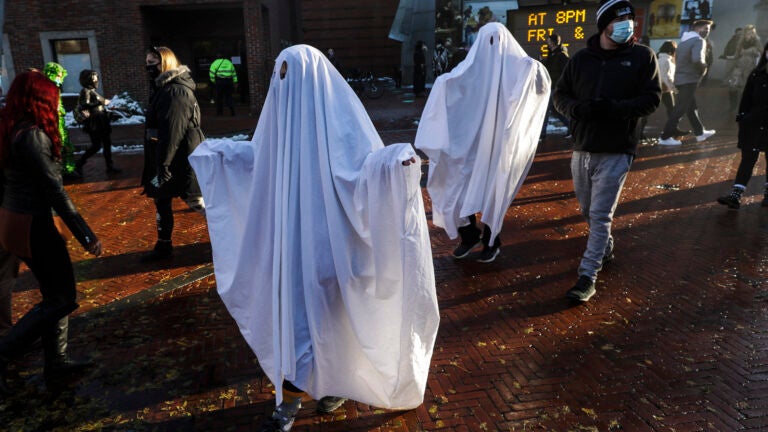 Halloween may be a bit more loose compared to last year, thanks to Massachusetts's high COVID-19 vaccination rates.
No communities are banning trick-or-treating or even discouraging private parties.
Still, officials in Boston are reminding residents that the pandemic isn't over yet.
Acting Mayor Kim Janey's office released a list of COVID-19 precautions for trick-or-treaters and others celebrating Halloween this year, including social distancing, mask wearing, and hand washing, in addition to the usual safety tips.
The list also includes keeping activities outdoors, encouraging children to "wear masks underneath their Halloween masks," and encouraging people to get tested before and after attending an event.
"We are thrilled that vaccination rates in Boston are high but remember that children under 12 still can't be vaccinated against COVID-19 and some neighborhoods of Boston have much lower vaccination rates than the overall Boston rate," Dr. Jennifer Lo, the medical director of the Boston Public Health Commission, said in a statement.
The city's mask mandate for public indoor places also remains in effect.
"Enjoy the fun tricks and treats of Halloween, while taking precautions to stay safe," Janey said, adding that she hopes "everyone has a happy and safe" holiday.
To prevent the transmission of COVID-19, the city is encouraging residents to:
Keep all activities outdoors.
Wear masks and encourage your children to wear masks underneath their Halloween masks. This will protect your children without getting in the way of their costumes.
Wash hands regularly and use hand sanitizers as much as possible.
Consider individually wrapped goodie bags that are lined up so children can grab-and-go, while continuing to social distance.
Consume food and treats outdoors.
Consider hosting a vaccine clinic at your event.
Encourage participants to get COVID-19 tested before and after attending.
Alcohol use can affect behavior. Encourage moderate alcohol intake if it is present.
Encourage smaller groups. Younger children can trick or treat earlier, while older kids can participate later.
Additionally, take simple steps to prevent injuries while celebrating Halloween:
Carry glowsticks or flashlights to be visible.
Cross in the crosswalk and follow the traffic lights.
Wear a mask that allows you to see and a costume that doesn't create a tripping hazard.
If driving, stay alert for children and others in the streets.
To prevent choking, don't allow children under five to have hard candies.
Ensure that all candies are wrapped and packaging intact.
The Boston Police Department also released a list of reminders geared toward local college students Thursday:
To report a loud party, please call the Boston Police Department's Party Line at 617-343-5500.
Please note that patrols in and around college campuses will be increased during the weekend of Halloween.
As always, if you are under 21 years of age, please refrain from the consumption of alcohol. Alcohol consumption by anyone under the age of 21 is an arrestable offense, as is providing alcohol to anyone under the age of 21. Drinking in public, regardless of your age, is an arrestable offense.
The Boston Police Department maintains open lines of communication with all local colleges and universities. Any student arrested will not only face criminal charges, but will also be subject to penalties imposed by their academic institution.
Please follow City of Boston guidelines in regards to COVID-19.
Newsletter Signup
Stay up to date on all the latest news from Boston.com