COVID
What a Brigham and Women's doctor says you should know about Halloween and COVID-19
"I do think it's really quite a safe holiday."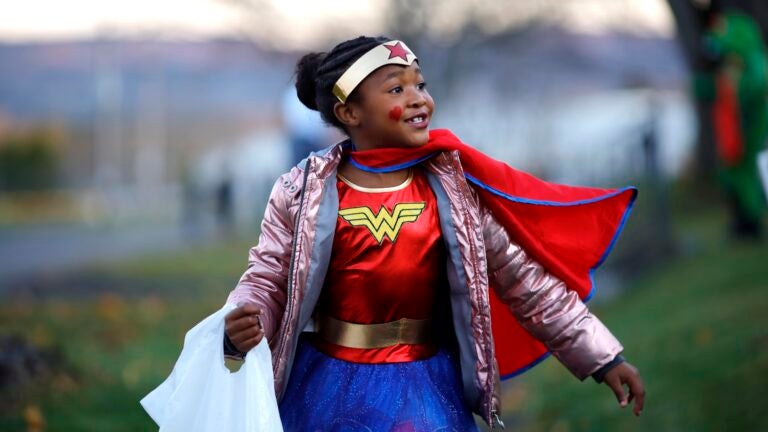 Halloween celebrations in most Massachusetts communities should look a bit more familiar this year.
Unlike last year, when many trick-or-treating activities were banned due to the ongoing coronavirus pandemic, the holiday's tradition is being encouraged this fall — with precautions.
But even with the state's high vaccination rates, how safe is it to participate in the spooky and sweets-packed festivities?
Dr. Ingrid Katz, a physician at Brigham and Women's Hospital, told Boston.com that in general she believes Halloween is a largely safe holiday to celebrate when it comes to COVID-19.
"I feel very optimistic about Halloween and largely because it's a holiday that we celebrate primarily outside, when it comes to children trick-or-treating," she said. "I even said this last Halloween — that outdoors is infinitely safer than indoors. And we now have the added benefit of vaccination, particularly for our 12-year-olds and up. But even for our younger children, again, I think being outside in terms of trick-or-treating is a wonderful activity for those who like to celebrate this holiday."
But Katz pointed out there is a big difference between going door-to-door for candy and celebrating indoors at a crowded party.
"That's a different scenario," she said. "So obviously indoor gatherings, you have to weigh the risks and benefits."
Vaccination and masking provide the greatest protection against COVID-19, and those measures should especially be considered for indoor gatherings to make them safer, Katz said.
If you have children who are under the age of 12 who are not yet eligible for vaccination, there are some additional steps you can take to keep them "extra" safe as they trick-or-treat, the doctor said.
"You could of course use a mask, and you could perhaps incorporate it into a fun costume, make it a little bit more festive for them," Katz said. "If your child prefers not to wear masks, then I would just say you really want to stay outside, not go into people's homes, obviously, and maintain some distance between your family and other families around you."
If you have a family member who is immunocompromised, then you'll want to be that much more careful since they're at higher risk for getting COVID-19 and having more severe outcomes, the doctor said.
For those adults who are handing out candy, vaccination will provide the best protection for everyone out for the holiday.
"That adds an extra layer of protection for the children out there who are going around," Katz said. "I would say if you have not been vaccinated yet, whether you're an adult or a child, then adding that extra layer of protection, whether it's social distancing or putting on a mask, if you get in close range of someone, is an extra way to protect yourself."
Trick-or-treaters may also want to consider packing some hand sanitizer before heading door-to-door, since hand hygiene through the festivities will help mitigate the spread of the virus and other colds that are circulating.
But Katz said there's going to be relatively low risk of transmission of COVID-19 from the candy bowl transactions.
"You can always sanitize [ kids'] hands, but I think in general, it's more about that social distancing and it's about thinking about air circulation," she said. "This is not an infection that is transmitted through contact the way other infections are."
If anyone thinks they may have been exposed or has symptoms ahead of — or following — the holiday, they should get tested, Katz said.
"But again, I do think it's really quite a safe holiday," she said. "I'm more worried about some of those upcoming holidays we have where we're all sitting around tables together, and people might be flying in to see each other. That's going to be a little bit trickier to navigate."
In the meantime, the doctor said she hopes people will get the chance to take a break and enjoy themselves with Halloween — outside.
"It's been a long two years for people," Katz said. "I'm so glad that my kids are back in school now and able to participate for the most part, even in masked circumstances. There are a lot of activities that families participate in, so I'm definitely encouraging people."
Newsletter Signup
Stay up to date on all the latest news from Boston.com