COVID
Massachusetts opening hundreds of additional COVID-19 vaccine sites this week for 5 to 11 year olds
"The Administration will be updating Mass.Gov and the VaxFinder tool as more providers get up and running."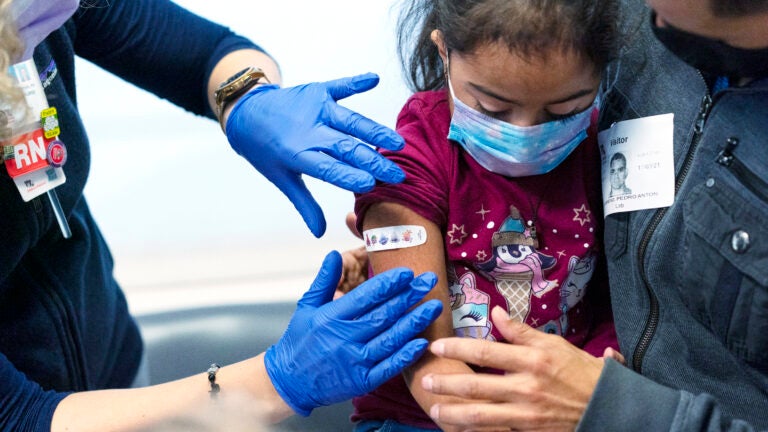 Massachusetts parents will be able to arrange COVID-19 vaccine appointments for younger children as soon as Thursday.
Following the federal government's final approval of Pfizer's pediatric COVID-19 vaccine for 5 to 11 year olds Tuesday, state officials said Wednesday that "hundreds" of new vaccination sites will come online beginning Thursday to support the new phase of the rollout — and some have already begun doing so.
"With final approval from the federal government coming last night, some sites, including many pediatricians' offices and pharmacies, have begun administering vaccines," a spokesperson for the state's Executive Office of Health and Human Services told Boston.com in a statement.
"Hundreds of additional sites will be coming online beginning tomorrow and the Administration will be updating Mass.Gov and the VaxFinder tool as more providers get up and running," the statement continued. "Massachusetts is the most vaccinated state in America and the Administration is committed to making sure every family has convenient access to these free, safe, and effective vaccines."
The news comes after major pharmacy chains also said Wednesday that they will begin making appointments available for 5 to 11 years olds this weekend.
Walgreens said Wednesday pediatric appointments will be available nationally at select locations beginning Saturday, while CVS said that time slots for 5 to 11 year olds would open Sunday at 52 locations in Massachusetts.
Similar to the initial vaccine rollout, state officials have said the pharmacies will play a central role in administering the two-shot pediatric vaccine, along with schools, pediatricians, and other clinics. Massachusetts is slated to get an initial shipment of 360,000 doses of lower-dosage pediatric vaccine, half of which will go to health care providers and half of which will go to retail pharmacies.
CVS and Walgreens both began allowing parents and guardians to make online appointments for the weekend Wednesday (click here for CVS's scheduling site or Walgreens' scheduling site).
According to CVS, their scheduling tool will only display appointments at the locations that have Pfizer's pediatric vaccine, after the patient's age is provided (Walgreens' scheduling tool appears to function similarly).
Parental or legal guardian consent is required to make an appointment for those under the age of 18, and children ages 5 to 11 must be accompanied to the appointment by an adult. Walgreens noted that it is hoping to accommodate after-school hours with select stores offering additional appointments on Saturdays through Nov. 20.
Both of the pharmacies noted that their staff at locations carrying the pediatric vaccine have been specifically trained in vaccinating children, including for COVID-19. While walk-ins are technically allowed, CVS and Walgreens are strongly encouraging appointments to ensure that the pediatric vaccine — which requires a smaller needle and is a third of the adult dose — is available.
"The COVID-19 vaccine is just as important to protect children as other routine immunizations are, and the expanded eligibility will help children stay in school safely and prevent severe illness due to COVID-19," Kevin Ban, the chief medical officer of Walgreens, said in a statement Wednesday.
Troyen A. Brennan, the chief medical officer of CVS Health, said they know many parents have been waiting for this opportunity.
"Our immunizers have been preparing for this important role, and stand ready to help answer parents' questions, guide them and their children through the process, and administer the vaccines safely, with kindness and caring," Brennan said.
Newsletter Signup
Stay up to date on all the latest news from Boston.com