COVID
Where — and how — to make a COVID-19 vaccine appointment for kids 5-11 in Massachusetts
The state now has 500 locations offering Pfizer's pediatric COVID-19 vaccine, and officials say there's plenty of supply.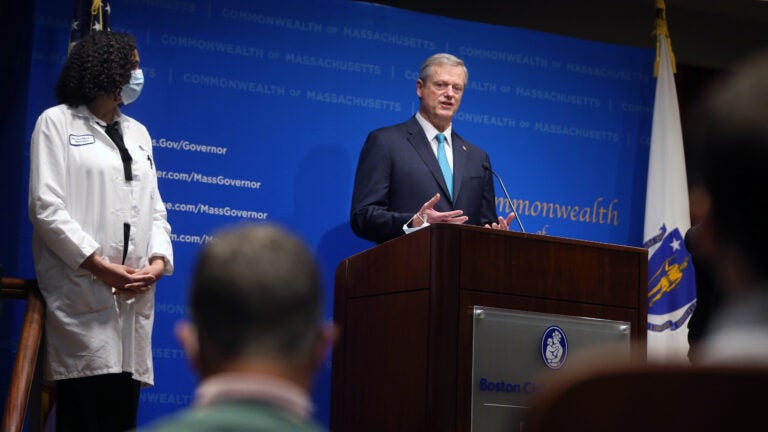 A new phase of the COVID-19 vaccine rollout has begun in Massachusetts.
Gov. Charlie Baker's administration announced Thursday that parents can now make vaccination appointments for children aged 5-11 at over 500 locations in Massachusetts. The options range from pediatricians' offices to pharmacies to community health centers to hospitals to local state-sponsored clinics.
"Pediatric doses are here and more will be coming," Baker said during a press conference at Boston Children's Hospital, adding that officials "don't anticipate any supply issues" like during the early stages of the initial rollout earlier this year.
"Many locations have appointments that are available now," the governor said. "And more will be added obviously in the coming days ahead."
Baker's administration updated the state's vaxfinder.mass.gov to include a filter showing which locations offer Pfizer's pediatric COVID-19 vaccine. The tool allows individuals to search for the nearest location based on their zip code.
According to Baker, "every Massachusetts child lives within 30 minutes of a vaccine clinic." And he said local boards of health that haven't already set up a clinic have an "open invitation" to do so at a later date.
Many sites — such as major pharmacies like CVS and Walgreens, which will begin administering the COVID-19 vaccine to younger kids this weekend — are offering the pediatric vaccine in addition to the normal-dose vaccine for adults.
However, there are "several" clinics set up specifically for children 5 to 11, including at the Discovery Museum in Acton, the Museum of Science in Boston, Springfield Museum, and the EcoTarium Museum in Worcester.
Those who have difficulty using the vaxfinder.mass.gov website can also call 211 to access the state's COVID-19 vaccine resource line to set up an appointment. The call center is open Monday through Friday from 8:30 a.m. to 6 p.m., and weekends from 9 a.m. to 2 p.m., with translators in over 100 languages.
CVS and Walgreens also have similar webpages where individuals can search for an appointment based on location.
Individuals can also reach out directly to their child's pediatrician or primary care provider to see if they have vaccination appointments available.
"Pediatricians will obviously play a really big role here in this process because they are in fact, in many cases, the most trusted partner for parents and families as they make this decision," Baker said.
For parents looking to schedule back-to-back appointments for multiple children, officials say scheduling will work just like it has for adults. Though individual locations' scheduling websites may vary, Baker's office says people should generally be able to book multiple appointments back to back. The state's VaxFinder website displays the number of total available appointments by day, so individuals can check which sites have adjacent time slots open.
Similar to vaccine appointments for teens aged 12 to 17, parents or legal guardians are required to fill out a consent form or give verbal consent in person. However, unlike the process for 12-17 year olds, younger children are also required to be accompanied by an adult at their appointment.
Appointments are available to any 5- to 11-year-old that lives or goes to school in Massachusetts, even if they got their first shot in another state.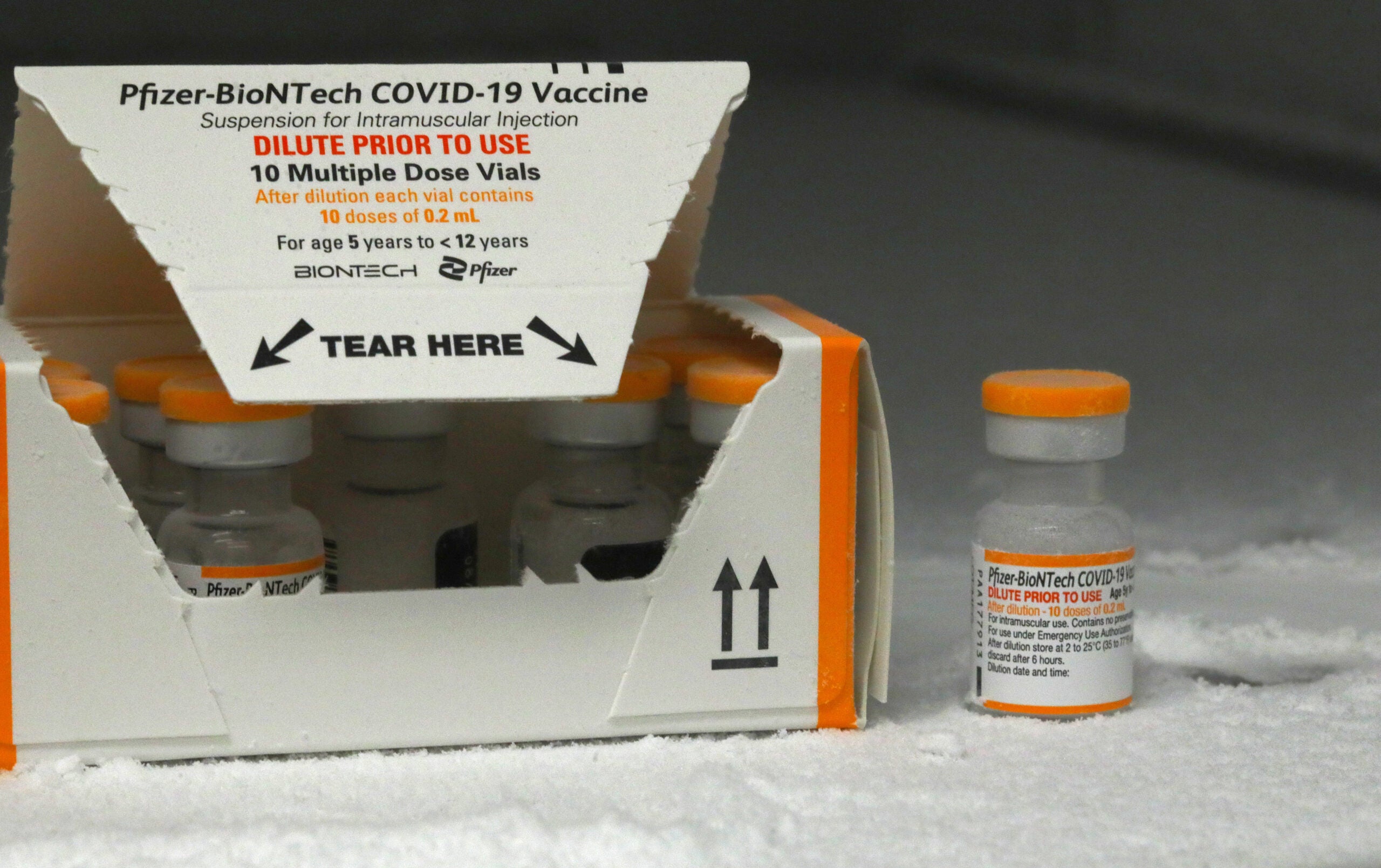 Pfizer's pediatric COVID-19 vaccine is about a third of a normal dose for those older than 12 — 10 micrograms compared to 30 micrograms. Similar to the normal-dose vaccine, the two lower-dose shots should be scheduled roughly three weeks apart, and individuals are encouraged to book their second appointment while making their first.
With an initial shipment of several hundred thousand pediatric doses, Baker stressed Thursday that he doesn't expect a shortage.
Already one of the most vaccinated states in the country, Massachusetts has administered at least one dose to roughly 80 percent of teens aged 12 to 17, about 20 percentage points higher than the national average, Baker said.
And while national polling has shown that a majority of parents are hesitant to get their younger children vaccinated, Baker said the data showing that states with higher vaccination rates had lower rates of COVID-19 cases, hospitalizations, and deaths was "virtually undeniable."
Still, officials encouraged parents with questions or doubts to reach out to their primary doctor or pediatrician.
"As the commissioner of Public Health and as a mom, I know that you have questions," Margret Cooke, the acting commissioner of the state's Department of Public Health, said Thursday. "So I urge you to seek out a trusted health care provider and ask them those questions."
Dr. Frinny Polanco Walters, a physician at Boston Children's Hospital, noted Thursday that a clinical trial involving over 3,000 children aged 5 to 11 found the pediatric vaccine was 90.7 percent effective in preventing symptomatic COVID-19. No serious side effects were detected in the ongoing study, and the most common reactions were pain at the injection site, fatigue, and headache.
"Even though it is a smaller dose, it is effective," Walters said.
She also noted that while children are far less vulnerable to the virus compared to adults, they are not completely immune to serious outcomes and can pass the disease to others who may be more at risk.
Of the more than 1.9 million children aged 5 to 11 who have gotten COVID-19, more than 8,300 have been hospitalized and 172 have died. Even if those risks are small, the death toll puts COVID-19 among the top 10 causes of death for the 5-to-11 age group, Walters said.
"We're not forcing anyone to get the vaccine," Walter later added. "We're highly recommending the vaccine, because we have seen that the benefits far outweigh the risk."
Newsletter Signup
Stay up to date on all the latest news from Boston.com