COVID
Boston is keeping its indoor mask mandate for the time being as COVID-19 rates decline
"We need to continue to do what works."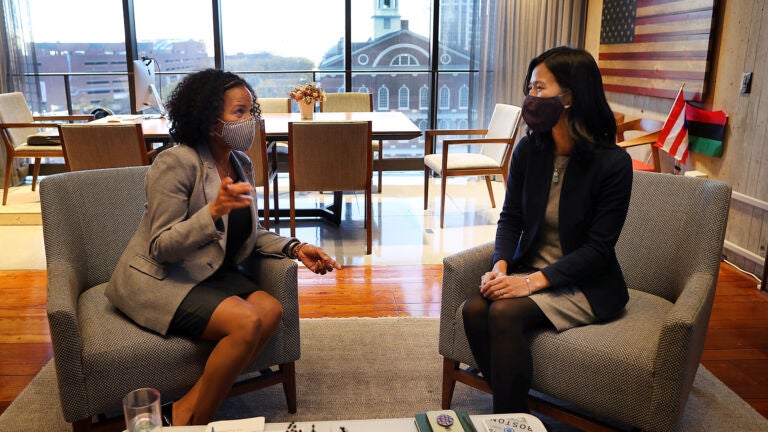 Boston's indoor mask mandate isn't going anywhere, as the city prepares to transition to a new mayor.
During a press conference Friday afternoon, Acting Mayor Kim Janey said she "will certainly be keeping" the universal mandate in place, as COVID-19 rates continue to decline from the recent increase fueled by the delta variant.
"Masks are very effective in helping us slow the spread of transmission in terms of COVID," Janey said. "We need to continue to do what works, particularly as we work hard to get our youngest residents vaccinated."
City data shows a decline in the number of COVID-19 infections, percentage of positive tests, and hospitalizations due to the virus since the beginning of October. As of Oct. 26, the city's positive test rate was 2.1 percent.
While a couple Massachusetts cities, specifically Springfield and Holyoke, lifted their indoor mask mandates this week, Janey indicated no such plans during her final week-and-a-half as mayor.
She cited the city's efforts — from vaccinations to the indoor mask mandate to new ventilation investments for school buildings — for keeping Boston "below our thresholds of concern on each of our public health COVID metrics."
The Boston Public Health Commission focuses on six COVID-19 metrics, such as positive test rate and hospitalizations. All have remained below the thresholds at which the commission says "citywide policy actions may be needed" during the delta spike. However, one metric, the number occupied non-surge adult ICU beds at Boston hospitals, is close to the city's threshold of five straight days above 95 percent, at 93.4 percent as of Oct. 26.
Janey also urged residents — "especially our seniors" — to get the flu vaccine, noting that many experts expect a more severe flu season this winter.
Still, the main focus remains on COVID-19 vaccinations this fall.
Following the federal government's authorization of Pfizer's pediatric COVID-19 vaccine for children ages 5-11 earlier this week, Janey said that the city will partner with community organizations, health centers, and schools to open vaccination clinics in the neighborhoods of Mattapan, Dorchester, Hyde Park and Roslindale, "where we've seen some of the lowest COVID vaccination rates."
"These family clinics will offer first and second dose vaccinations for everyone age 5 and up, and we'll offer boosters for those who are eligible," Janey said.
The clinics are among the more than 500 locations statewide in Massachusetts offering Pfizer's vaccine for kids 5-11, as Gov. Charlie Baker announced Thursday.
Janey said Friday that the city plans to open the clinics next week — running at the same time, day, and location, respectively, through the end of the year.
Boston Public Schools is also hosting an "ask a doctor" information session on Zoom on Nov. 15 at 6:30 p.m.
Janey implored residents to remain "vigilant in our fight against COVID-19," while lauding the city's "impressive results" closing vaccination gaps.
As of this past Tuesday, state data shows that 73 percent of all Boston residents have gotten at least one dose of a vaccine and 65 percent are fully vaccinated.
The data also shows that 60 percent of the city's Black residents and 61 percent of Latinos are at least partially vaccinated, compared to 68 percent of white Bostonians. Those figures amount to a 36 percent increase in fully vaccinated Latino residents and a 29 percent increase in fully vaccinated Black residents since mid-April, Janey said.
The acting mayor, who said she was "really proud" of the city's pandemic response, said she would suggest Mayor-elect Michelle Wu's administration continue to focus efforts on the neighborhoods hardest hit by COVID-19.
"We still see some gaps by race and by by zip code," Janey said of the vaccination rates, noting that she speaks with Wu "daily."
"Her team is working closely with the administration now in terms of transition, so that we don't lose anything as we transition and we continue to focus on getting people vaccinated and slowing the spread of this deadly virus," Janey said.
Newsletter Signup
Stay up to date on all the latest news from Boston.com