COVID
Here why Ashish Jha says COVID-19 cases are trending better heading into this winter
"The virus keeps running into walls of vaccinated people."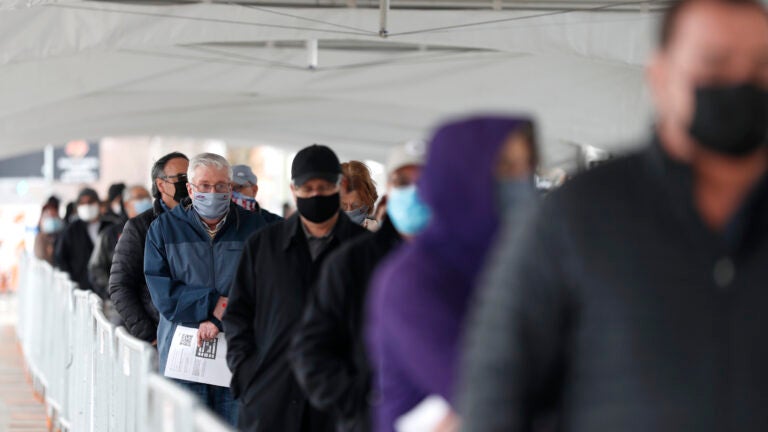 COVID-19 cases across the country have plateaued in the past weeks, following a rapid decline that came in September. Weekly reported cases have remained at an average of 70,000 to 75,000 new cases per day.
The plateau marks slightly bad news as many parts of the country head into colder winter weather and people head indoors to interact socially, but Dr. Ashish Jha, dean of Brown University's School of Public Health, sees a silver lining.
"Last year at this time, infection numbers were taking off!" Jha wrote in a tweet.
In November 2020, COVID-19 cases were rapidly increasing, hitting upwards of 170,000 cases on average toward the end of the month, according to the CDC. By January, cases were the highest ever recorded during the pandemic.
Compared to last year, cases have remained relatively low despite the reopening of schools in September, the spread of the Delta variant, and the colder weather, when viruses tend to spread faster. Jha says the success of keeping COVID-19 cases to a plateau has been because of the vaccine.
"The virus, spreading more efficiently, keeps running into walls of vaccinated people, and can't accelerate," Jha wrote.
Approximately 67% of the country has received at least one dose of the COVID-19 vaccine at this time. The CDC also recently announced that the vaccine would be administered to 5- to 11-year-olds, a new age group, and approved the Pfizer booster shot for those 65 years old and older, those with underlying medical conditions, those who live in long-term care settings, or those who work or live in high-risk settings.
Jha highlighted the correlation between vaccination rates and recent COVID-19 infection rates in states, pointing to the Midwest and Alaska, which currently have the highest number of cases in the country.
States with the highest rates of COVID-19 cases are those in colder parts of the country, and many also log below average vaccination rates, Jha writes. Those who are unvaccinated are six times more likely to contract COVID-19, according to the CDC.
In the next month, data from the CDC forecasts a slow but continuing decline of COVID-19 cases across the country, reaching approximately 40,000 cases per day by December. Whether the cases will continue to decrease, however, remains uncertain as new waves of COVID-19 are hitting other parts of the world heavily, Europe in particular.
But Jha writes that another winter surge can be avoided by following several COVID-19 mitigation strategies.
"Over [the] next couple of months, as we go into the holidays, social interactions will push infections up more," Jha wrote.
The way to avoid the surge is to get more adults and children vaccinated, get booster shots to those who need them, to have frequent COVID-19 testing, and to wear a mask in high-risk situations, he said.
Newsletter Signup
Stay up to date on all the latest news from Boston.com